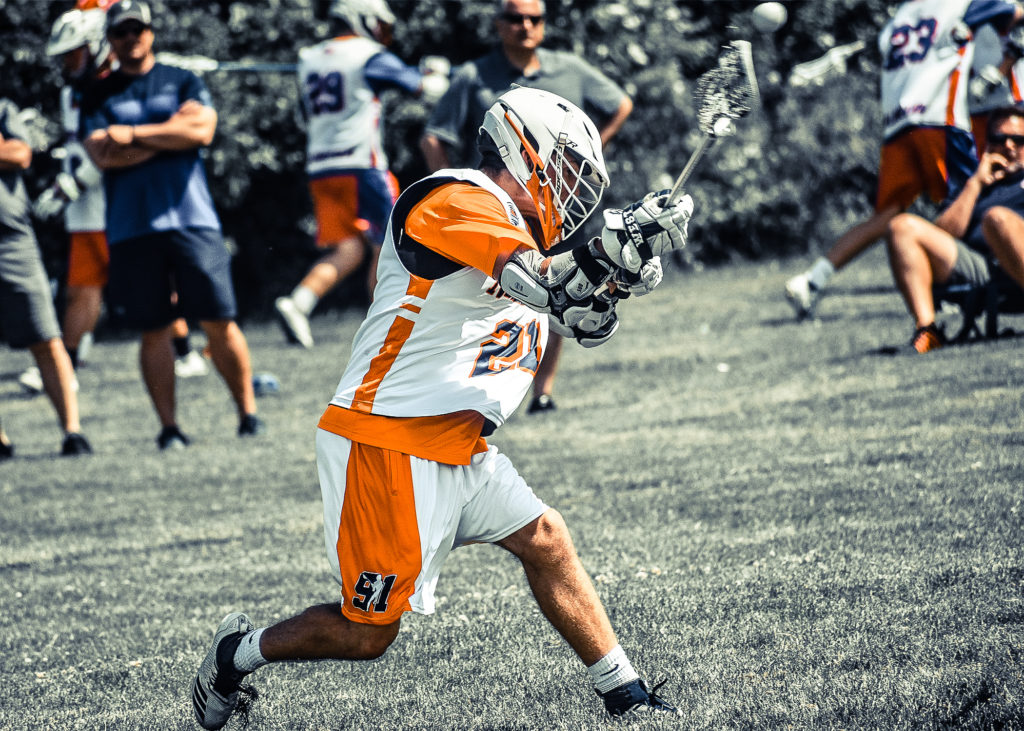 Follow Team 91 on Instagram, Twitter and Facebook. 
Despite the fact that he's as a prolific a goal scorer as there is these days on Long Island, Danny Caddigan's favorite part of the game is one that doesn't quite the same glory that putting goals in the back of the net does.
The Team 91 2021 Blaze attackman by way of Smithtown West had a breakout year with a whopping 75 goals last spring for the Bulls, and if you're going up against him, there's nowhere that you should feel comfortable when he's got the ball in his stick. An exceptional finisher with a terrific handle, Caddigan also has the shooting chops to make any goalie turn and rake, and it's that scoring ability that landed him on so many Division I schools' radars.
Even though his finishing skills are rivaled by few in the 2021 class, Caddigan doesn't take the most pride in finding twine. It's great to only need a split-second to change what the scoreboard has to say, but Caddigan prefers to get dirty and make the little plays, and he's built an equal reputation as an absolute bulldog who will mix it up with anyone.
"My favorite part of the game is riding," Caddigan said. "I love it."
It's not just lip service, either. Watch him at work and you'll find that Caddigan never gives his opponent a free clear, and he clearly relishes the opportunity to embarrass the other team by getting the ball back through hard work and tenacity. Perhaps it's no coincidence, then, that one of the first things he noticed on his visit to Colgate was the culture that second-year coach Matt Karweck has already instilled and continues to try to improve upon.
"The coaching staff is really great, and I got a great feel for what about everyone's about," Caddigan said. "I loved the culture. I visited some other good schools, but Colgate stood apart with a beautiful campus, plus the coaches and the good culture that I definitely wanted to be a part of."
All of that made it impossible for Caddigan to say no to the Raiders, and he opted to join their 2021 class. His brother, James, is a junior attackman at Colgate, and the younger Caddigan becomes the second '21 Blaze player to choose the Raiders after midfielder Brandon Ventarola (Mount Sinai). Caddigan is the 14th Blaze player to commit, all to Division I schools.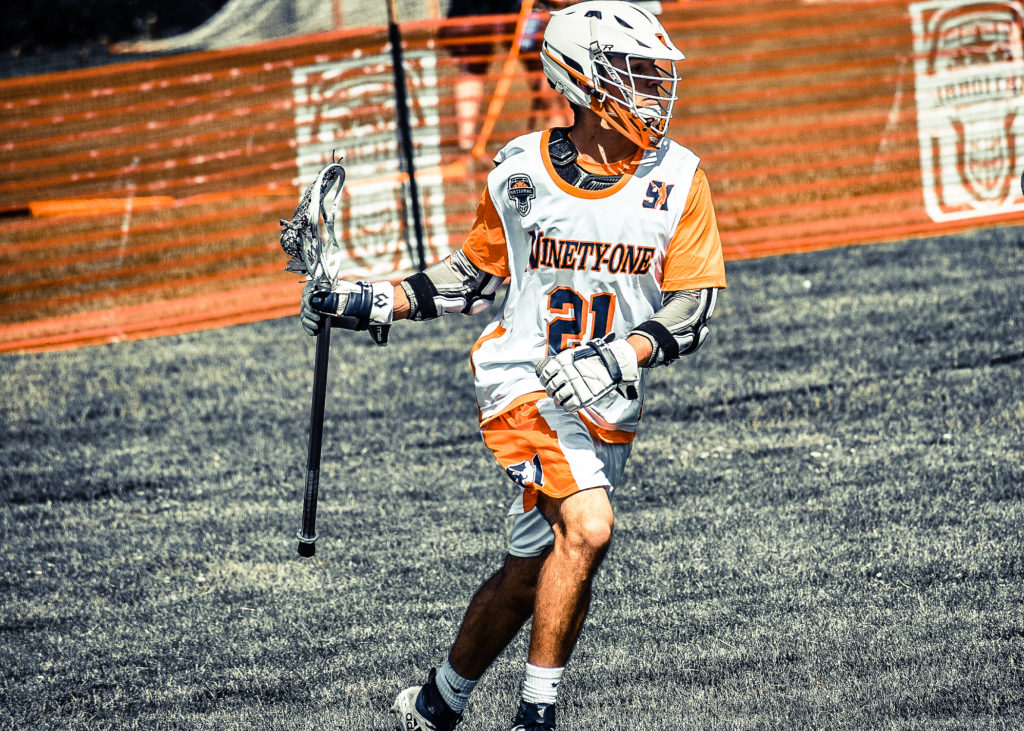 "It's so much fun to watch Danny play, and he's a dream to coach because of how hard he plays and how good of a teammate he is," Team 91 founder and Blaze coach Brian Spallina said. "He's not afraid of anyone or anything, and he works his butt off all the time. Not so coincidentally, the ball seems to find him as a result. I haven't seen too many, if any, guys in the class who can score goals the way that he can. I love everything that this kid is about, and I couldn't be more excited to see him end up at a great school like Colgate. He's going to do great things for Coach Karweck and the Raiders."
Caddigan was in high demand on Sept. 1 after putting together a strong summer for the Blaze, but his football schedule hampered his ability to get out on visits. A running back and quarterback for the Bulls, Caddigan's season was cut short due to a high ankle sprain, but he'll be at full strength when Smithtown West opens its season in a few weeks. He didn't panic when he wasn't committed immediately. Rather, he saw an opportunity to be patient, and he felt a bond with Karweck and his staff. Karweck didn't even have the luxury of having James push his younger brother.
"He wants to build a culture of hard-working guys, and he still doesn't have all of his recruiting classes in there," Caddigan said. "With his recruiting style, I think we'e going to be really good. My brother didn't try to persuade me. He wanted it to be my choice and didn't want to be all over me about it."
Caddigan joined the Blaze in sixth grade and it's clear that the likes of Spallina and Blaze assistant Chris Rogler had a profound impact on him. He's not done getting better, either.
"Coaches Spallina and Rogler really developed me as a team player and role player," Caddigan said. "I definitely want to get better all around, especially as a feeder. I didn't have a lot of assists, but I don't really care abut stats. I just want to win."
The best stat.
Team 91 2021 Commitments
(Click here for all Team 91 commitments)
Danny Caddigan, attack, Smithtown West / Colgate
Chris Cappelmann, faceoff midfield, St. Anthony's / Navy (Commitment story)
Tyler Gatz, midfield, Mount Sinai / Utah (Commitment story)
Andrew McAdorey, midfield, St. Anthony's / Duke (Commitment story)
Aiden McCaffrey, defense, Comsewogue / Delaware (Commitment story)
Kyle O'Donoghue, midfield, St. John The Baptist / Navy (Commitment story)
Mac Rodriguez, faceoff midfield, Chaminade / Yale (Commitment story)
Johnny Schwarz, midfield, Shoreham-Wading River (N.Y.) / North Carolina (Commitment story)
Tyler Schwarz, LSM, Shoreham-Wading River (N.Y.) / North Carolina (Commitment story)
Chris Simonton, attack, Ward Melville / Providence (Commitment story)
Brandon Ventarola, midfield, Mount Sinai / Colgate (Commitment story)
AJ Volkmann, defense/LSM, Mount Sinai / LIU (Commitment story)
Jake Wilson, defense, Shoreham-Wading River / Duke (Commitment story)
Chris Zara, defense, St. Anthony's / Stony Brook (Commitment story