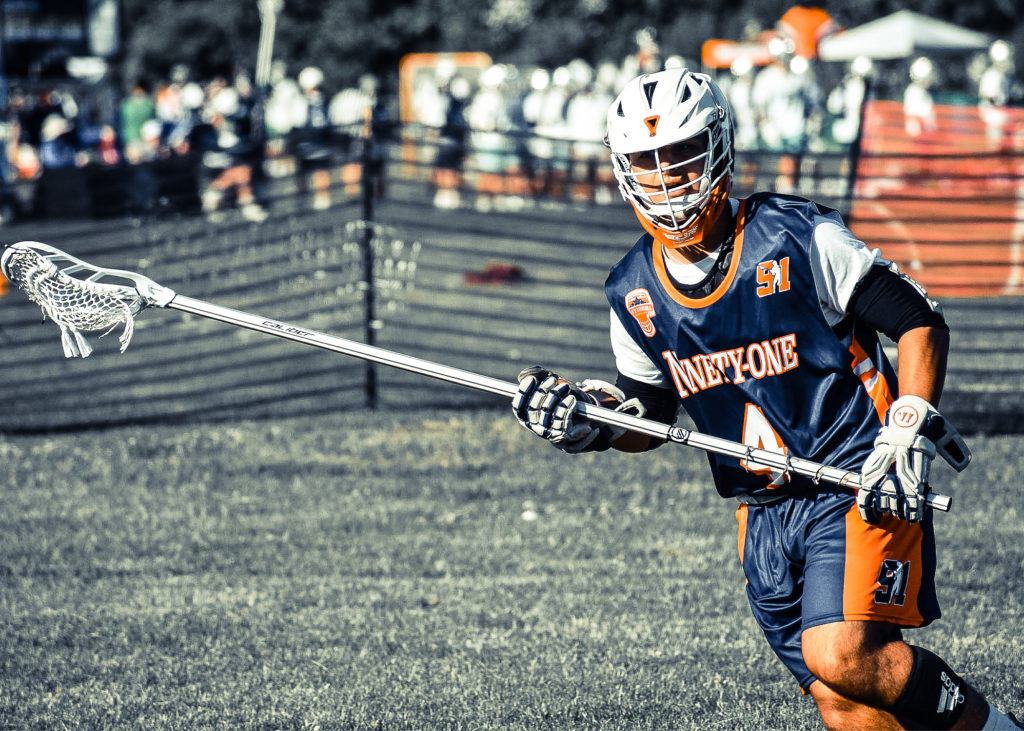 Follow Team 91 on Instagram, Twitter and Facebook.
The email hit Chris Zara's inbox at precisely 12:01 on Sept. 1, and from there, nothing was the same in Zara's recruitment process.
So much so that a school that the Team 91 Blaze and St. Anthony's defenseman had no interest in quickly became the place for him to be.
"Stony Brook was the first school to email me. They showed immediate interest in me," Zara said. "At first, I was looking at other schools and Stony Brook wasn't even on my radar, but the coaches got in contact with me, got me on a visit and won me over. Right when I got there, the whole environment was just a whole different vibe. I felt like I was at home, and hearing what they had to say really made me feel comfortable and at home with them."
The staff, comprised of all Long Island natives in first-year head coach Anthony Gilardi, associate head coach J.P. Brazel and PLL champion and offensive coordinator Mike Chanenchuk, sold Zara on passing on other big schools for the opportunity to help start something special close to home. Despite initially setting his sights on going to school away from home, Zara loved the pitch, and he realized that being able to do something unique without having to leave the Island was the perfect opportunity for him.
"Staying home was big," Zara said. "I wanted to be close to everyone and it's really great to be able to be part of a Long Island-based team, especially in college. What they bring to the table will help me and the team. I wanted the staff to show that they cared about me, and I just loved the energy that the coaches brought."
Zara didn't see the need to wait any longer, and he opted to commit to the Seawolves, becoming the sixth Blaze player to commit, all to Division I schools. He joins faceoff midfielder Mac Rodriguez (Chaminade/Yale), Chris Simonton (Ward Melville/Providence), Tyler Gatz (Mount Sinai/Utah), Kyle O'Donoghue (St. John The Baptist/Navy) and Brandon Ventarola (Mount Sinai/Colgate). He'll join fellow 91 products Tommy Dolciotto ('20 Crush/Syosset), Dane Reda ('20 Crush/Mattituck) and Anthony "Chili" Palma ('18 Extreme/East Islip) at Stony Brook.
Zara admitted that he and the Blaze team felt some pressure with regard to recruiting, with every school starting out with a blank slate prior to Sept. 1. Despite that, it just made him elevate his game to show that he was a top-flight Division I prospect, and a strong summer helped propel him and his teammates into the fall recruiting craziness.
"I thought that I had a great showing this summer and worked hard for everything," Zara said. "It was a little different, but once 9/1 hit and I realized how fast everything was happening, it kind of sparked my gears. Playing Division I has been my goal for so many years, and this summer, my confidence was there after being around all of these coaches and playing at prospect days."
A Blaze lifer, Zara has been a mainstay on the back end for the better part of a decade, and he's grown up with this group. Even though it's one of the most skilled groups in the country, he likes that everyone puts in the work, and being on that team has left a lasting impression on him.
"When (Blaze head coach and Team 91 founder) Brian Spallina came in, he really took me under his wing and showed us the steps that we needed to take to become a great lacrosse player," Zara said. "Being a part of this team has been special to me and the bonds that I have with all of those guys is important."
Zara, who is looking to break into a starting role in St. Anthony's loaded lineup this spring, is the type of defenseman who can blanket his man and keep him out of the stat columns without much fanfare. That cover ability, plus his leadership and communication skills, make him a legitimate candidate to make a major impact at Stony Brook and potentially even blossom into a team captain.
"Chris has always been a leader on the back end for us. He's the type of guy that always makes sure everyone's in the right spot, and those guys are so valuable to a team because they're hard to find," Spallina said. "He does a great job of covering guys and he can take the ball away, too, and he's a problem for attackmen because he's so good at staying between them and the cage. I've really enjoyed coaching Chris for so long, I think he has the ability to blossom into a star, and I'm excited to see what he can do for Coach Gilardi and his staff as a Seawolf."
If history's any indicator, big things are in store.
Team 91 2021 Blaze Commitments
(Click here for all Team 91 commitments)
Tyler Gatz, midfield, Mount Sinai / Utah (Commitment story)
Kyle O'Donoghue, midfield, St. John The Baptist / Navy (Commitment story)
Mac Rodriguez, faceoff midfield, Chaminade / Yale (Commitment story)
Chris Simonton, attack, Ward Melville / Providence (Commitment story)
Brandon Ventarola, midfield, Mount Sinai / Colgate (Commitment story)
Chris Zara, defense, St. Anthony's / Stony Brook