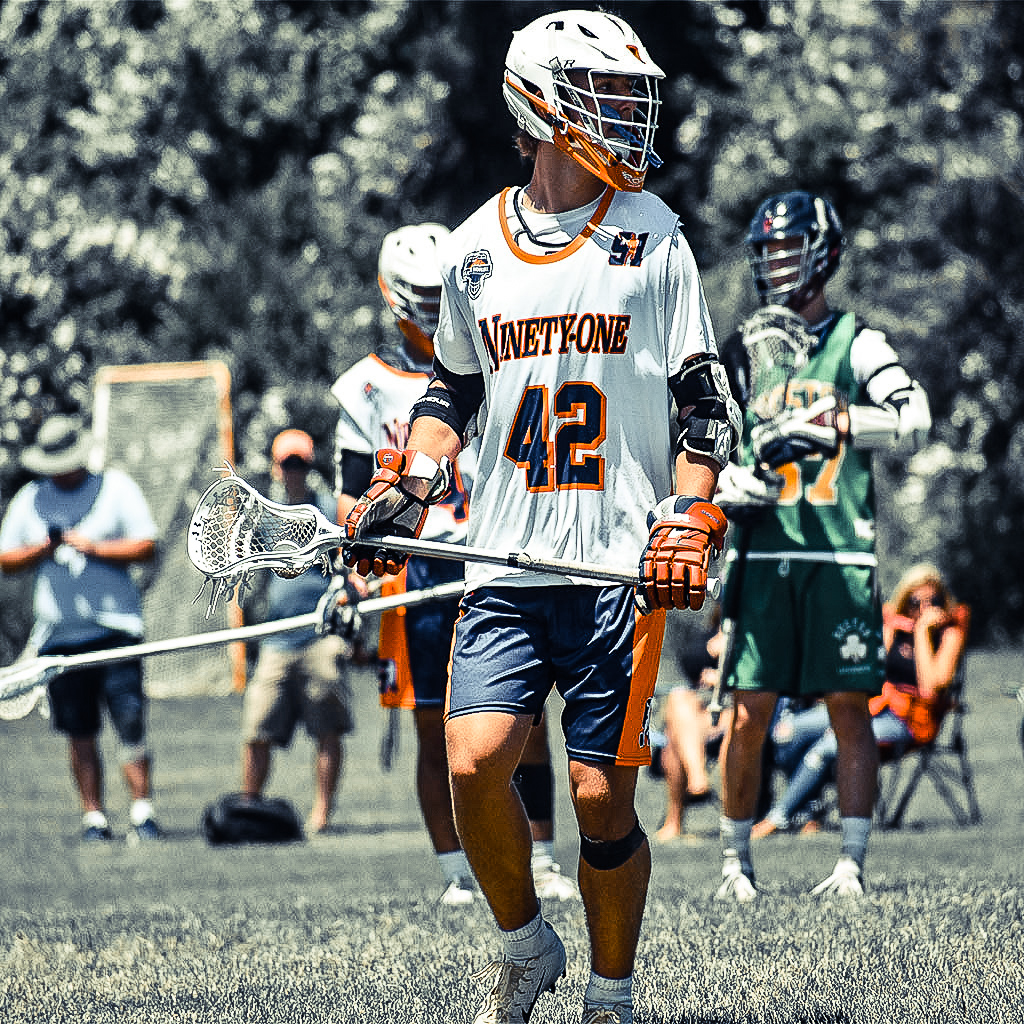 Follow Team 91 on Instagram, Twitter and Facebook.
Tyler Gatz wasn't looking West – at least, not that far West – when he got a call on Sept. 1 that ended up changing everything.
The Team 91 2021 Blaze and Mount Sinai midfielder, one of the best offensive midfielders in the entire '21 class, had just torn his ACL roughly six weeks earlier, and he wasn't quite sure as to what to expect when college coaches could start reaching out to the junior class.
"Coach (Will) Manny called me on Sept. 1," Gatz said of the Utah assistant coach and the Premier Lacrosse League's No. 2 goal scorer in its inaugural season. "He's a Long Island guy who went to St. Anthony's, and something just clicked right away. Talking to Coach Manny and (Utes head) Coach (Brian) Holman, their goal is to make Utah something like Denver. It's starting a program out West that draws people. They're not in a conference yet, but their goal is to win a national championship within five years."
Lofty goals for a program that finished its first season in Division I in 2019, but aiming small has never served anyone well. Still, Gatz had plenty of options, as one might expect after he dominated at events like the NLF Opening Weekend and put up 49 points as a sophomore after a 31-point freshman campaign for the Mustangs. When he thought about it, though, Gatz couldn't shake the feeling that something special was brewing in Salt Lake City.
He didn't wait for the chance to join that, either, quickly becoming the headliner of the Utes' 2021 class. He's the third Blaze player to commit after faceoff midfielder Mac Rodriguez (Chaminade/Yale) and attackman Chris Simonton (Ward Melville/Providence), and he's the first player in Team 91 history to choose Utah.
"We talked about how I'm one of the first Long Island guys and we're going to build and build," Gatz said. "I've accepted the role and I'm hoping that I can start all four years. I just think that the coaching staff are the most genuine people. I loved the atmosphere of the school and the people in the area are super nice. The football team is awesome, which is cool, and we visited for the Washington State game, which was an awesome atmosphere."
"I think me coming out there definitely gives a sense of, 'wow, someone from Long Island's going to Utah. I'll go check that school out,'" Gatz added. "Talking to the players on the team, they love being coached by those guys (a staff that includes three PLL players and Holman, who helped coach North Carolina to a national title in 2015) and they respect them. It's a high-intensity environment and there's a lot of respect for the coaches."
It didn't hurt the Utes' pitch that Gatz saw mountains around the school, which will allow him to continue snowboarding, a sport that he's loved since he was very young. Utah is in a unique situation with its geography and the fact that it's entering its second season at the Division I level. Gatz and his class will be counted upon to make a sizeable imprint on the program, something that doesn't faze him in the slightest.
It's no surprise to see him be a priority for Utah, either. He was looking for a new club, and a phone call from Team 91 founder and Blaze head coach Brian Spallina sold him on the possibilities of playing for one of the top teams in the country and training with and facing elite competition all the time.
"Brian called my dad and said, 'I'm taking this team and following them all the way up until they're done,'" Gatz said. "When Brian Spallina's calling you, what do you say? You say yes. I've been playing Blaze ever since then, and between Coach (Chris) Rogler, the (Dynamic Lacrosse Training) DLT training and how 91 has the best guys training you, how do you not get better? I also went up against (Lehigh) sophomore Michael Hagenberger and (Team 91 2020 Crush defenseman and Maryland commit) Jack Schirtzer every day in practice for high school, which helped me so much. Going up against Schirtzer raised my game in so many ways. If I'm going up against him in practice, who am I go going to up against in the summer that's going to be better than him?"
Gatz has been an offensive dynamo for Spallina and one of the team's best players for years, and it's particularly rewarding for Spallina to see Gatz bet on himself being able to help turn Utah into a powerhouse.
"Tyler has been an outstanding player for us ever since he joined and he was particularly outstanding this summer," Spallina said. "There aren't many better offensive threats out of the midfield, and I think he'll be a game breaker for Utah. I'm excited to watch him at Utah and can't wait to see what he and the Utes can do together."
Way out West.
Team 91 2021 Blaze Commitments
(Click here for all Team 91 commitments)
Tyler Gatz, midfield, Mount Sinai / Utah
Mac Rodriguez, faceoff midfield, Chaminade / Yale (Commitment story)
Chris Simonton, attack, Ward Melville / Providence (Commitment story)