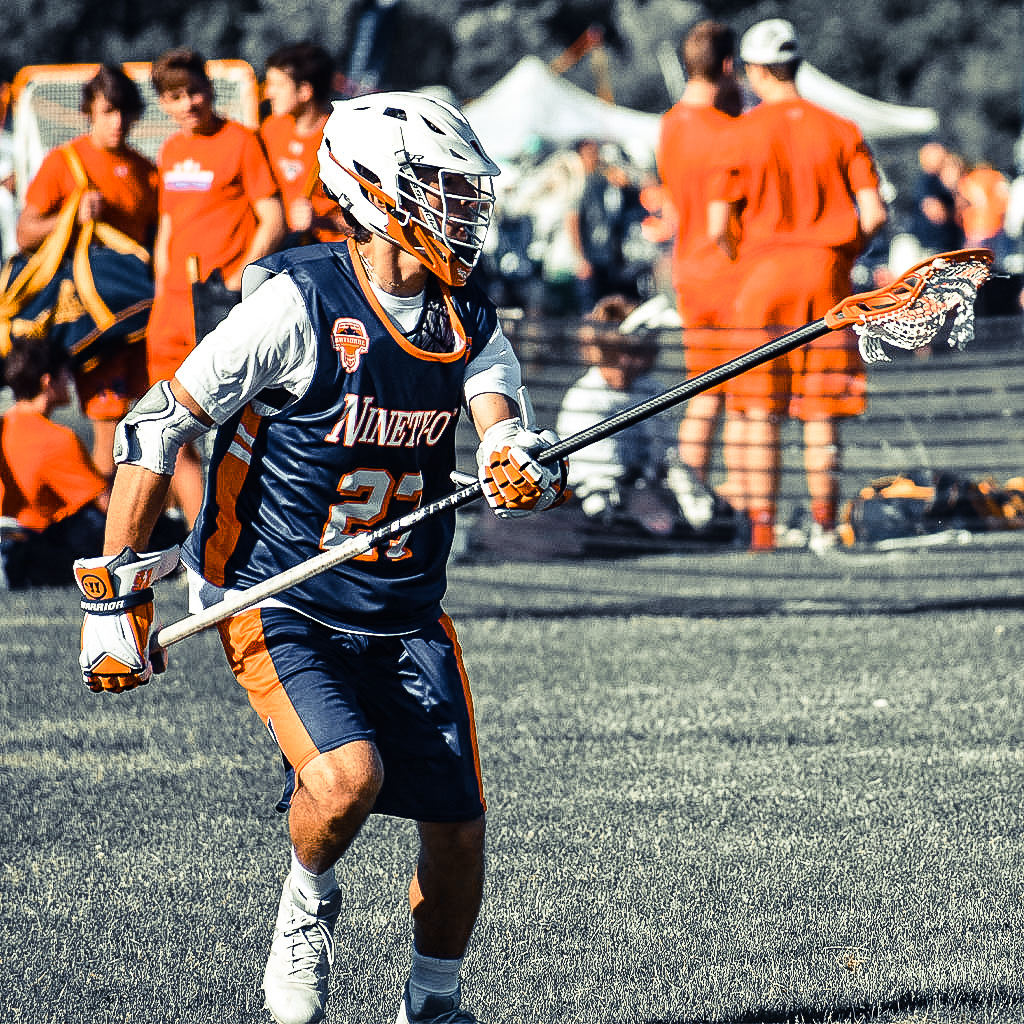 Follow Team 91 on Instagram, Twitter and Facebook.
It's not a very common thing to do these days, but luckily for Aiden McCaffrey, he went against the grain, and it changed his future forever.
Rare are the people you'll find these days who will answer a phone call from a number that they don't know. McCaffrey, a Team 91 2021 Blaze and Comsewogue defenseman, was hanging out with a friend and got a call, and for a reason he can't quite pinpoint, decided to answer it.
"I had no clue who it was, and when I heard (Delaware head coach) Coach (Ben) DeLuca on the other end, I was in shock at first," McCaffrey said. "We kind of clicked right off the bat and I felt comfortable in talking to him. With some coaches, I was more of a simple answer kind of guy, but he just seemed very personable and we spoke for 45 minutes to an hour."
Once McCaffrey stepped on campus on a visit, DeLuca had his man.
"As soon as I got there, I knew that it was the place for me," McCaffrey said. "I loved everything about it. The outside area, the coaches, it's just my type of college. It felt like a second home, and I felt like I could see myself more at Delaware than anywhere else. The atmosphere set it apart, and everything about the school fit me."
McCaffrey became the ninth '21 Blaze player to commit, all to Division I schools. See the full list at the bottom of this story. He's the first player in Team 91 history to choose the Blue Hens, and Delaware is getting a lefty defenseman with a penchant for doing all of the little things right, like making plays, playing good off-ball defense and blanketing his assignment.
"Coach DeLuca got a very good one with Aiden," Team 91 founder and Blaze head coach Brian Spallina said. "He's been an outstanding player for us for so long, and he's the type that fits in with any defense with his ability to make plays and help out everywhere. He's really grown as a leader throughout his time with Blaze, and I'm really fired up to see what he can do at Delaware. It's a great fit for him and I can't wait to see how he does as a Blue Hen."
The New Blue Hen
McCaffrey has an eye on majoring in criminal justice and criminal law, and he'd like to become a CSI detective. It's a nod to his uncle, Steve Vessa, a retired NYPD detective. Listening to his uncle tell stories of what being a detective is like stuck with McCaffrey, and he's excited to jump into the field.
"I've heard all of my uncle's stories and I found them really intriguing," McCaffrey said. "It's something new every day and it's like a puzzle. You have to figure it out and put all of the pieces together."
McCaffrey admitted that he was a little nervous at the beginning of the summer, particularly when he'd look at the sidelines and see dozens of college coaches watching the Blaze on the sideline. It's to be expected because those are the types of crowds that Team 91 draws at recruiting events, and once he played a few tournaments, he settled down and got comfortable.
"It was really cool to see and by the end of the summer, you're, like, '(the chance to be recruited) is finally here. It's awesome to be around this group and I've got a coach that will do whatever he can do to help me," McCaffrey said. "You realize that you're lucky to play with a team like Team 91 and in this organization, everyone is great and you're surrounded by such incredible talent. Being able to compete with the best players is amazing, and our coaching staff was so helpful. I'm very lucky to have what I have."
Now that includes a Division I commitment. Cluck cluck.
Team 91 2021 Commitments
(Click here for all Team 91 commitments)
Chris Cappelmann, faceoff midfield, St. Anthony's / Navy (Commitment story)
Tyler Gatz, midfield, Mount Sinai / Utah (Commitment story)
Andrew McAdorey, midfield, St. Anthony's / Duke (Commitment story)
Aiden McCaffrey, defense, Comsewogue / Delaware
Kyle O'Donoghue, midfield, St. John The Baptist / Navy (Commitment story)
Mac Rodriguez, faceoff midfield, Chaminade / Yale (Commitment story)
Chris Simonton, attack, Ward Melville / Providence (Commitment story)
Brandon Ventarola, midfield, Mount Sinai / Colgate (Commitment story)
Chris Zara, defense, St. Anthony's / Stony Brook (Commitment story)