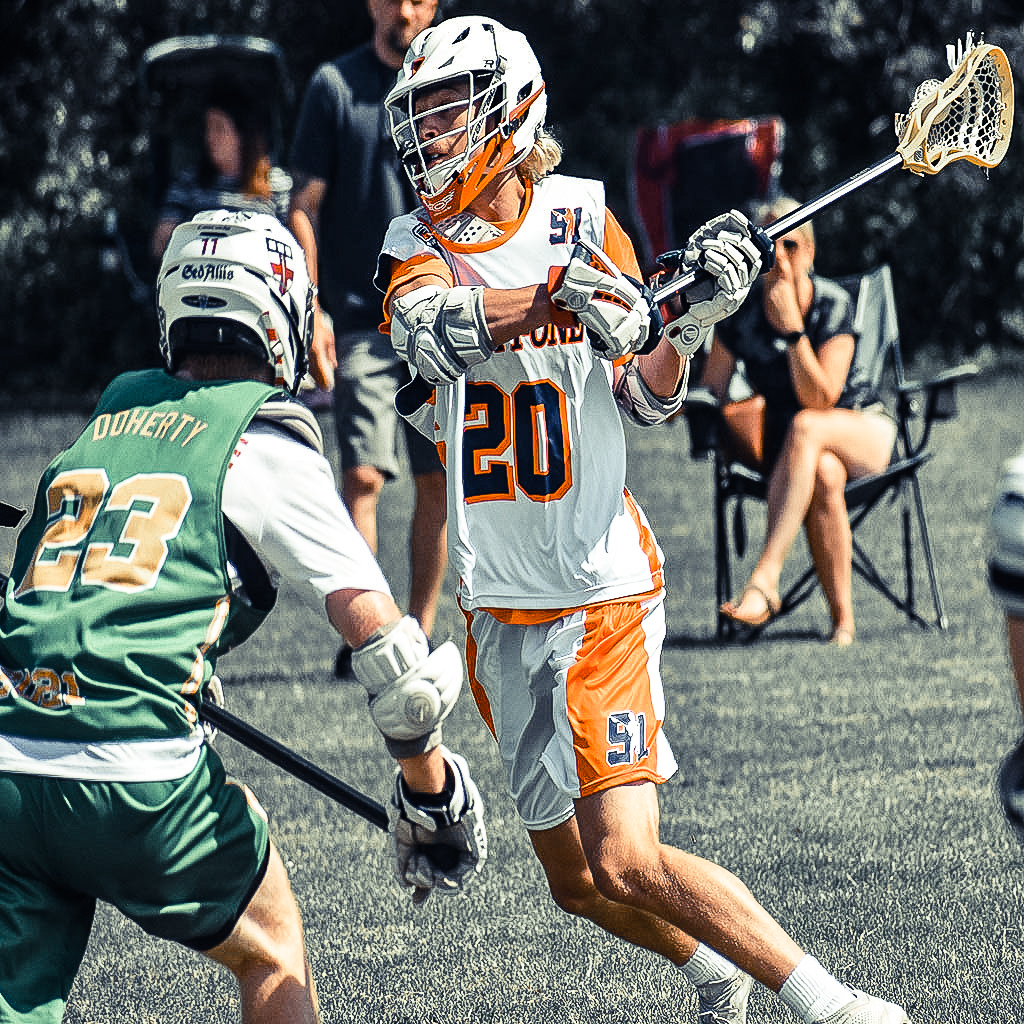 Follow Team 91 on Instagram, Twitter and Facebook.
Brandon Ventarola quickly found out how much of a priority he was for Colgate once Sept. 1 rolled around.
On the day that Division I coaches could first reach out to 2021 prospects, the Team 91 2021 Blaze and Mount Sinai midfielder noticed how badly the Raiders wanted him to be a cornerstone of their class, but not until second-year Colgate head coach Matt Karweck took an unusual approach to recruiting Ventarola.
"Coach Karweck was the first one to call me on Sept. 1, but he talked to my dad first and made sure to get permission to talk to me beforehand, which I really liked," Ventarola said. "Colgate was on my list of schools to go check out anyway, and when I went up and met him, I knew that it was the right place for me."
Ventarola had a breakout spring for Mount Sinai, pocketing 47 points, and followed it up with an outstanding summer for the Blaze. A true midfielder who impacts the game all over the field rarely stays uncommitted for long, and despite a hectic football schedule – he's a quarterback with nine total touchdowns who has the Mustangs rolling at 4-0 entering a showdown with rival Shoreham-Wading River this week – Ventarola wrapped up his recruitment with a commitment to the Raiders.
He's the fifth Blaze player to commit – all to Division I schools – after faceoff midfielder Mac Rodriguez (Chaminade/Yale), attackman Chris Simonton (Ward Melville/Providence), midfielder Tyler Gatz (Mount Sinai/Utah) and Kyle O'Donoghue (St. John The Baptist/Navy). Ventarola is the first player in Team 91 history to choose Colgate.
"I visited last week on Monday and then went back up (yesterday) to commit in person," Ventarola said. "Coach Karweck is a great guy and I really like the coaching staff. I liked how the lacrosse was together all the time and hung out all the time, and I wanted to go to a smaller school with smaller classes. I prefer the 1-on-1 experience instead of learning in a big lecture hall. My principal told me that Colgate is one of the best schools that you can go to. It's like a mini-Ivy League school with one of the highest job placement rates and you get job offers coming out of school. I just wanted to go to a really good school with a good lacrosse program."
Another major selling point for Ventarola was the direction in which Colgate is headed under Karweck, the former Notre Dame assistant who led the Raiders to an upset of Syracuse in his debut last year. Ventarola completely bought into the vision, and he expects Colgate to compete for championships in his time there.
"Coach Karweck wants to build an elite program and to be Colgate's first recruit in the 2021 class feels pretty special," Ventarola said. "He really wanted me and he wants to build the program and for me to be a big part of it."
Ventarola emerged as a big-time recruit after his great sophomore campaign and strong summer. His vision is exceptional for a midfielder, and he does a great job of involving his teammates after breaking down the defense on a dodge. He showed the ability to shoot well with either hand and he is the type of player that's not afraid to get to the dirty areas to make a play. Every program needs a guy like Ventarola, and his coach and Team 91 founder Brian Spallina knows that Colgate landed an impressive player and person to kick off its 2021 class.
"Brandon had a tremendous year for Mount Sinai and might have been even better this summer for us," Spallina said. "He does an incredible job of finding the open man and he's a shooting threat with either hand, but what I really love the most about him is his toughness and unselfish attitude. He's willing to do whatever it takes to help the team win and his teammates love him for it. Coach Karweck and Colgate got an outstanding player and person, and Brandon is the perfect player to start their class and help recruit others. I think he's a future captain for Colgate."
It's not hard to see why Karweck made him a priority.
Team 91 2021 Blaze Commitments
(Click here for all Team 91 commitments)
Tyler Gatz, midfield, Mount Sinai / Utah (Commitment story)
Kyle O'Donoghue, midfield, St. John The Baptist / Navy (Commitment story)
Mac Rodriguez, faceoff midfield, Chaminade / Yale (Commitment story)
Chris Simonton, attack, Ward Melville / Providence (Commitment story)
Brandon Ventarola, midfield, Mount Sinai / Colgate