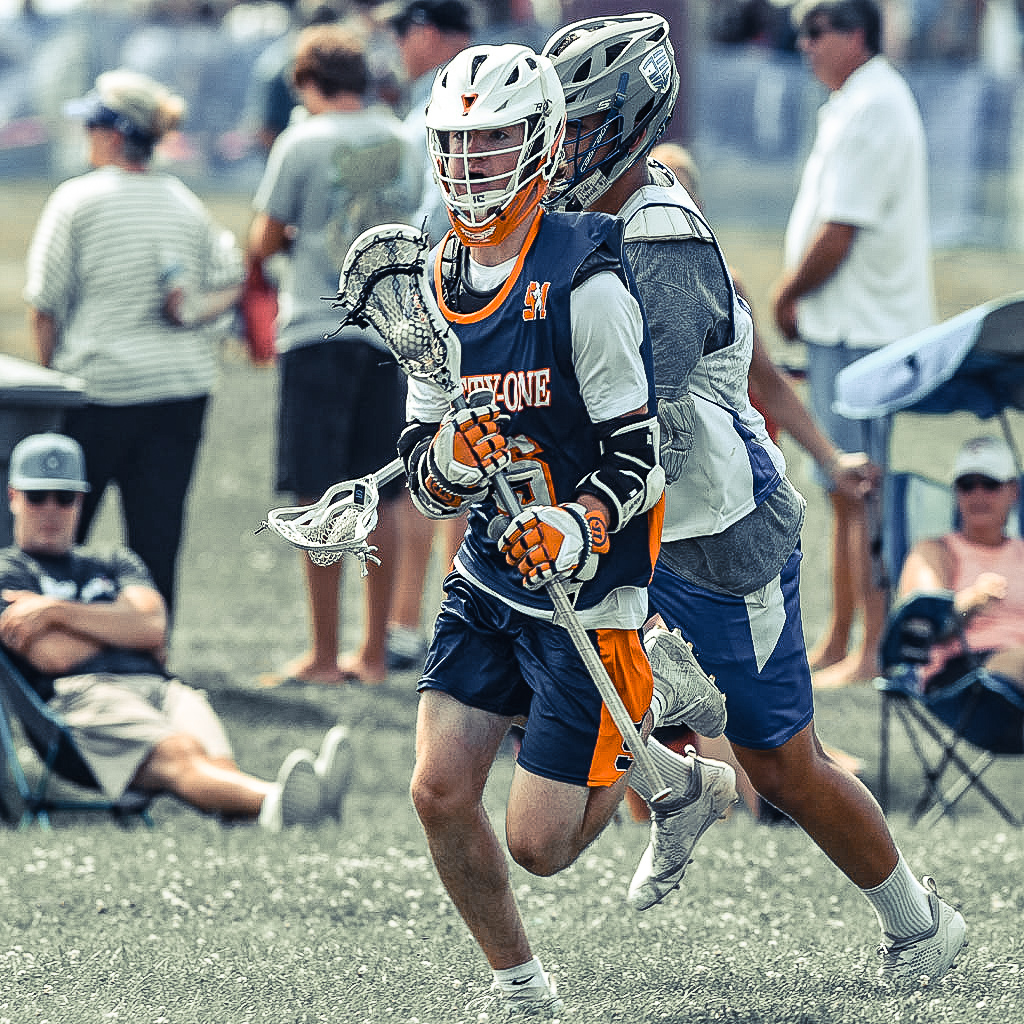 Follow Team 91 on Instagram, Twitter and Facebook.
Kyle O'Donoghue's introduction to the United States Naval Academy was a memorable one, but the Team 91 2021 Blaze and St. John The Baptist midfielder wasn't going to let that affect his recruitment.
The main reason for that, of course, was that he was way too young at the time to make a commitment. It left an imprint on him, and when the Blaze went back to Annapolis for the Naptown Challenge every year, he was reminded of why he liked the Academy so much as a sixth grader. Things changed, however, last week when he headed to campus for a prospect day.
"It's always been on my mind, and we go down every year and I get different glimpses of the campus," O'Donoghue said. "I went down there last weekend and (new Navy head) Coach (Joe) Amplo gave me the rundown of everything. I did a prospect day there, and Coach Amplo just told me, 'we need you.'"
O'Donoghue envisioned visiting a handful of other schools before he made his final decision, but Amplo was succinct in getting his message across as to how badly he wanted the two-way midfielder to join the Midshipmen's fold.
"Coach Amplo just said, 'forget all of those schools. I want you,'" O'Donoghue said. "Coach Amplo said that he thought that I was super tough and that it's, 'hard to find a player like you that's going to give it their all all the time.' I realized how badly they wanted me, and I had made a list of schools and the Naval Academy was my No. 1 pick anyway, so it worked out well. I've been interested in the armed forces because my grandfather, Rudolph Giaccaglia, served in Vietnam."
O'Donoghue became the fourth member of the Blaze team to commit – all to Division I schools – after faceoff midfielder Mac Rodriguez (Chaminade/Yale), attackman Chris Simonton (Ward Melville/Providence) and midfielder Tyler Gatz (Mount Sinai/Utah). He's the fourth Team 91 player to choose the Mids and the third in the past two classes, joining the '20 Crush duo of midfielderTyler Cordes (Connetquot) and defenseman Nick LiCalzi (South Side).
There may not be a more tailor-made program fit for any player in the country than O'Donoghue choosing Navy. He's a rugged two-way midfielder who excels at the defensive end and has elite speed and athleticism in the open field. He showed this summer that he's a threat to score, particularly as an alley dodger, and he'll fit in seamlessly with a program renowned for its toughness and grit.
O'Donoghue broke out this spring for St. John The Baptist, where he scored 18 goals, but most importantly, got to play with his older brother, Sean, who's now a freshman at Fairleigh Dickinson.
"Being on the same field as him has always been one of my dreams and playing with him was an amazing feeling," O'Donoghue said. "Getting pushed by him while growing up helped me a lot."
Being a part of the first class completely affected by the rule change that prevents college coaches from talking to players until Sept. 1 of their junior year had its plusses and minuses, but O'Donoghue proved to be the perfect shot-clock era midfielder, and schools took notice. His stock soared after a standout summer.
"It's always been a dream of mine to play college lacrosse and I just kept the same playing style and tried to do what was beneficial for me to stand out while also being a good teammate for everyone else," O'Donoghue said. "I had to leave my mark. After the first tournament of the summer (a championship at the NLF Opening Weekend), I felt really confident. (Blaze head coach and Team 91 founder) Brian (Spallina)'s intensity as a coach helped me a lot. He's been like a second father to me."
Spallina is high on his midfielder's chances of making a significant impact in Annapolis, and he also sees a perfect fit between what the Mids do and what O'Donoghue brings to the table.
"Kyle is a perfect fit for the Naval Academy as both a player and person," Spallina said. "He's tough as nails and thrives in all situations. He can D up your best midfielder, get the ball moving in transition and score at the other end. He's worked incredibly hard to put himself in this position, and Navy is getting an incredible person who will represent it well on and off the field."