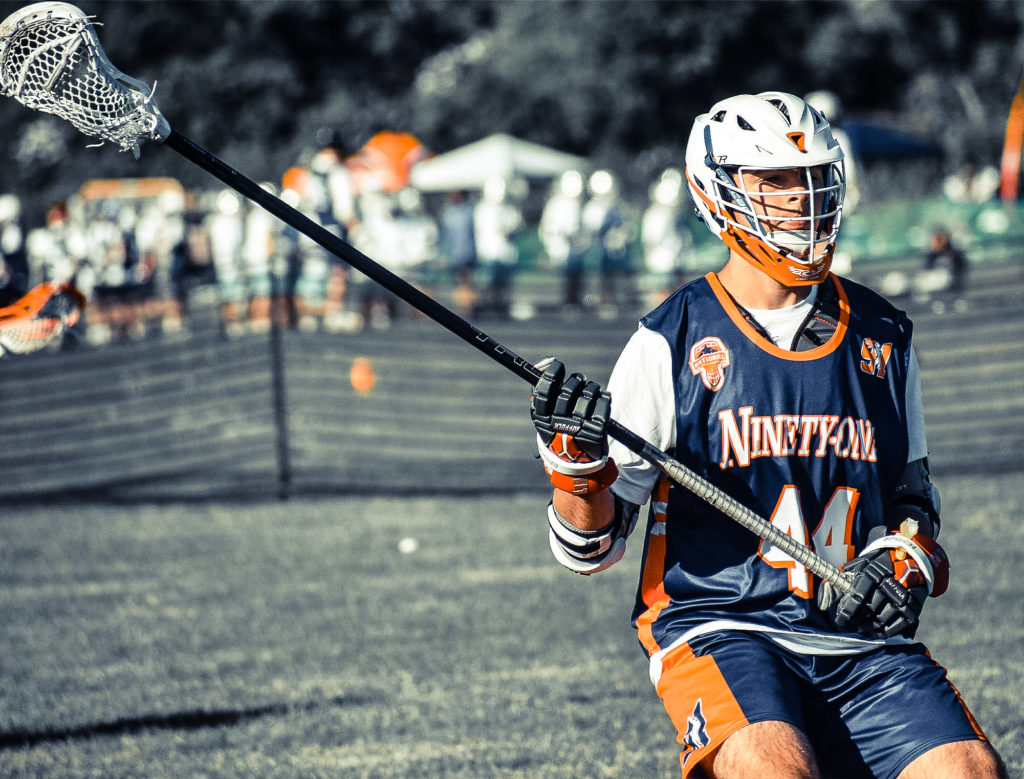 Follow Team 91 on Instagram, Twitter and Facebook.
Jake Wilson couldn't have gone wrong with any of the schools that were recruiting him.
The Team 91 Blaze and Shoreham-Wading River defenseman, the No. 25 '21 according to the NLF rankings and Inside Lacrosse's No. 17 prospect. had a veritable who's who of college lacrosse powers vying for his commitment.
What ultimately sold him, though, was something that's very unique to Duke, and it's a huge reason why the Blue Devils have had so much success in John Danowski's time in Durham.
"I loved the culture and everything that they built up so far, and I was impressed with the men that they were creating that came out of Duke," Wilson said. "They left better than they were before athletically, academically, and as people, and I thought that it's the type of person that I want to be."
He's the 10th '21 Blaze player to commit, all to Division I schools, and he'll join a Team 91-laden roster at Duke, which will include the '20 Crush and St. Anthony's trio of Brennan O'Neill, Aidan Danenza and '21 Andrew McAdorey, the '19 Orange trio of Kenny Brower (Massapequa), Jake Caputo (Middle Creek, N.C.) and Connor Drake (Salisbury, Conn.), as well as the '18 Extreme trio of Owen Caputo (Middle Creek, N.C.), Jordan Ginder (Brunswick, Conn.) and Frank Marinello (Chaminade).
"I don't know how to explain it, but there's something special about it that I didn't feel with any other college," Wilson said. "When the opportunity arose, I just couldn't deny it. It's special. I've always been big on competing and I know that the classes before me and my class are amazing athletes, and we're all ready to compete. Duke will turn me into the best competitor that I possibly could be."
Wilson checks off all of the boxes that you'd want from an ACC defenseman. He's the prototypical big, mean, physical defenseman that attackmen hate to go up against and will often happily pass out of. Wilson is also a defensive end, linebacker, fullback, tight end and wide receiver on the football field for Shoreham-Wading River's outstanding team, and he's got that temperament on the lacrosse field.
"Jake is the type of guy who will go out and drop the hammer on his matchup on the first play of every game, just to set the tone," Team 91 founder and Blaze head coach Brian Spallina said. "You can see right away that some guys just don't want to go up against him, and I can't blame them. He's a leader for us on the back end and he's just so tough, physical and mean. It's no surprise that he was so highly-coveted by so many schools, and (Duke head coach) Coach (John) Danowski and his staff should be ecstatic with what they're getting in Jake. He's a great lacrosse player, but an even better person."
Wilson is unsure of what he'll study at Duke, but he's currently leaning toward entering the medical field. He's always been curious about science and everything that comes with it, so medicine seems like a natural fit. What wasn't a natural fit at first, though, was the aggressive style that he plays with. When he first started, he wasn't in the same mold that he's in today, but a little prodding from his father helped put him on the path that will lead him to Durham.
"As a younger player, I was never as aggressive as I am now," Wilson said. "My dad instilled it in me and he'd say, 'you have to separate yourself from the competition. How many defenseman do you see that are super aggressive, so just separate yourself.' I'm big on mentality, so I think that if I can get in people's heads, it definitely helps in the game and in the long run and could be to my advantage."
Perhaps not so coincidentally, Wilson has been one of the lifers on the Blaze team, playing with the group since third grade. That group, which is flying off the recruiting boards and landing at some of the best schools in the country, has been under Spallina's tutelage, and it's morphed into one of the top teams in the nation.
"I can't commend Coach Brian and his staff enough," Wilson said. "I don't know where I'd be, especially in this recruiting process, without them. They're truly great coaches and men, and throughout this process, I've made new friends and seeing guys develop and seeing what this sport can do for an athlete has been incredible."
Team 91 2021 Commitments
(Click here for all Team 91 commitments)
Chris Cappelmann, faceoff midfield, St. Anthony's / Navy (Commitment story)
Tyler Gatz, midfield, Mount Sinai / Utah (Commitment story)
Andrew McAdorey, midfield, St. Anthony's / Duke (Commitment story)
Aiden McCaffrey, defense, Comsewogue / Delaware (Commitment story)
Kyle O'Donoghue, midfield, St. John The Baptist / Navy (Commitment story)
Mac Rodriguez, faceoff midfield, Chaminade / Yale (Commitment story)
Chris Simonton, attack, Ward Melville / Providence (Commitment story)
Brandon Ventarola, midfield, Mount Sinai / Colgate (Commitment story)
Jake Wilson, defense, Shoreham-Wading River / Duke
Chris Zara, defense, St. Anthony's / Stony Brook (Commitment story