Welcome To Team 91's Popular K-3 Academy Training

Open to Boys and Girls 
Team 91 K-3 Academy focuses on teaching the skills of the game the correct way. There is an unparalleled amount of attention spent on developing lacrosse's true fundamentals, and the mission of the Team 91 K-3 Academy is to enhance players in both lacrosse knowledge and techniques, all while being in a positive and informative environment. The goal is that every player in the K-3 Academy is working on exactly what they need to in order to take their game to the next level.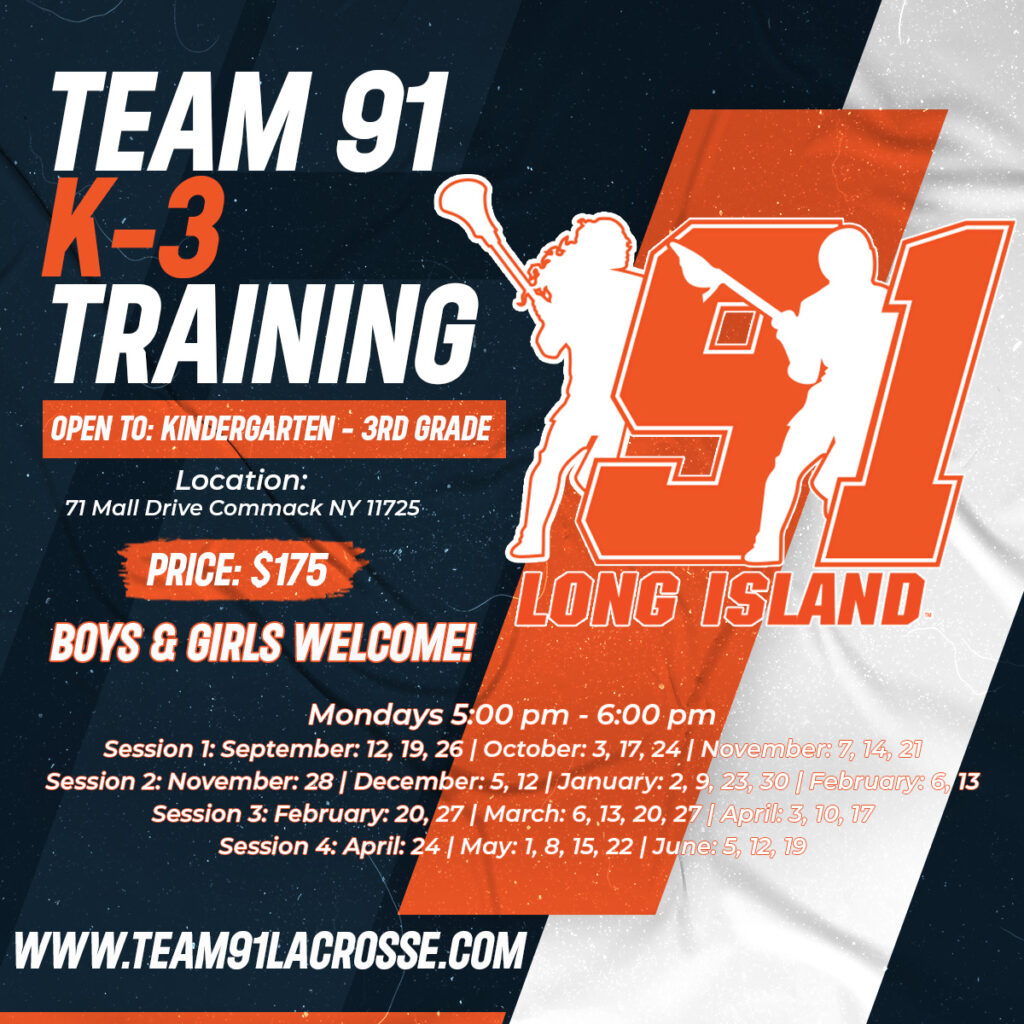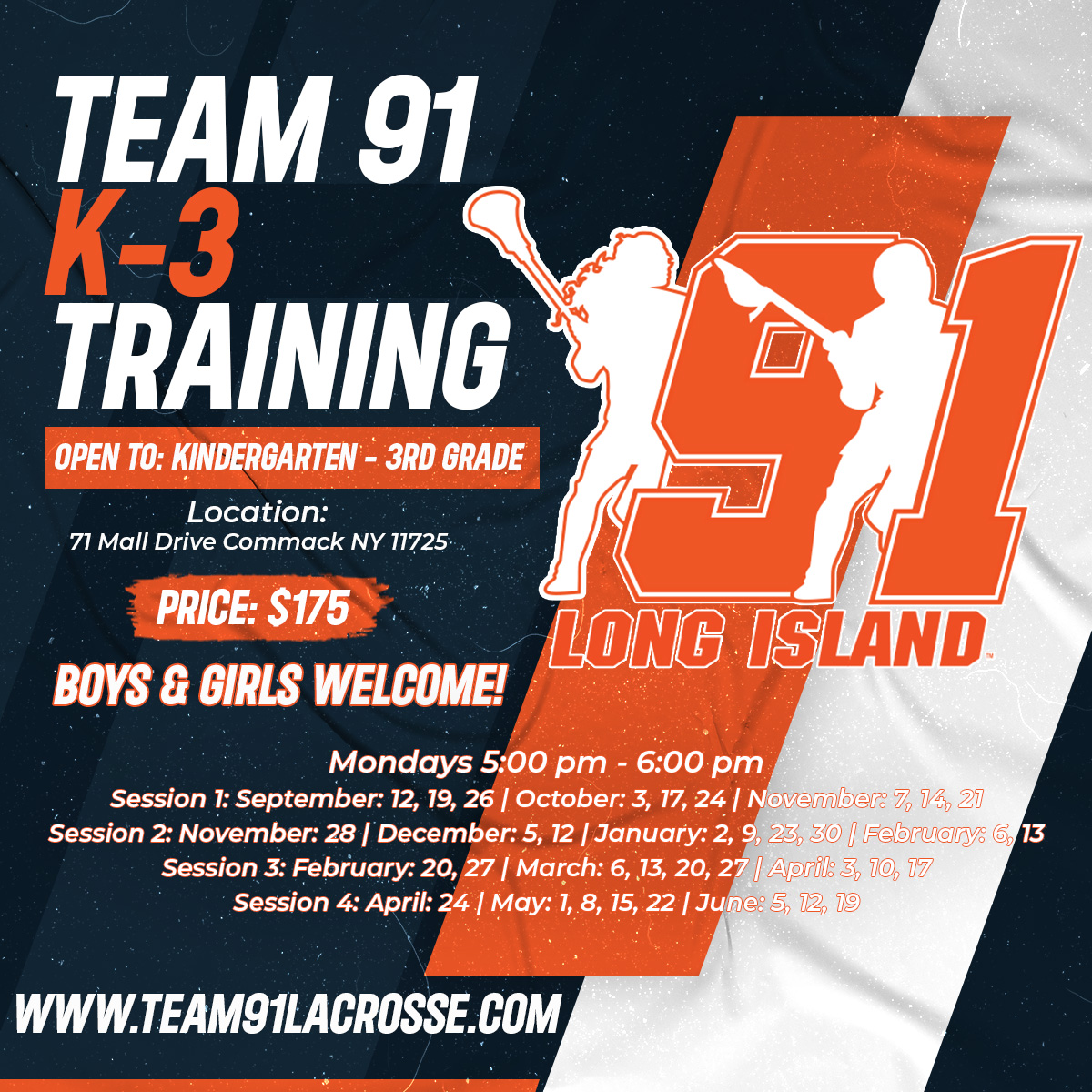 WHAT YOU GET
+ 9 trainings each session
+ 36 total training sessions
September | 12, 19, 26
October | 3, 17, 24
November | 7, 14, 21
Session 2
November | 28
December | 5, 12
January | 2, 9, 23, 30
February | 6, 13
Session 3 
February | 20, 27
March | 6, 13, 20, 27
April | 3, 10, 17
Session 4
April | 24
May | 1, 8, 15, 22
June | 5, 12, 19
LOCATION
Dynamic Sports Training Center - 71 Mall Drive Commack, NY 11725
INDOOR -
Dynamic Sports Train
ing Center
How The K-3 Academy Came To Be
It doesn't take long to hear it in Jay Mauro's voice, and it's abundantly clear that he harbors a burning passion for skill development. It's his belief that there's not enough of it going on in lacrosse, particularly at younger ages, and it's something that he wants to quickly change.
"I think that a skill set and proper fundamentals are a lost art in lacrosse today," Mauro said. "There's a lack of attention with regard to skill development, and we need to get back to that."
It's because of that that Mauro is guiding the Team 91 K-3 Academy, which will be held every Monday from 6-7 p.m. at the Dynamic Sports training facility in Commack until May at which point it'll move to Farmingdale State College. Inspired by seeing his six-year-old twins, Brody and Kaylee, Mauro wanted a program that brought together his vision of player development, and it's through a fun approach that kids that are his kids' ages will love their first encounter with the sport. CLICK HERE to register for the Team 91 K-3 Academy, which is open to both boys and girls.
"We want kids to be able to play with kids their age, and teach them fundamentals and help them become better players," Mauro said. "Some of the kids have played and some haven't, and that's OK. We'll assess their skills, divide them accordingly into groups and once we do that, we can help them improve their skills and increase the level of the drill and their skill development as they retain information and skills."
"We want them to have fun, first and foremost," Mauro added. "They need to understand that lacrosse is fun, From there, we'll work on basic things like holding and understanding different parts of a stick to ground balls, passing, catching, shooting, and eventually developing their lacrosse IQ.
Mauro is well-qualified to speak to the need for skill development. He spent the past three years as an assistant coach at Stony Brook before stepping away for personal reasons, and prior to that, he was the head coach at Sachem North for 11 years. This spring, he'll be the defensive coordinator at Half Hollow Hills East, and wherever he goes, success tends to follow. That stems from a constant desire to coach and teach, which makes him a natural fit at the K-3 Academy.
"I have to coach," Mauro said. "Coaching is teaching, and I love teaching and coaching the game. We want kids to enjoy playing lacrosse, and eventually help them turn into good kids with good values."
There's no better place to lay that foundation than the Team 91 K-3 Academy. See you there.