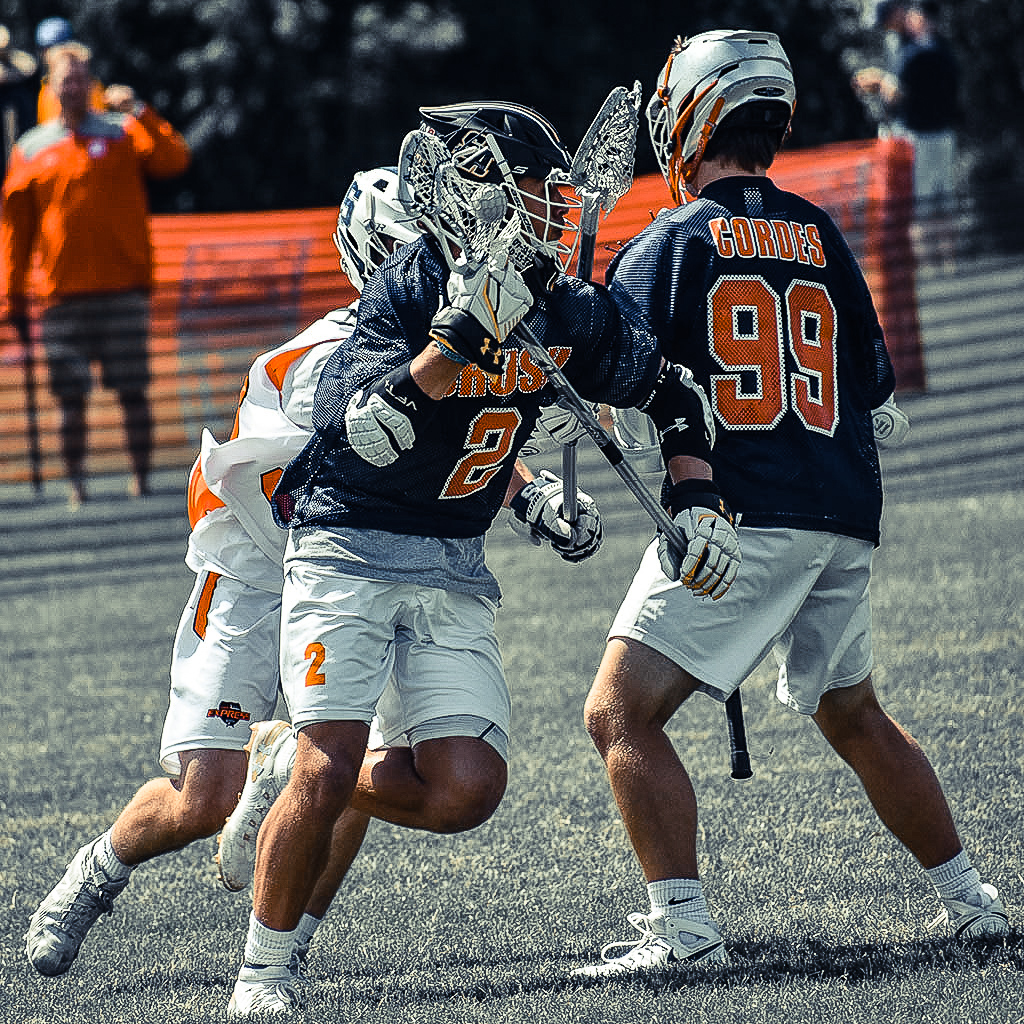 Follow Team 91 on Instagram, Twitter and Facebook.
It's a heck of a first-world problem to have, but that didn't make it any easier for Andrew McAdorey to figure out what college that he wanted to attend.
All of college lacrosse's heavy hitters made their pitch to the Team 91 2020 Crush midfielder and St. Anthony's midfielder, the No. 1 player in the class of 2021 according to both the National Lacrosse Federation and Inside Lacrosse. Admittedly, it's not easy to say no to the best schools in the country, but you can only attend one, and McAdorey's decision wasn't easy to make.
"First of all, I just want to say thank you to all of the coaches and universities that reached out," McAdorey said. "It truly is a humbling process. I got to meet some great people at amazing schools with great culture all over the country."
When he got on Duke's campus, though, his decision got a heck of a lot easier. McAdorey visited Durham last week and knew he'd found his future home. It didn't hurt to have the likes of Crush and St. Anthony's teammates Brennan O'Neill and Aidan Danenza headed there.
"Once I got on campus, I kind of got that feeling," McAdorey said. "On our way back and in the days after, I couldn't stop thinking about it, and after talking it over with my family, I knew that it was the place for me. I was taken aback by how beautiful of a school it was, and it has a deep lacrosse tradition and a history of success that comes along with it. I was really impressed with the rich academic tradition, too, and the coaches and players that make up the community. They made me feel like I was a part of something when I was on the visit."
McAdorey will join a ton of familiar faces from the Team 91 program in Durham, including O'Neill and Danenza, as well as Kenny Brower (Massapequa), Jake Caputo (Middle Creek, N.C.), Connor Drake (Salisbury, Conn.), Owen Caputo (Middle Creek, N.C.), Jordan Ginder (Brunswick, Conn.) and Frank Marinello (Chaminade).
"Growing up with Aidan and Brennan and playing together for 10 years on the Crush and then playing with them at Duke was definitely something that I had thought about before," McAdorey said. "It definitely influenced my decision and hopefully, we can have the same success that we've had at St. Anthony's and do some damage at the college level. The Long Island influence on the coaching staff had an impact on me, too."
McAdorey is a complete midfielder with elite-level athleticism, agility, change-of-direction ability and speed. He can lock down an opposing midfielder on the defensive end, then call his own number on punt-return clears and never get stopped. As a sophomore at St. Anthony's, he pocketed 32 goals to go along with 15 assists for a Friars team that went 15-1, then helped the Crush to championships at the Naptown Challenge, NLF National Championships and Lake Placid tournaments to put the finishing touches on a brilliant run for the team.
Yet, he might find himself playing attack for the Blue Devils, a spot where he's occasionally run for the Crush and filled up the back of the net in a hurry. There's no doubt that Duke will find the best spot for him, and no matter where he plays, he will be a gamebreaker.
"I liked how the coaching staff looked at things, and I'm going to be able to be coached by some really great coaches," McAdorey said. "I'll go wherever I have to to be on the field and contribute to the team's success, and if I play attack, I'll be coached by Coaches Ned Crotty and Matt Danowski, two great lacrosse players who have had so much success as players and coaches."
McAdorey still thinks back to the first day he suited up with the Crush, and he knew immediately that the team had the talent and potential to be one of the best teams that club lacrosse had ever seen. There was plenty of talent, and Coach Joe Spallina knew how to bring it all together. It had a major impact on McAdorey's ascent to a blue-chip prospect.
"I knew that team was going to be special. We were just different," said McAdorey, who also credited St. Anthony's coaches Keith Wieczorek and Doug Schreiber for his development. "A lot of that goes to Coach Joe, because he taught us the right way to play lacrosse. I owe so much to the players and coaches, including Coach Joe, Coach Andy Martin, Coach Darrin Schirtzer and Coach John Arline. We went through some tough times and good times on and off the field, and you knew that you had a great group to go to and compete at the highest levels. They pushed me to be the best that I could be and I owe a lot of my success to them because they put me in positions where I could succeed and thrive."
Spallina has been there since Day 1 with the Crush, and he's seen McAdorey work to put himself in the position he's in. For Spallina, it won't be much of a surprise if and when his McAdorey, O'Neill and Danenza do big things at Duke.
"I'm really proud of Andrew. He is such an incredible player and teammate and he will make a major impact on Division I lacrosse," Spallina said. "He took his time, was diligent and never rushed the process. Duke got a great person and player in Andrew, and I can't wait to see him, Brennan and Aidan put on a show in Durham."
Team 91 2021 Commitments
(Click here for all Team 91 commitments)
Chris Cappelmann, faceoff midfield, St. Anthony's / Navy (Commitment story)
Tyler Gatz, midfield, Mount Sinai / Utah (Commitment story)
Andrew McAdorey, midfield, St. Anthony's / Duke
Kyle O'Donoghue, midfield, St. John The Baptist / Navy (Commitment story)
Mac Rodriguez, faceoff midfield, Chaminade / Yale (Commitment story)
Chris Simonton, attack, Ward Melville / Providence (Commitment story)
Brandon Ventarola, midfield, Mount Sinai / Colgate (Commitment story)
Chris Zara, defense, St. Anthony's / Stony Brook (Commitment story)