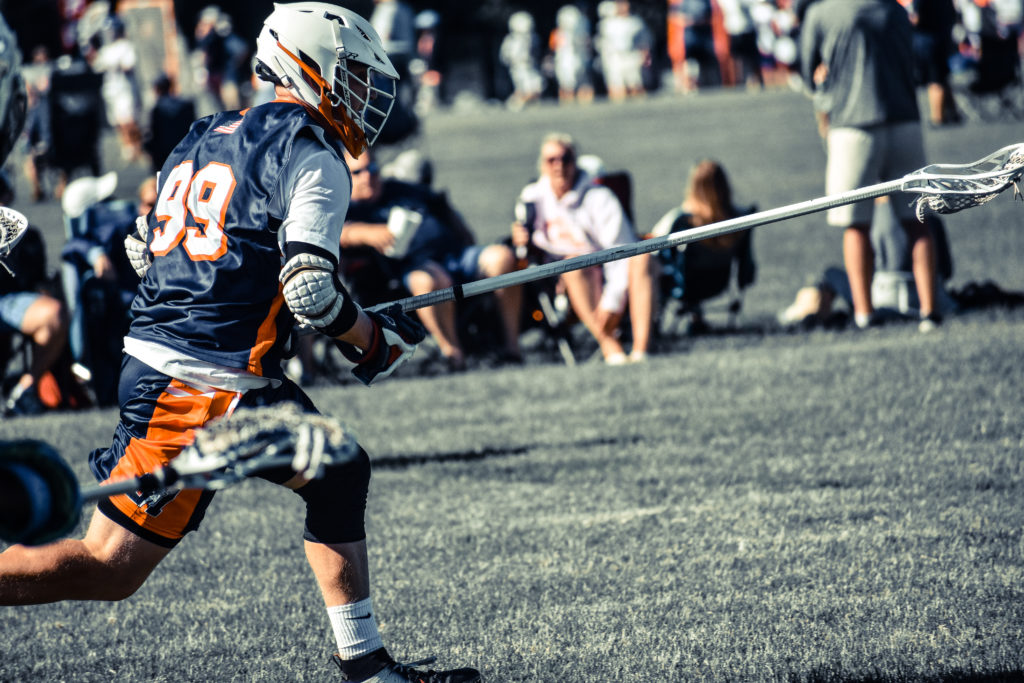 Follow Team 91 on Instagram, Twitter and Facebook.
AJ Volkmann couldn't see himself going too far from college.
The Team 91 2021 Blaze and Mount Sinai defenseman/LSM went into his recruitment with a radius of about three hours or so in which he'd consider schools, but he also didn't envision himself staying home on Long Island.
"I didn't want to go too far from home," Volkmann said. "I didn't want to sit in the car too long to go to college."
He wasn't sure what to expect from Long Island University reached out to him on Sept. 1. The Sharks, formerly in Division II, will play their first Division I game in less than two months, and he hadn't originally thought of going to LIU. One visit, though, changed everything.
"They reached out to me on Sept. 1, and we talked to each other throughout the process," Volkmann said. "I got on campus last month, and once I went there and saw it, I just fell in love with the place. I visited some other great schools, too, but what separated LIU for me is that it's a new program. I wanted to go somewhere to build something. It's definitely exciting to have the team head to the Division I level."
Volkmann didn't wait much longer to commit to the Sharks, becoming the 13th Blaze player to commit, all to Division I schools. He's the first player in Team 91 history to choose LIU. Volkmann's recruitment took a little bit longer than many of the others', but the patience, along with a strong fall in which he played at a significantly lighter weight, endeared him to many Division I schools.
Turning Into a Shark
"You have to get past the fact that everyone is going somewhere, and it's different for me than other guys. Different guys will go through different times with their recruitment, but it took some time for me not to get discouraged at how long the process was taking," Volkmann said. "This fall was pretty big for me. I did a lot of training and lost about 20 pounds to get to peak performance and be light on my feet, and I just grinded away."
The difference was noticeable right off the bat, particularly to Team 91 founder and Blaze coach Brian Spallina.
"AJ put together a really strong, consistent fall for us, and you could see that he was comfortable covering any type of attackman," Spallina said. "He's been a vital part of our team since he joined, and it's been really cool to see him develop as a player and as a person in that time.  He's a versatile defender and he's the type of player that likes to be challenged, so it's fitting for him to want to be a part of something new and special at LIU. I'm excited to see what he'll do at the next level and we couldn't be happier for him to land at a great school like LIU."
Volkmann, who is undecided as to what to study but prefers math and science courses, was also drawn to the school because of its energetic coaching staff. He also knows that with the Sharks making the jump to Division I, there's nothing set in stone on the depth chart, and he's looking forward to the opportunity to potentially make an immediate impact.
"I'm hoping to have an impact all four years," Volkmann said. "I feel like the coaching staff was also a big deciding factor for me. They're three young guys who want to build something special at the Division I level, and they're three guys who know what it takes to get there."
The task of building something up fits Volkmann perfectly, because he's been there before. He joined Team 91 in the summer going into his seventh grade, right around the time that Spallina took over the coaching reins. Since then, the Blaze has morphed into one of the top '21 teams in the nation, consistently going toe-to-toe with the top squads in the country. Playing for 91 and against that elite competition helped Volkmann become the defenseman that he is today.
"That first year when I came to 91 was the biggest growth year in my game," Volkmann said. "My lacrosse IQ went up multiple levels. I had an idea on how to play, but I wouldn't see slide packages in a certain way or little things like that. Brian's big on, 'do your job and the rest will follow,' and when everyone does their job, it works out well."
Both for the team and, in Volkmann's case, the individual.
Team 91 2021 Commitments
(Click here for all Team 91 commitments)
Chris Cappelmann, faceoff midfield, St. Anthony's / Navy (Commitment story)
Tyler Gatz, midfield, Mount Sinai / Utah (Commitment story)
Andrew McAdorey, midfield, St. Anthony's / Duke (Commitment story)
Aiden McCaffrey, defense, Comsewogue / Delaware (Commitment story)
Kyle O'Donoghue, midfield, St. John The Baptist / Navy (Commitment story)
Mac Rodriguez, faceoff midfield, Chaminade / Yale (Commitment story)
Johnny Schwarz, midfield, Shoreham-Wading River (N.Y.) / North Carolina (Commitment story)
Tyler Schwarz, LSM, Shoreham-Wading River (N.Y.) / North Carolina (Commitment story)
Chris Simonton, attack, Ward Melville / Providence (Commitment story)
Brandon Ventarola, midfield, Mount Sinai / Colgate (Commitment story)
AJ Volkmann, defense/LSM, Mount Sinai / LIU
Jake Wilson, defense, Shoreham-Wading River / Duke (Commitment story)
Chris Zara, defense, St. Anthony's / Stony Brook (Commitment story