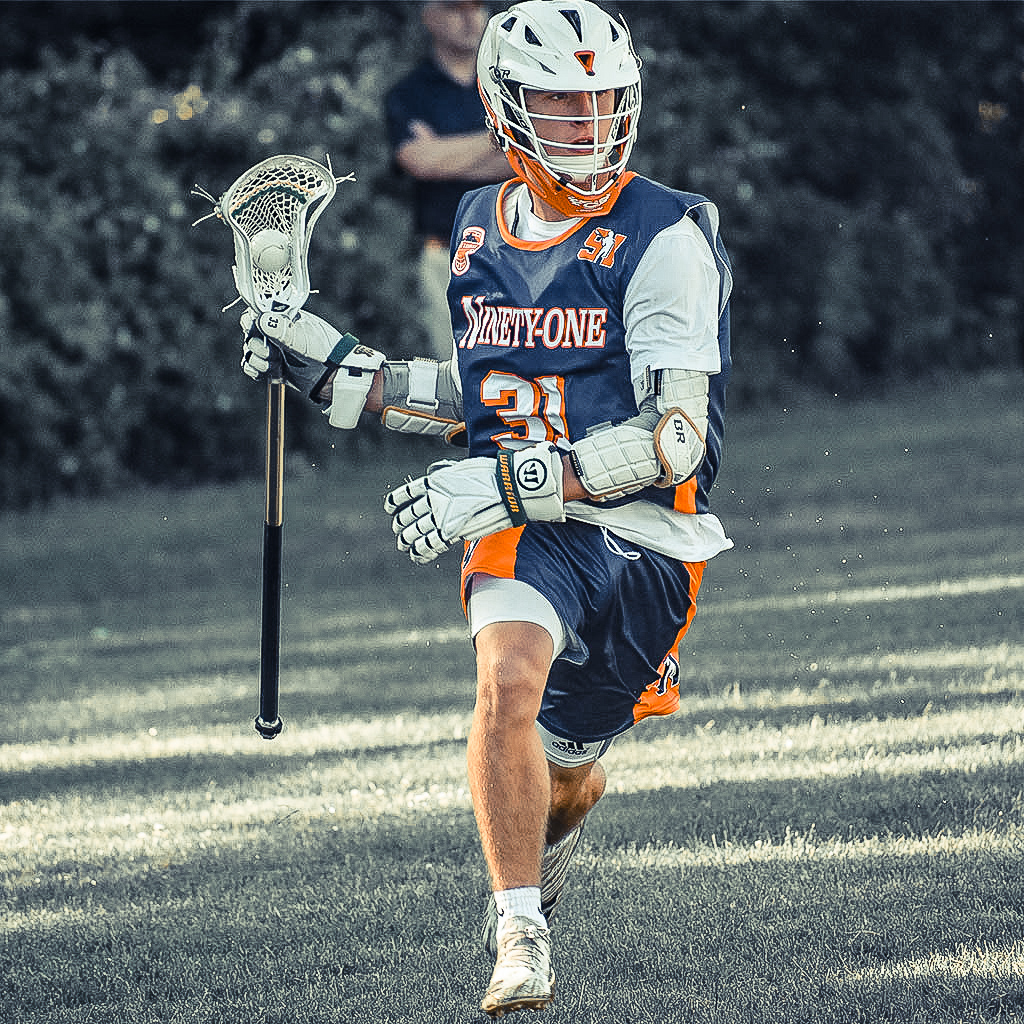 Follow Team 91 on Instagram, Twitter and Facebook.
On a 100-degree day at the National Lacrosse Federation national championships this summer, Chris Simonton spotted a sliver of open space, caught a pass in traffic and took a hard hit while unleashing a shot that quickly found the back of the net. As he got up, he had a few words to remind the defenseman who'd put the hit on him that the score had just changed as a result of the Team 91 2021 Blaze sniper's work.
It's the type of play that embodied everything about the Ward Melville junior's playing style. As gritty as they get, Simonton is the kind of player that effortlessly mixes skill, toughness and grit, and when he started looking at colleges, it didn't take him long for him to find a school that fit him like a glove in Providence.
"When I first stepped foot on campus, I just really loved the environment," Simonton said. "I loved the coaching staff and how they ran their team and presented themselves. It's a hard-working family, and I love their fast-paced, tough playing style. I watched a lot of their games and really liked what I saw."
When you know, you know, and Simonton didn't need to look further than the Friars, so he opted to become Providence's first class of 2021 commit and the second from the Blaze team after faceoff midfielder Mac Rodriguez (Chaminade/Yale). Simonton is the first player in Team 91 history to commit to the Friars.
"The environment just seemed like a great fit for me," Simonton said. "The academics are really good and they have a very good business program, which I want to get into. The athletic facilities are great and the campus is beautiful. I went to a prospect day last September and then again at the end of the year, so I was really interested in them."
A Team 91 lifer since third grade, Simonton has continually improved year after year, but this summer was an important one for his recruitment. He knew that the Blaze's skill level, coupled with the elite events that it plays in, would attract a lot of collegiate suitors, and the commitment to Providence is a celebration of his hard work to fulfill a longtime goal.
"My goal has always been to play college lacrosse, and I really worked hard for it over the summer and kind of hoped that it would come," Simonton said. "I got my first text from a college coach on Sept. 1, and it was really cool to get calls on Sept. 1. It came fast and it was a little nerve-wracking, but it was definitely worth it."
A versatile offensive threat at attack, Simonton excels at getting to open spaces and finishing inside, but he can also break down a defense off the dodge. What has endeared him the most to his coach, though – Brian Spallina, a guy who knows a thing or two about winning championships – is his willingness and ability to do all of the little things to make his team better.
"Chris is an absolute animal all over the field," Spallina said. "He's an incredible inside finisher that has developed into an excellent dodger. He rides like an animal and plays with absolute passion, and he's tough as nails. He's not afraid of anyone or anything and he cares about doing anything he can to help the team win. Any coach would love to have a guy like him, and we've been fortunate to see him develop into a legitimate Division I attackman. We're excited to see what he can bring to the Friars on and off the field."
With a commitment in hand, Simonton can focus on one more year with the Blaze and helping Ward Melville to a state championship in the spring.
"Coach Spallina and Coach Chris Rogler, as well as my high school coach, Coach Jay Negus, have really helped me develop my skills," Simonton said. "I couldn't have done it without them or my teammates. I love playing with 91. Everyone is a family, it's a great organization and the coaches are amazing and just want to help the whole team succeed."
Part of that family can now succeed in Friartown.
Team 91 2021 Blaze Commitments
(Click here for all Team 91 commitments)
Mac Rodriguez, faceoff midfield, Chaminade / Yale (Commitment story)
Chris Simonton, attack, Ward Melville / Providence