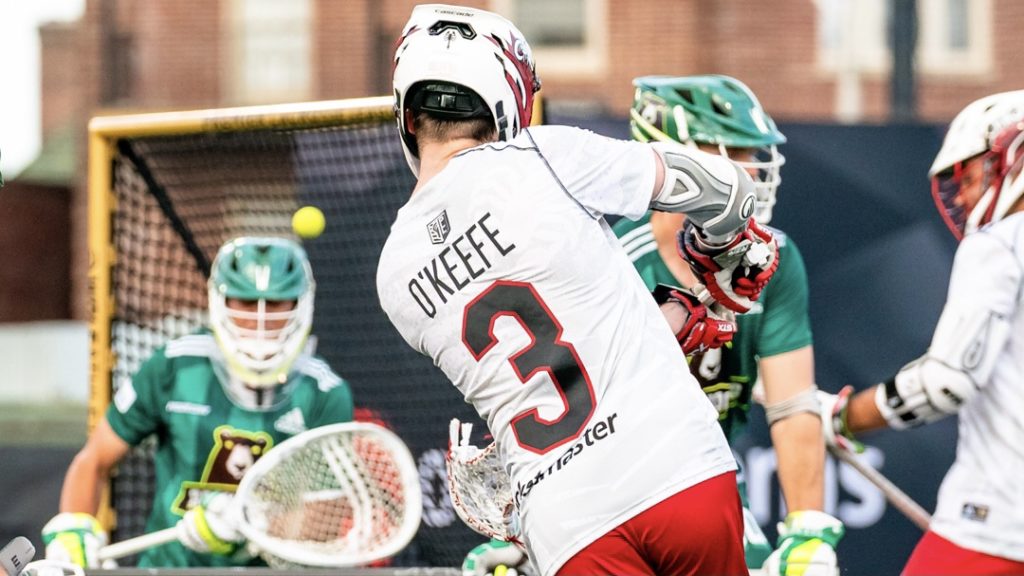 Follow Team 91 on Instagram, Twitter and Facebook.
Photo courtesy of the Premier Lacrosse League.
Mac O'Keefe's first professional game wasn't exactly memorable.
The Team 91 2016 and Syosset alumnus, who broke the NCAA Division I career goals record in his storied Penn State career, suited up for the Chaos against the two-time defending PLL champion Whipsnakes. He didn't find the back of the net in that game, a rarity for the lefty sniper, and the Whips handed the Chaos a decisive 13-7 loss.
"When we played them in the first game, we got worked," O'Keefe said. "They were way better than us."
Some three months later, though, it was O'Keefe and the Chaos who turned things around. O'Keefe led the charge with a pair of highlight-reel rocket goals and the Chaos knocked the Whips from the PLL throne to the tune of a 14-9 rout. It was a fitting end to the season for the Chaos and especially O'Keefe, who joined an assembly line of Team 91 pro champions, including the likes of Brian Spallina, Sal LoCascio, Jimmy Mulé, Nicky Polanco, Chris Rogler, Joe Spallina, Timmy Byrnes and a host of others.
"Everything came full circle for us," O'Keefe said. "Being able to play them in the last game was what we wanted. We wanted to prove that we could hang with them. At the beginning of the season, I didn't think that we'd go as far as we did, but we came together at the right time. We peaked when we needed to and came out on top."
ICYMI: @MacOKeefe3 got his second goal with seconds left in the first half ?

Second Half is starting NOW — tune into @nbc to watch pic.twitter.com/OCohAg3Tp1

— Premier Lacrosse League (@PremierLacrosse) September 19, 2021
The No. 6 overall pick in the 2021 PLL draft, O'Keefe ripped home 213 career goals as a Nittany Lion. That broke the previous mark of 212 by Duke star Justin Guterding, and O'Keefe's 78 tallies as a junior rewrote the Big Ten's record. In nine regular season games for the Chaos in his rookie year, he had 13 points – seven 1-point goals, two 2-pointers and a pair of assists – and he added three playoff goals for the champs.
Those numbers figure to significantly spike next year as he gets more comfortable within his role. The biggest thing for him, though, is being a great teammate who can help his team to more championships.
"What was so great about our team is that we had no egos at all and that our team had absolutely nothing to lose," O'Keefe said. "Nobody thought that we'd be the team to go all the way, and we embraced that and used it to motivate us. Next year, I won't be a rookie and I can help some of the rookies coming in. I just want to do whatever I can do to be a team guy. That's something I learned throughout the years at Penn State from Coach (Jeff) Tambroni: just being a team guy and being a great teammate. I'll fill whatever role that I need to fill to help the team."
Mac O'Keefe: good guy, GREAT SHOOTER pic.twitter.com/qnohw2NQds

— Chaos Lacrosse Club (@PLLChaos) September 23, 2021
It's no surprise to see such a dominant player make an early impact as a pro. O'Keefe will continue to play this winter for the expansion San Diego Seals of the National Lacrosse League, something that should suit his skill set well. His talent and ability to be a great teammate will only continue to endear him to his teammates and coaches.
"We've been fortunate to watch Mac's game develop for so long at Team 91 and then Penn State before he got to the pros," Brian Spallina said. "He's an incredible shooter, but what's most impressive about him is how hard he works to continually get better. He's an even better teammate who does all of the little things to help his team win. We're thrilled that he was able to have so much success as a rookie, and I'd be shocked if it's the last time that he's celebrating a championship in his pro career."