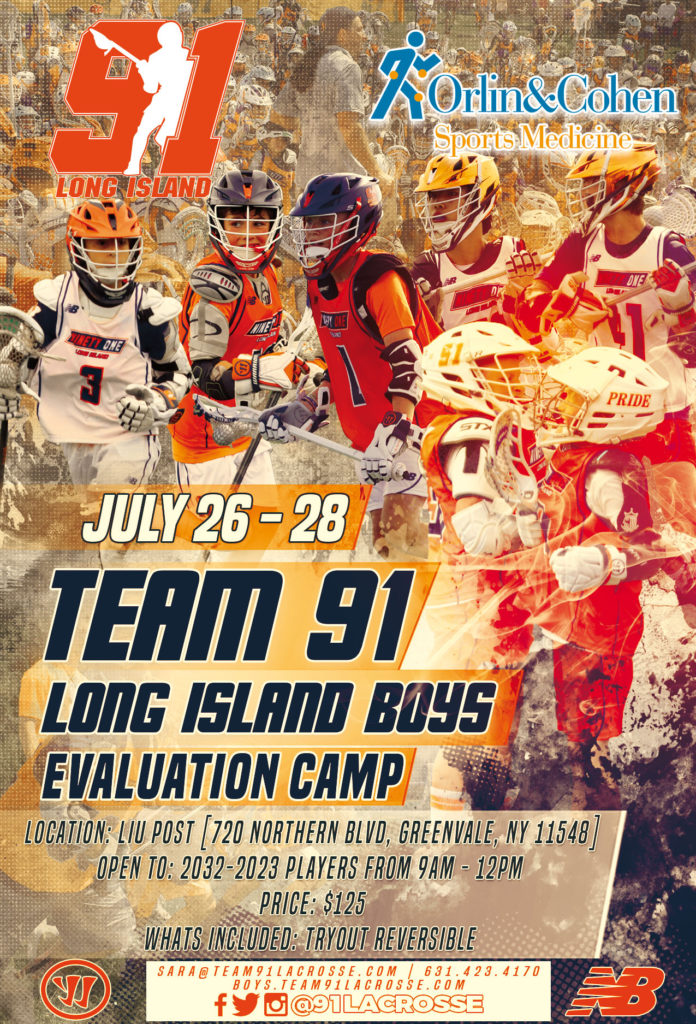 Follow Team 91 on Instagram, Twitter and Facebook.

Trying to stop Ronan Fitzpatrick this year has been an exercise in futility for most teams on Sayville's schedule. The Team 91 2023 Warriors lefty sniper kept that trend going Thursday.
Fitzpatrick fired home four goals – his 10th game of the season with at least a hat trick – as Sayville upended Rocky Point, 12-7. Fitzpatrick now has 46 goals and 11 assists to his name as a sophomore, and the game marked his fourth straight outing with at least four goals.
'23 Warriors LSM Will Levonick had an assist for Rocky Point.
Dylan Sageder and AJ Volkmann are on the board!
The Team 91 2022 Smash LSM, a Syracuse commit, and '21 Blaze defenseman (LIU) both scored their first career goals and led a stingy defense that didn't yield a second-half goal for the Mustangs.
'22 Smash Joey Spallina (Syracuse) paired four goals with five assists to pull within four points of his second-straight 100-point season. '23 Bandits Jake Spallina set up a goal.
'21 Blaze Mason Oak (Quinnipiac) was stout in the 'Wogue cage, stopping nine of the 12 shots on target, as the Warriors pulled away.
'22 Smash Jameson Smith (Johns Hopkins) had a goal and an assist for the Phantoms, while '24 Wolfpack Ben Morris scored once. '22 Smash Gavin Locascio (UMass) set up a goal.