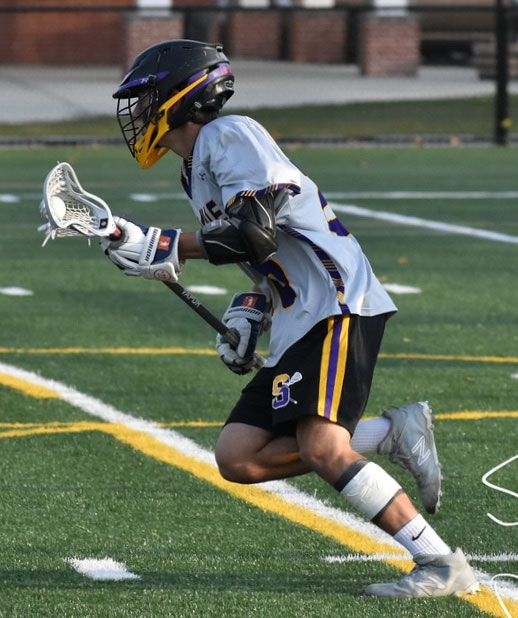 Follow Team 91 on Instagram, Twitter and Facebook. 
It didn't take long for Florida Tech's most effective sales pitch to have its intended effect on Nick Cannetti.
The Team 91 2019 White and Sayville midfielder was already interested in the school for a myriad of reasons, but once he took his visit, he quickly got an indicator of what he wouldn't be missing from Long Island if he went to school in Melbourne.
"I visited in February when there was a snow storm going on at home," Cannetti explained, "and I came back with a sunburn. I will not miss Long Island winters."
The weather's great, but it was just one of the many reasons that led Cannetti to commit to the Division II Panthers. That visit – the one with such nice weather – also showed him that Florida Tech brought together so much that he wanted. He was looking for a smaller school with competitive lacrosse, but also one where he could study mechanical engineering and design cars out of college.
"Growing up, my dad had a 1967 Mustang, and he was always working on that car," Cannetti said. "Ever since I was little, we'd go in the garage and work on it together whenever we had the chance. Often, we'd go in the winter, open the garage and blast the heater and replace windows, the gear box, lights, or whatever else. I'm pretty good in smart art classes, too, and I have a folder of at least 200 sketches of cars. At Florida Tech, they have something called, 'Panther Works,' which is almost a big aircraft hangar with a huge workshop for clubs and classes. They have any tool and material you can imagine and you can build rally cars, and I really liked how it's so hands-on."
Being five minutes from the beach certainly ended up in the "pro" column, and he'll have some friends' grandparents nearby if he needs a taste of home. When he got the chance to watch the team in action, it further cemented in his mind that Florida Tech was the spot for him, even if he smartly took his time to make his ultimate decision.
"I love it there," Cannetti said. "It was a pretty long process, and when I took the visit, they said that they wanted me there, but that they knew I was looking at other schools, so don't make an impulse decision."
At Florida Tech, he'll be tasked with helping to retool a program as it chases a Sunshine State Conference championship. It's nothing new to him, either. When he was in fourth grade, he went from his local PAL team to Team 91 for a bigger challenge and the chance to play against the best competition. That was before Team 91 turned into the behemoth that it is today, and being a trail blazer has always been something cool to Cannetti.
"We weren't the best team at first, not at all, but we started coming together as we got new kids throughout the years," Cannetti said. "I still have a picture from back then of me, James MacGilvray (Bellport/Dominican), Michael Carere (Connetquot/Saint Joseph's) and Sal Pascarella (Half Hollow Hills East/Saint Joseph's) and it's so cool to see how we've come up. Every time we play someone, other teams will say, like, 'oh, you're the B team. Thank God,' and then we still beat them. We've been able to beat a lot of the best teams in the country and we're competitive with everyone, which has been really awesome. Just being able to say that I've been there the whole time, one of the day 1s, is amazing. All of my coaches have been amazing, from Rob Campbell to Scott Craig to Coach (Brian) O'Keefe, Coach (Darren) MacGilvray and (Sayville coach) Christian Doller."
The Panthers have a good one coming in, too. Cannetti's calling card has always been his versatility and his willingness to adapt and do whatever it takes for the team. He's played every position in high school except goalie, and that's only because Doller hasn't asked him to, or else he would. If he had a preference between one position, he'd prefer to suit up at defensive midfield, but there isn't anything he won't do for the team.
"Nick is one of the toughest kids that I've ever coached," O'Keefe said. "He took the majority of faceoff wings as a short stick, and he's an excellent defender who can take the ball away and create offense. He also scored some huge goals for us in transition, and he has a gamer's mentality. Florida Tech is a great landing spot for him, both on and off the field, and we're happy that he's found a place that makes him so happy."
All that without having to worry about a winter jacket anymore.