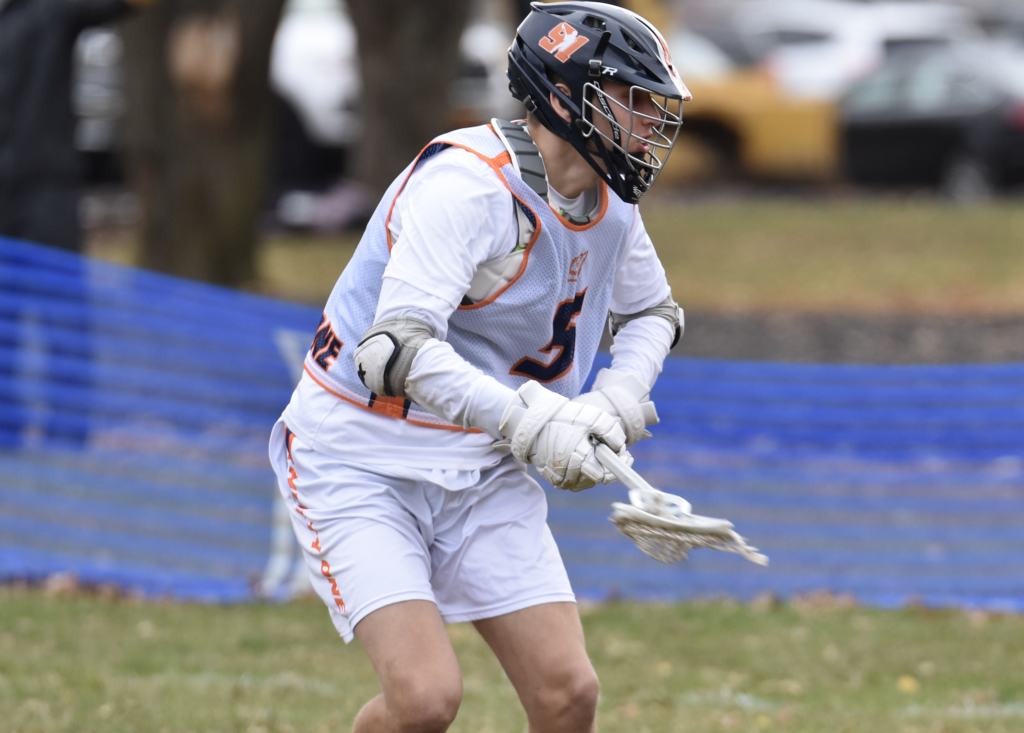 Follow Team 91 on Instagram, Twitter and Facebook. 
With the way that Kyle Connor felt heading into the final weekend of the November recruiting circuit, nobody would have blamed him for sitting out the Friday night Spotlight Showcases Public vs. Private Game to get some rest for the weekend's Fall Classic and NLF Fall Invitational.
"I was sick Thursday and Friday," Connor said. "I had a cold and sore throat, but I took some medicine for it and decided to play."
As it turns out, battling through that cold helped him secure his collegiate future. The standout defenseman from Team 91 2020 Orange and Sachem East didn't show any ill effects from being under the weather. An imposing figure on the back end at 6-2, 190 pounds, he smoothly covered attackmen with the footwork of a smaller, quicker defender, and once the ball is in his stick, he's excellent at pushing the pace in transition. It's not a style that always draws attention, but it's one that's ruthlessly effective, and on that night, it opened some eyes.
"Quinnipiac said that they saw me play there and reached out to me right after that," Connor said. "We set up a visit and I visited last Monday and they offered me Tuesday. I was looking at other schools and I had some offers, but I knew that Quinnipiac was my No. 1 school and I felt like it was the time to commit," said Connor, who becomes the first 2020 Orange player to commit. I just had a different feeling and I fell in love with everything, from the school to the lacrosse program to the academics. There was nothing quite like Quinnipiac and I just knew it was the right school for me."
"My sister Kaitlyn goes to Union, and because I visited there, it was important for me to go to a smaller school and learn in a smaller class," Connor explained. "At the same time, I didn't want to go to a school with 2,000 people, so 7,000 is a perfect fit. My parents, Allison and James, had visited Quinnipiac with my sister, so they also knew that it could be a good fit for me."
The whirlwind recruitment was a fitting ending to Connor's 2018 campaign, where he quietly emerged as a viable Division I defenseman. He was excellent early and often this summer, most notably at Run With The Best and the NLF Power of Will Showcase. As he started to get more and more notoriety, Connor realized that he could play at a high level, and that carried over throughout the summer and into the fall.
"When I first started playing well this summer and saw some stuff about me on social media, I didn't really think of what I had accomplished, and I just strived to get better. I knew that if I kept playing well, more attention would come," Connor said.
"Kyle was awesome for us this summer and maintained that high level of play throughout the year, and he's the type of player that you don't fully appreciate until you realize that his matchup hasn't done anything all game," '20 Orange coach Jeff Capri said. "He is big and strong enough to push guys around, he prides himself on using his excellent footwork to hang with anyone and while he doesn't throw a lot of checks, he usually lands them with precision and accuracy. More importantly, he really put in the time and effort needed to get to this level, and that's a credit to him. We're extremely excited for him and we can't wait to watch him excel as a Bobcat."
It's notable, too, that Connor ended up as a Quinnipiac commit as a defenseman after initially playing midfield. A three-sport athlete, he was a midfielder by trade who got moved to defense for a little bit and immediately fell in love with the position. He credits his football – defensive end and tight end/wide receiver – and basketball – small forward – background for helping him develop the type of footwork that coaches covet on the back end, and it was his desire to get better that led him to watch film on great defensemen to notice something.
"When I was younger, I kind of liked throwing more checks, but when I started watching more defenders at the next level to see what they did, you could see that most checks in college are only if it's a double or if it's a wide open 1v1 because they're worried about not getting beat," said Connor, who envisions himself studying business at Quinnipiac. "I watched a lot of (New York Lizards standout and Notre Dame All-American) Matt Landis, but I also tried to model my own game."
It's worked out well for him.