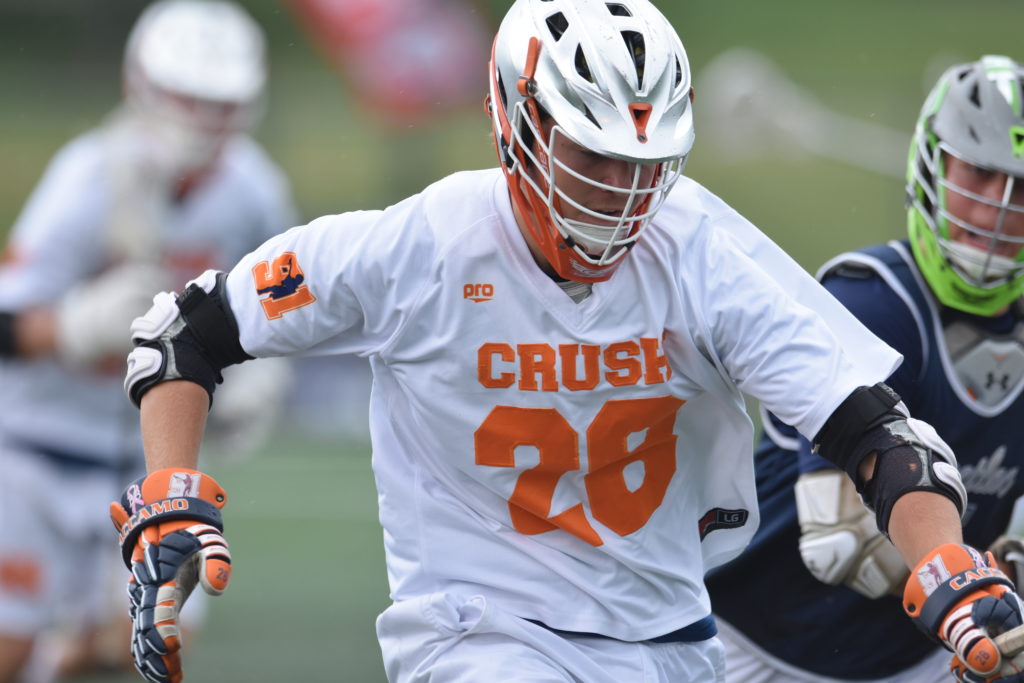 Follow Team 91 on Instagram, Twitter and Facebook. 
When so many of his Team 91 2020 Crush teammates were committing at an unprecedented pace early in the process, Nick Caccamo was learning to trust the process.
Caccamo wasn't quite getting the same looks as his teammates, and while he admitted that he felt a little bit of doubt as to whether his time would come, he decided to double down on himself and use those cold shoulders as motivation.
"My dad, Frank, is my main mentor, and he told me, 'you can quit now and settle on a school, or you can trust the process, know how good you are and how great your team is, and you're going to be destined for a great school,'" Caccamo said. "I saw my friends like Brennan (O'Neill, a recent commit to Duke) who could go anywhere, and a bunch of guys on the defense getting great looks and I was so happy for them, but I also wanted to make a name for myself."
Caccamo greatly benefited from the NCAA recruiting rule change that didn't allow contact before Sept. 1 of an athlete's junior year. Always a steady defenseman, his game took off this spring as a starter for Harborfields and this summer for Crush. He left a heck of an early impression, but he knew it would take more than one tournament to get on schools' radars, and he blossomed as a quiet but highly effective cover man at every tournament. When Sept. 1 rolled around, everything changed for him.
"I had something like 10 phone calls and 20 emails from college coaches saying that they wanted to talk to me," Caccamo said. "I got it down to five schools after that."
When Caccamo was younger, he and the Crush boys had a few tournaments on Yale's campus, so his family took a ferry from Long Island to New Haven. It was then that Frank and Nick talked about the idea that one day, the elder Caccamo could take the ferry to watch his son play. It seemed like a pipe dream at the time, and yet Caccamo turned it into a reality when he committed to the Bulldogs. He'll join Team 91 2019 Orange alum Mikey Alexander (West Islip) and 2019 White alum Jared Paquette (West Islip) at Yale, and he's the 12th Crush player to commit, all to Division I schools.
"It's Yale," Caccamo simply said. "It's a lot of people's dream schools, and I took a lot of things into consideration, and I felt that Yale was the best fit for me academically and lacrosse-wise. Yale offered me the most when it came to every aspect of why I'm going to college. The distance from home was important, because I have such a close relationship with my family and they can come watch me play. Academically, it's amazing, and I'm looking to possibly go into business, maybe finance. I have a good way with numbers, I like to negotiate and help people and I like to analyze numbers."
It wasn't the biggest factor, but Caccamo also took solace in the fact that the defending national champions were so high on him.
"If you forget about the school for a second, they really showed who they are as a program and they made a name for themselves," Caccamo said. "It was awesome when they told me how much they liked me, how much they wanted and needed me. I absolutely loved the coaches, and they were straight up with me. They didn't sugarcoat anything and they told me what they expected of me, what they want me to do and how they want me to do it."
You won't see Caccamo throwing a bunch of big-time checks and he's so subtly good that you often won't notice him much, but then you'll realize that the guy he's covering hasn't done anything offensively. He thrives off of good angles and being in the right place at the right time. If the ball hits the ground, it's his, and he can push the pace in transition.
"Nick has worked so hard to get better and better with every practice, game and tournament," '20 Crush coach Joe Spallina said. "He really emerged this summer and showed that he could cover any type of attackman, whether it's a big, powerful guy or a smaller, quicker player. What's even better is that his best days are ahead of him and Yale's coaching staff will do great things with him. He's an unbelievable kid and I'm thrilled that he's going to end up at one of the best schools in the country."
"It's a credit to all of the years I've been working with Coach Joe, Coach (Mike) McAdorey, Coach (Andy) Martin and Coach (John) Arline. They helped me so much along the way," Caccamo said.
Now, Caccamo can set his sights on helping Yale win another national championship.
Team 91 2020 Crush Commitments
Xavier Arline, attack, Shoreham-Wading River – North Carolina
Justin Brown, midfield, Half Hollow Hills West – Michigan
Nick Caccamo, defense, Harborfields – Yale
Tyler Cordes, midfield, Connetquot – Navy
Aidan Danenza, midfield, St. Anthony's – Duke
Koby Ginder, faceoff midfielder, Brunswick (Conn.) – Princeton
Caden Hawkinson, D/LSM, Cold Spring Harbor – Michigan
Nick LiCalzi, D/LSM, South Side – Navy
Brett Martin, midfield, Half Hollow Hills East – Johns Hopkins
Brennan O'Neill, attack, St. Anthony's – Duke
Jack Schirtzer, D/LSM, Shoreham-Wading River – Maryland
Jack Stewart, midfield, Huntington – Air Force