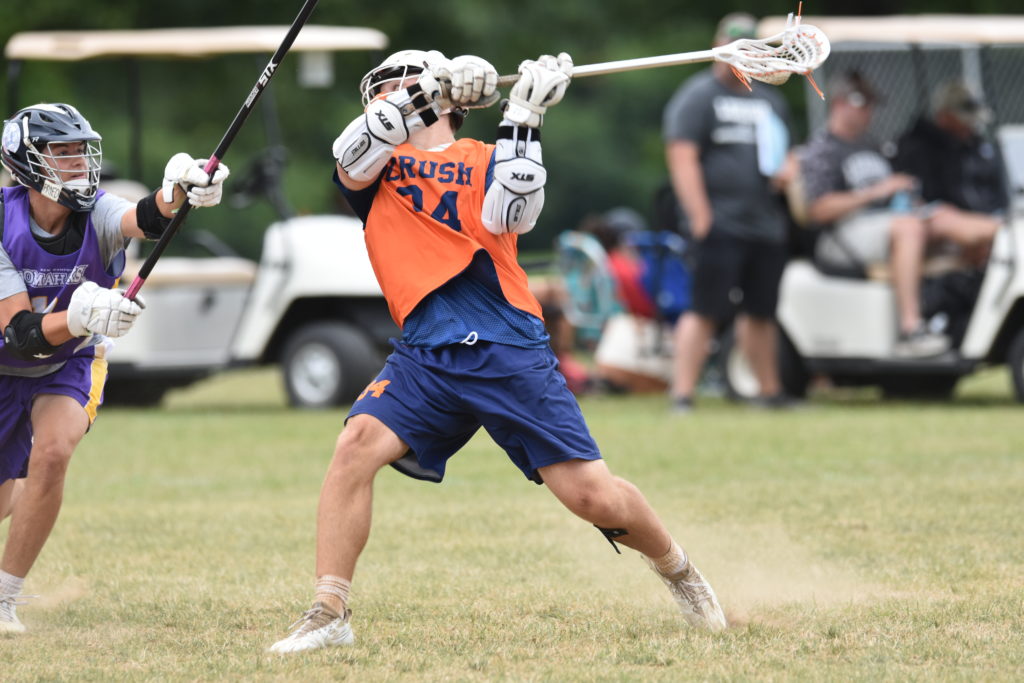 Follow Team 91 on Instagram, Twitter and Facebook. 
Even though he'd made history as the earliest college commit in lacrosse history, Brennan O'Neill knew that he'd be going through the recruiting process for a second time once Sept. 1 hits.
The Team 91 2020 Crush and St. Anthony's attackman verballed to Penn State as an eighth grader, but to no one's surprise, his phone was ringing off the hook on Sept. 1., with seemingly every program in the country pitching him on their school.
"I got a good amount of calls, but I started answering them a little later that day," O'Neill said. "I wanted to take the time to see which ones I really wanted to consider. It came down to four schools and after I visited all four of those schools, it came down to two."
Finally, O'Neill made his decision, opting to head to Durham, N.C. to join John Danowski's powerhouse Duke team. He is the 11th Crush player to commit and the second to Duke after St. Anthony's midfielder Aidan Danenza. He will also join Team 91 alums Cam and Christian Mule (Half Hollow Hills West), Frank Marinello (Chaminade), Jordan Ginder (Brunswick, Conn.), Owen and Jake Caputo (Middle Creek, N.C.), Kenny Brower (Massapequa) and Connor Drake (Salisbury, Conn.) as a Blue Devil.
"I was looking for the school that was the best overall fit for me and where I could have the best opportunities after college," O'Neill said. "Duke is the perfect type of school. The architecture and the buildings are amazing, it's a prestigious academic school and it was a perfect combination of everything. When you're looking at so many great schools, all of them are going to be great and so nice, but Duke had the best combination."
O'Neill was the most coveted prospect in years, and his addition will make the Blue Devils' already-dangerous offense absolutely lethal. The 6-2, 235-pound lefty has unrivaled stick skills, an incredible lacrosse IQ, terrific body control, vision, shooting ability and an endless grab bag of creativity. His decision to choose Duke surprised the Blue Devil coaches, but what an incredible surprise it was for them. A team that is perennially one of the best offensive teams in college lacrosse gets a program-changing player, which should terrify defenses.
"I love the way that they develop their attackmen from freshman to senior year. I've always seen different attackmen from Duke, like Justin Guterding and Jordan Wolf, and how they got better year after year," O'Neill said. "It's a great coaching staff, and with Matt Danowski coaching the attackmen, it's obvious that they do things the right way. Even before the shot clock, Duke has already been putting up a lot of goals," O'Neill said. "I'm expecting a high-scoring, fast-paced offense, especially with the shot clock.
As an eighth grader, the prodigious O'Neill racked up 99 points for Bay Shore before transferring to Catholic powerhouse St. Anthony's. His production hasn't dropped off, even as an underclassman playing a rigorous schedule, and there's no reason to believe that he'll be significantly better as he enters his fourth year as a varsity starter. He always gets everyone's best defensive looks and efforts, regardless of whether it's in varsity or with Crush, but that's something that he believes has helped elevate his game. The pressure of being the No. 1 prospect in the country for so long hasn't fazed him, either.
"I'm fine with the attention and I don't see much pressure on me, because at the end of the day, my commitment is my choice, and it doesn't matter what anyone else thinks," O'Neill said. "I've always enjoyed competition and I know that a lot of people want to show that they can guard me, and I don't mind having a big target on my back."
O'Neill has essentially been a lifer with Joe Spallina's Crush team, and the coach has seen his star pupil develop into a transcendent talent over the years. Despite that, it hasn't changed who O'Neill is as a person, which reinforces Spallina's belief that the sniper will be a star at the college level.
"I could not be more proud of Brennan," Spallina said. "I've been lucky enough to coach him since he was seven years old. He's an incredible player and a generational talent, but on top of that, he's a great kid. Duke got one of the biggest game-changers in a very long time, and I'm excited to watch him as a Blue Devil."
O'Neill joins a loaded Duke 2020 class, but make no mistake about it: he's as big a crown jewel as you can get. The hype has never slowed him down before, and there's no reason to think it will now.
Good luck to all of the defenses that have to square off against the Blue Devils.