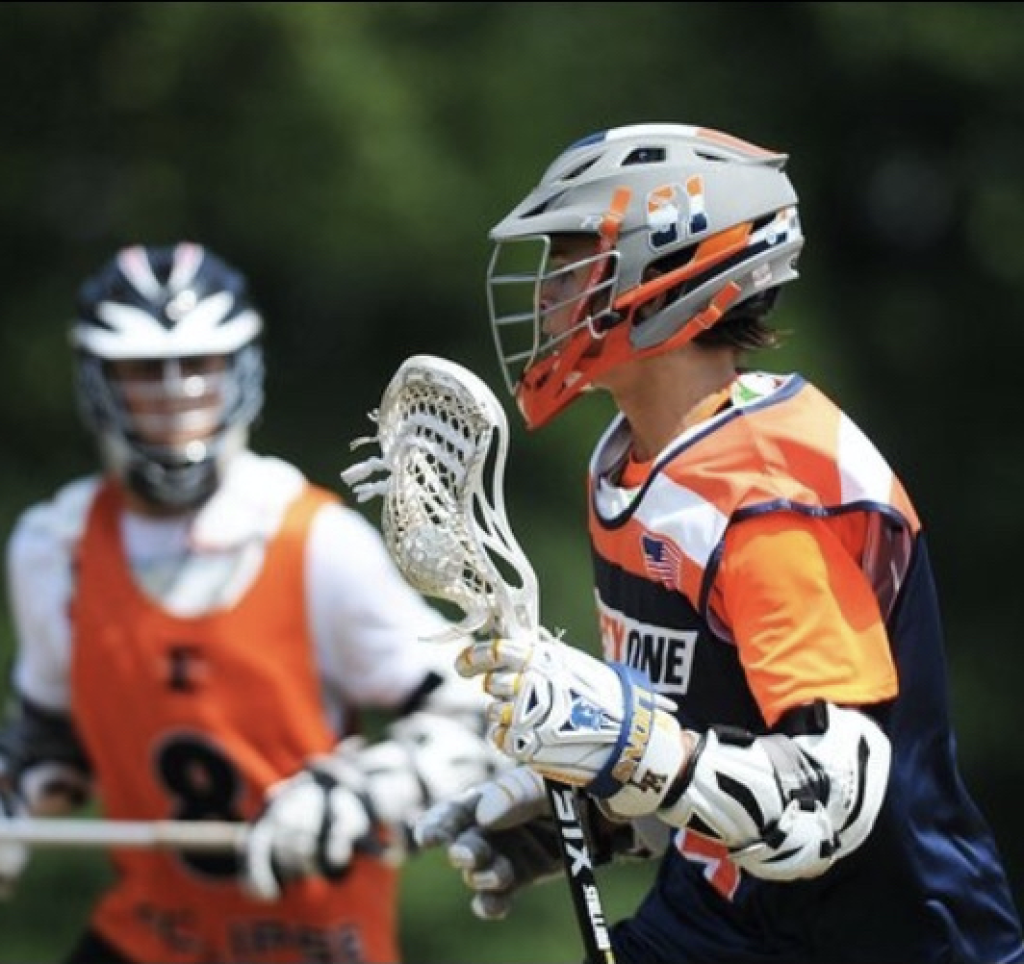 Follow Team 91 on Instagram, Twitter and Facebook. 
College lacrosse didn't have to be in Max Albanese's future.
Sure, the Team 91 White and West Islip 2019 midfielder had an eye on playing the game he loves at the next level, but he also visits to schools where he wouldn't have played. He always kept an eye on finding the right school for him, whether or not that meant being on the field. It was during one of those visits, though, that he got in touch with a school where he might be able to combine the best of both worlds.
"I visited some schools like Binghamton, Cornell and Villanova as a student," Albanese said. "Coach (Darren) MacGilvray actually reached out to my dad and said that Vassar was interested, and I visited there while I was visiting Binghamton and Cornell. When I got there, it just felt like it was where I belonged. The academics are awesome, the atmosphere is great, and it really felt like it was home to me."
Albanese quickly changed his mind after that visit, and after he went back for an overnight visit with the team, he promptly committed to the Division III program.
"I really want to pursue an economics degree and they have a great program there," Albanese said. "I've always been interested in business and it's been my dream to work on Wall Street. My grandfather works in stocks, too, so I've learned from him a little bit. Plus, it's a liberal arts school, so if economics isn't what I want to do, it's easy to change. It's only two hours and 20 minutes away, too, which is nice."
Albanese had a breakout spring this year for West Islip after switching from midfield to give the Lions' attack line a boost. A player who prides himself on his shooting, vision and lacrosse IQ, Albanese popped a team-best 29 goals to go with 11 assists after a sophomore year where he was pulled up to varsity, but didn't play much. It did give him the chance to sit back and learn from the coaches and his teammates, and experience is a big reason why he thinks West Islip should be strong again this year.
ceaf
Albanese finding a home at the next level wasn't much of a surprise to '19 White coach Brian O'Keefe, either. On the club circuit, Albanese lived between the lines instead of behind the restraining line, and that versatility is a big reason why he'll be able to comfortably fit in to the Brewers' lineup.
"Max was a great two-way middie for us," O'Keefe said. "He's a very unselfish, team-oriented player who did everything that we asked of him and needed from him. He's an athletic dodger whose offensive game improved every year, and he scored some big goals for 91. He's a real Swiss Army knife type of player, and we're thrilled for him that he's able to continue his athletic and academic career at a fine school like Vassar."
Albanese has been in the Team 91 program for what seems like the duration of his lacrosse career. Introduced to 91 by Marty Pape, he was able to develop his game under the likes of Jim Mule, John Arline and a host of other top-flight coaches. Also a football player who doubles as a wide receiver and cornerback – and he's a captain on both sides of the ball this year – , he's always been able to bring that footwork and technique to lacrosse, and it was often the extra work in the offseason that allowed him to flourish.
"I think the winter sessions helped me a lot, boht individual work and working with the team," Albanese said. "Having the stick in your hands the whole year helps."
At Vassar, he'll be able to experience high-level lacrosse and a strong academic circuit. He was able to take a mature, calculated approach to the college decision by choosing the right fit for him, and it'll pay off for him.
"I was definitely interested in Division I and I had some schools reach out to me that I'd be able to get into academically," Albanese said. "I wanted a great education, though, and I wanted to use lacrosse to get into a school that I wouldn't be able to without it. Plus, the balance of academics is a little bit easier at D-III. You still have fall ball, the season and the weight room, but you can also bond with your teammates and also have more of a social life."