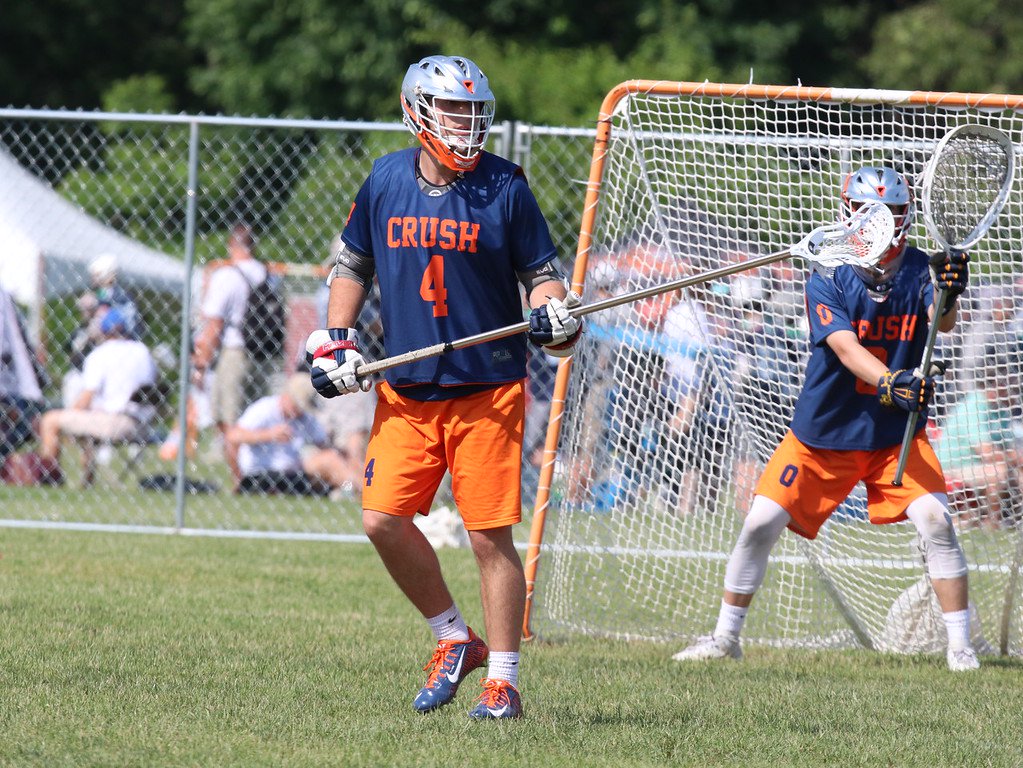 Photo courtesy of Alain Tingue
Follow Team 91 on Instagram, Twitter and Facebook. 
Jack Schirtzer used to find himself on the opposite end of the field from where he's most known for.
The Team 91 2020 Crush and Shoreham-Wading River product is rated the No. 10 player in the 2020 class, regardless of position, and the No. 2-ranked defenseman in the country, per Inside Lacrosse. Schirtzer's game revolves around throwing devastating checks and constantly taking the ball away from attackmen, but he's only been on the back end for a handful of years. Initially, Schirtzer was a lefty attackman, until one day, it became very clear that he wouldn't be playing attack anymore.
"(Crush and St. Anthony's attackman) Brennan (O'Neill, the No. 1 player in the country) was playing middie and he bumped up to attack, and that was the end of it," Schirtzer said. "I was just, like, 'oh my God, I have to switch positions if I want to play."
There's no shame in getting squeezed out by O'Neill, and the switch turned out to be a blessing because Schirtzer eventually emerged as one of the very best at his craft. He always enjoyed the defensive part of the game, whether it was playing short-stick defensive midfielder or riding hard as an attackman, but defense is his calling. It became apparent early that Schirtzer had lockdown ability, along with the skills to make any ball-carrying attackman nervous.
"My back check is obviously my more famous one, but I've tried mixing it up and throwing some different checks," Schirtzer said. "I've thrown a couple over-the-head ones and some other ones and I've slowly tried to use the back check less, but I still hit on most of them."
Schirtzer will be taking those big-time checks to one of college lacrosse's blue blood programs now after he just committed to Maryland, where he'll join Team 91 2018 alums George Wichelns (Connetquot) and Max Verch (Syosset) in College Park. Even though he was previously committed to another program, Schirtzer knew that he'd be in high demand on Sept. 1 after a great summer, and the Terps presented him with the perfect combination of elite lacrosse and a strong education without being too far from home.
"I can see myself there for the next four years and I can be comfortable there," Schirtzer said. "The coaches were great and it's four or five hours away, which isn't too bad. Knowing that calls were going to be coming in on Sept. 1 was very exciting, but it also felt like I was redoing the whole search and being back in eighth grade, checking out new schools. There's pressure, but it's also a great experience."
Even though he's been one of the nation's elite players for so long, Schirtzer has never settled for being just okay. He earned a spot on SWR's varsity team as an eighth grader, along with 91 Crush teammate Xavier Arline, and he's constantly worked on improving his game. Arline also made varsity as an eighth grader, and the two friends were so relentlessly competitive at 1v1s that they were eventually told they weren't allowed to go up against each other. All that meant was that Schirtzer would get his reps against Chris Gray, last season's Patriot League Rookie of the Year and an Inside Lacrosse All-American at Boston University.
"Xavier and I got into a lot of fights because we always wanted to beat each other so badly and we talked a lot of trash to each other," Schirtzer said. "We've been friends forever, but we want to beat each other. Between practicing against him, Chris and Brennan, I've been able to work on everything because they're all great and they're completely different attackmen. Now, Xavier and I are allowed to practice against each other in high school, too, which is good."
Crush head coach Joe Spallina has had the privilege of working with Schirtzer for so long, and even though the future Terp has been a dominant force on the back end for so long, Spallina still expects even more out of his star pupil.
"I'm really happy for Jack. I've had the opportunity to coach him since he was in first grade, and I can tell you that he's a special talent and a kid whose personality comes out in his play," Spallina said. "As good he is now, his best days are definitely ahead of him."
Not bad for a kid who was originally trying to score goals, not prevent them, and it was Schirtzer's buy-in and commitment that allowed him to blossom into a shutdown pole.
"I think practicing as a team has been so big for us," Schirtzer said. "We don't do individual stuff. We do everything as a team. Our defense used to get so mad at Coach Spallina because we'd be doing uneven stuff against the offense and they'd always win, but it's helped us. If I get beat now, I know I've got guys like Nick LiCalzi (South Side/Navy) and Nick Caccamo (Harborfields) there to slide for me. I definitely want to thank Coach Spallina, who's been there literally since Day 1. He's like a second dad to me, and he's helped me become the man and player that I am. Thank you to Coach (Andy) Martin, Coach (John) Arline, Coach (Mike) McAdorey, Coach (Mike) Taylor at Shoreham-Wading River and my parents. Without them, I wouldn't be here."
That position switch looks like it worked out.