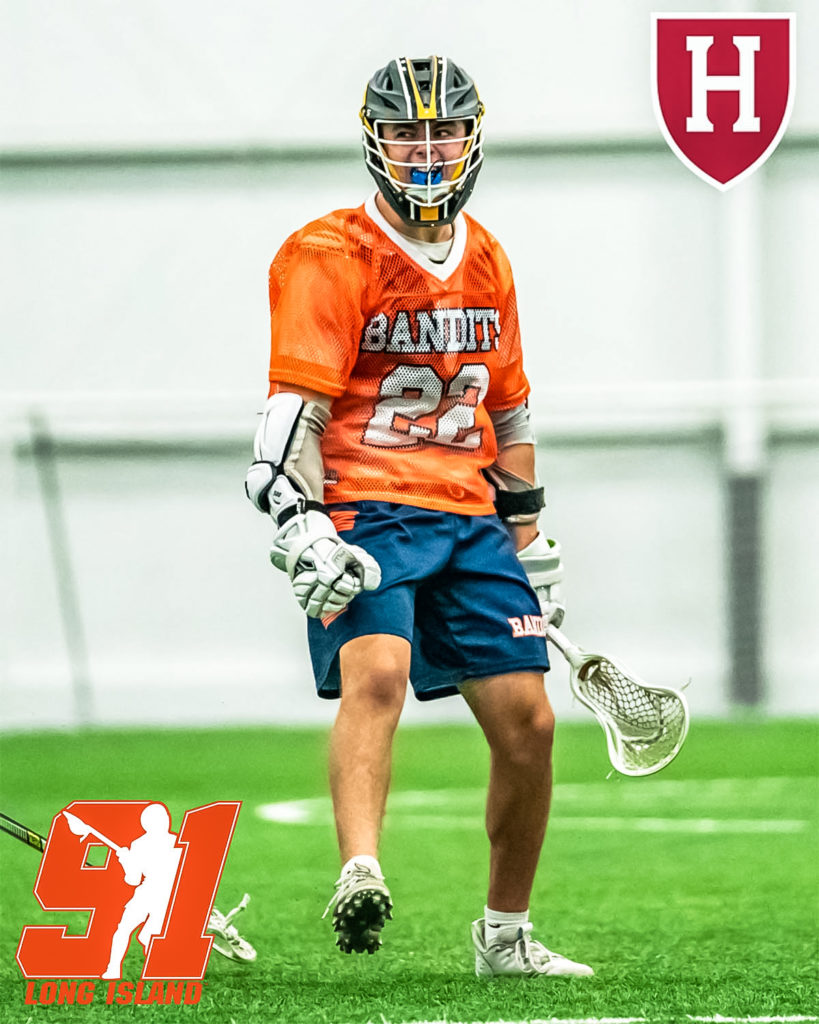 Follow Team 91 on Instagram, Twitter and Facebook.
It's rare for a player to identify his dream school as young as five or six years old. Once that's accomplished, it's even more rare for someone to follow through on that goal more than a decade later.
Fortunately for Jackson Greene, he's pretty good on following through on whatever he sets his mind.
"I've dreamt of going to Harvard for as long as I can remember, ever since I was about five or six," Greene said.
Of course, Harvard routinely finds its way onto most people's wish lists because, well, it's Harvard. For Greene, though, the dream of heading to Cambridge never relented, and on Sept. 1, he started to see that it was a possibility for the midfielder from the Team 91 2023 Bandits and St. Anthony's.
"(Harvard head coach) Coach (Gerry) Byrne put my parents and I on a group chat on Sept. 1 and Harvard just showed me a lot of love since then," Greene said. "They said that they followed me throughout the process and that they loved the way that I played."
Fulfilling a Dream
That quickly materialized itself into a visit to the Crimson's historic campus, and it wasn't long after that Greene gave the Crimson their second commit of the '23 class. He's only the second player in Team 91 history to choose Harvard after fellow St. Anthony's product Greg Campisi, a '19 Orange LSM. Greene is the second Bandit to commit after midfielder Jake Spallina (Mount Sinai) verballed to Syracuse.
"The whole staff brought me through and did the whole tour, and I felt a really good connection with them," Greene said. "It made it an easy choice for me. I had set up 10 other visits and was setting up more because I wanted to stay open-minded, but I fell in love with the campus right when I got there. When they offered, it felt like the right choice to say then and there that I wanted to be a part of Harvard."
Playing for Byrne and his staff was a major selling point for Greene, too. The former longtime Notre Dame defensive coordinator has been at Harvard for two years but has only coached in four games because of COVID, so he hasn't had the opportunity to have a monumental imprint toward the on-field product. Despite that, Greene knows what he's getting into, and in his eyes, it won't be long before the Crimson ascend to the top of the Ivy League.
"Ever since he came to Harvard, he's had the mindset that he's coming there to win and to turn the program around," said Greene, who plans to major in economics or applied math economics. "It's going to take a couple of years, but he's going to turn the program right around. He wants competitors and that drew me in."
Elite Midfield Pickup for the Crimson
The Crimson are getting an incredibly-skilled midfielder with the ability to take over a game. Last spring, he put up seven goals and two assists for St. Anthony's, a growing cog in the Friars' machine primed for a monster season this year. As an eighth grader on varsity at Long Island Lutheran, he pocketed 37 goals and dished out 42 assists, showing that gamebreaking ability. A smooth dodger with a hard shot, Greene will help the Crimson create mismatches when he's on the field.
"Jackson is one of the premier midfielders in the country and his skill level is off the charts," Bandits head coach Joe Spallina said. "He makes everything look effortless and he continues to get better and better. Jackson draws a ton of defensive attention with his athleticism and talent. He's obviously a lights-out student, too, and it's so cool to see him end up where he's wanted to go for so long. Coach Byrne and his staff got a great one with Jackson."
It's a lifelong dream realized.
Team 91 2023 Commits 
Jackson Greene, midfield, St. Anthony's – Harvard
Tyler McCarthy, midfield, Connetquot – Syracuse
Jake Spallina, faceoff / midfield / SSDM – Syracuse