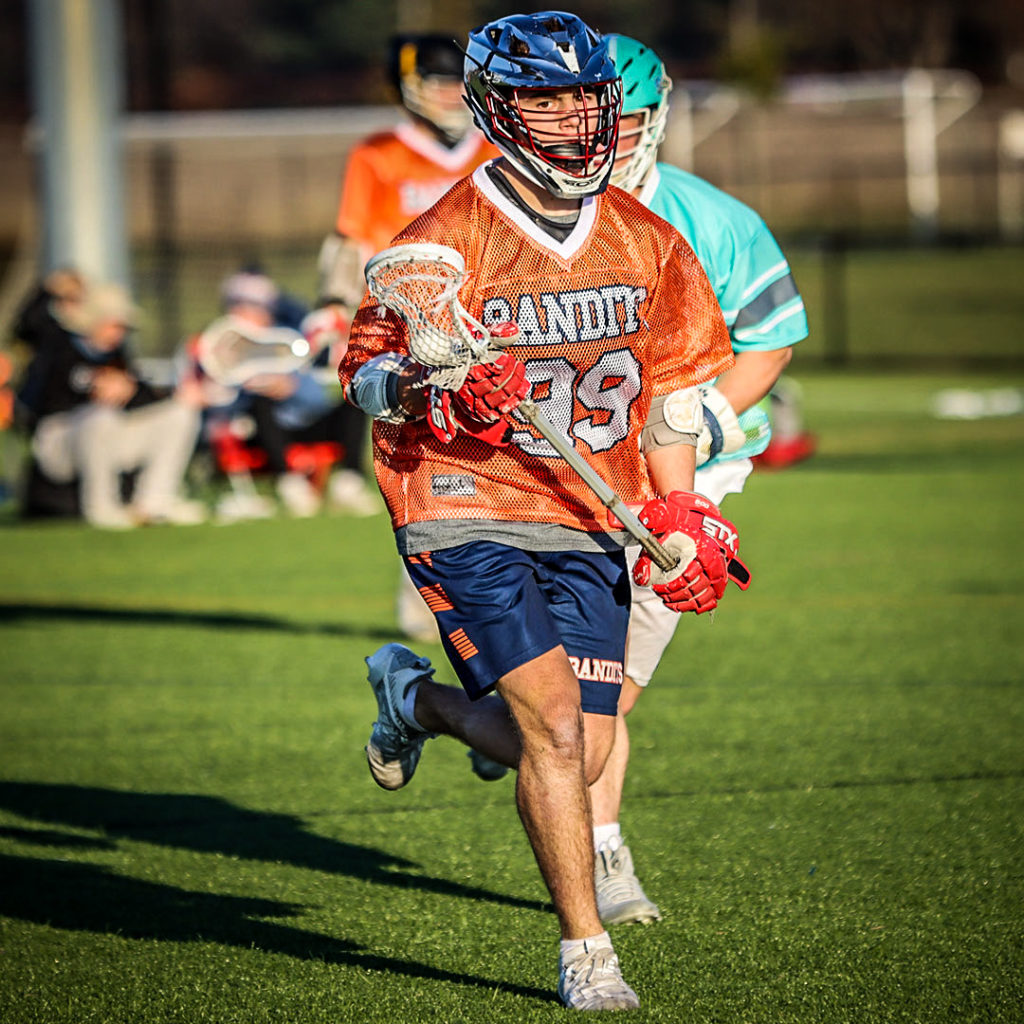 Follow Team 91 on Instagram, Twitter and Facebook.
Jake Spallina was in high demand as soon as Sept. 1, the day that Division I college coaches could finally make contact with the class of 2023, hit.
There's no one in the class that has Spallina's versatility. He's one of the best faceoff midfielders in the country, but he makes it a personal point of pride to emphasize the midfielder part of the job description. Spallina wins faceoffs, stays on to be a crucial part of the Team 91 2023 Bandits' offensive cog, and when the ball comes the other way, he's as reliable defensively as the day is long.
So it's not a stretch to say that the Mount Sinai junior is somewhat of a unicorn, and one whose services were sought-after. In the shot clock era, a midfielder who can affect the game in three different ways is worth its weight in gold. Because a bevy of high-profile schools recruited him, he thought that he might have to take a few visits, sit down to weigh the pros and cons, and make a tough but informed decision.
That was until he stepped on campus at Syracuse, and from there, there was no debating his choice.
"Walking into the (Carrier) Dome was a completely different feeling," Spallina said. "It was breathtaking. Looking around and picturing 30,000 people watching you play the sport you love was incredible. Once I got to 'Cuse, I knew that this was the place for me and that this is where I wanted to be."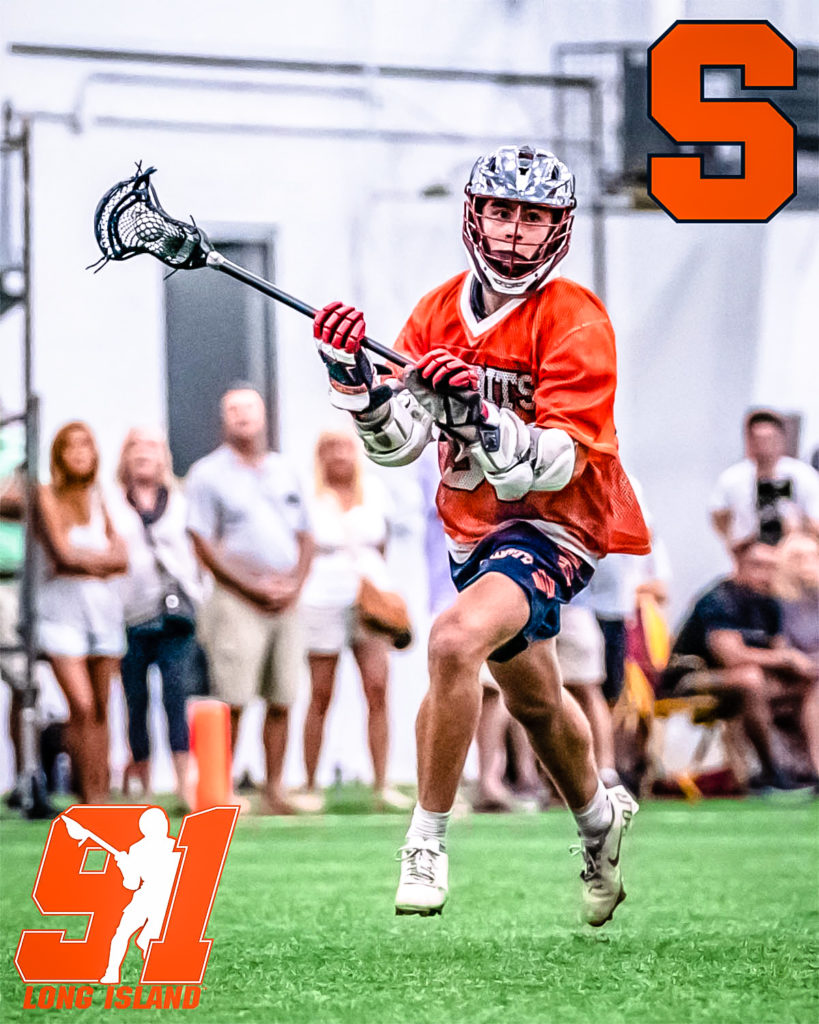 Heading North
Spallina didn't wait any longer. He became the first commitment in the Orange's class of 2023, and he'll join his older brother, Joey, a '22 Smash attackman and the No. 1 player in the class of 2022, in Syracuse. Joey was the first player in Team 91 history to choose the Orange, but the Spallinas will be joined on campus by a pair of Joey's 2020 Crush teammates in transfers in defenseman Nick Caccamo (Harborfields / Yale) and midfielder Tyler Cordes (Connetquot / Navy Prep). A pair of fellow Smash alums in attackman Michael Leo (St. Anthony's) and LSM Dylan Sageder (Mount Sinai) have also pledged Orange.
"It was an easy decision and I felt really confident about it," said Spallina, who wants to major in either business or sports management. "They explained how they're going to use me as a three-way middie and that was huge. When they said that it would happen immediately, it had me definitely wanting to come here and be a four-year contributor. Meeting my academic adviser also made me feel 100 times better because she said that she's going to make it impossible for me to underachieve."
Congratulations to '23 Bandits and Mount Sinai 3-way midfielder Jake Spallina on his commitment to @CuseMLAX! #FOSO

4 ⭐️ and No. 26 in the class by @natlaxfed, Jake's excellent at the FO stripe and stays on to make plays all over the field and will join his brother Joey as 🍊 pic.twitter.com/x5YDRCrH1f

— Team 91 (@team91lacrosse) September 5, 2021
Playmaker All Over The Field
Spallina's on-field versatility is something that he prides himself on, and it's something that distinguishes him from just about every faceoff guy in the class. It's a testament to his background as a full-time midfielder, and he picked up the art of facing off out of necessity. Now, it's a trait that will allow him to get on the field even faster and helped him become a four-star recruit and No. 26 overall in the country, according to the latest NLF rankings. He put forth an outstanding summer, earning All-Star nods at Maverik Showtime, the One Percent Showcase and Main Stage. That came on the heels of a dynamic spring where he piled up 18 points and formed a lethal duo at the faceoff stripe with '22 Smash Austin Oppenheim (Albany), as the Mustangs won the Long Island Championship.
"When I was little, I just played midfield, but we never had a guy to take faceoffs. I just said, 'I'm going to give it a shot,' and I really loved it and wanted to keep doing it,'" Spallina explained. "It's followed me around since, and coaches love the fact that I'm not just a FOGO."
That's not lost on Jeff Aiello, who's been a mainstay on the Bandits' coaching staff and has had a front-row seat to Spallina making plays all over the field in ways that others can't.
"Jake's an elite faceoff guy who wins them when they matter the most," Aiello said. "He has the ability to be a lockdown D-middie and be an offensive threat the other way. There's no FOGO here. He's an animal. We're thrilled that he found a great fit at the next level, especially somewhere that will allow him to do a little bit of everything, and we're excited to see what he can do in Syracuse."
Chip Chasin'
Consider the fact that Mount Sinai won the LIC and would have been a heavy favorite to win a state title last year if those games had been played, and that the Mustangs will be expected to do the same this year, it's hard to envision a scenario where the Spallinas teaming up again doesn't yield championships for the Orange. That's what Jake's banking on once he heads upstate.
"Winning the LIC with my brothers (Joey and Jake's twin Brett, a '23 Bandits LSM) made me want to win more at the collegiate level," Spallina said.
Time to get to work.