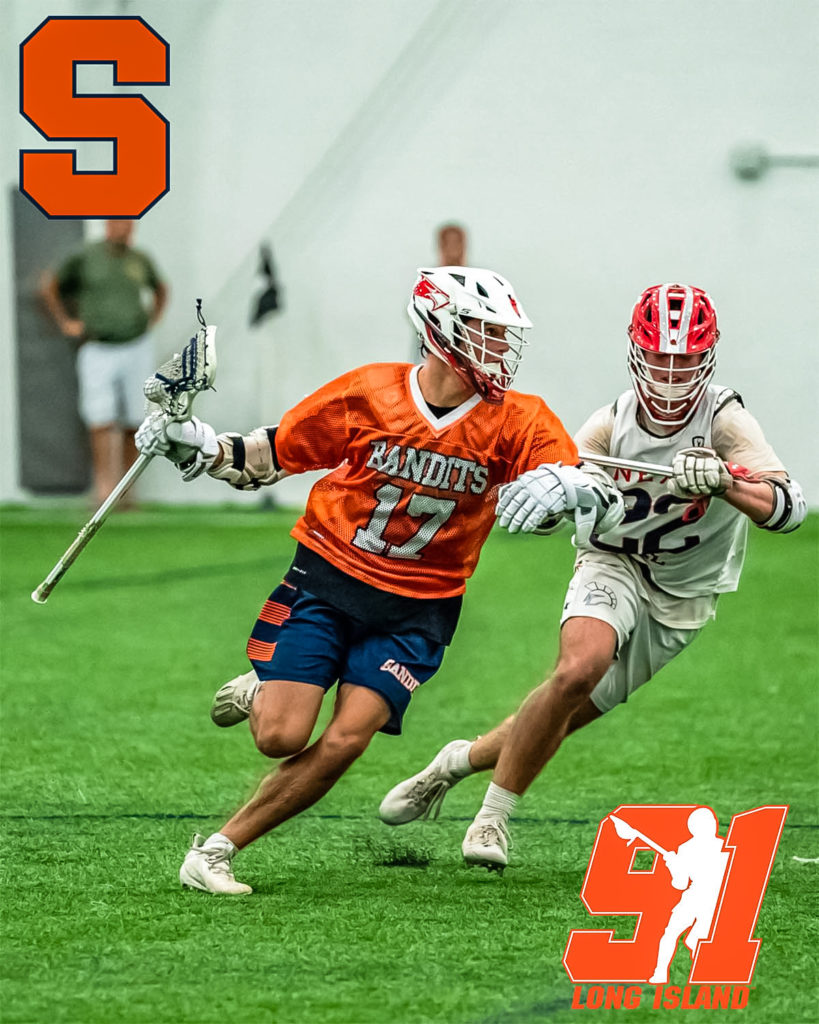 Follow Team 91 on Instagram, Twitter and Facebook.
Tyler McCarthy had an inkling to expect some kind of interest from national powerhouse Syracuse once Sept. 1 came around. He just didn't know exactly what was coming when schools could first start reaching out to juniors, and he didn't want to bank on anything.
The Team 91 2023 Bandits and Connetquot midfielder found out really quickly what the Orange thought of him.
"They haven't stopped texting me since Sept. 1," McCarthy said. "'Cuse showed me the most love of any school. They called me at midnight on Sept. 1 and came to my house later that day. I knew that they had interest, but I wasn't sure how serious they were. When the phone rang at midnight, it was a pretty cool experience to know that I was one of their first calls."
McCarthy didn't want to jump in to anything too quickly, but it quickly became apparent that there was something special going on. It didn't hurt, either, that the Orange had one of his former teammates and fellow 91 product, '20 Crush midfielder Tyler Cordes, there to guide the standout two-way midfielder around campus.
"I knew when they called that Syracuse was at the top of my list, but I wanted to see who else reached out," McCarthy said. "I knew once I got there that I could see myself playing there. The visit was awesome. I got to experience what the school was like and see kids on campus and see what it's actually like on campus. It was great to talk to someone I knew that's been going to classes and taking part in team activities. Having that extra source to tell you what it's actually like to be there is awesome."
Headed North
It didn't take much longer for McCarthy to commit to the Orange. He's the second '23 Bandit to commit to Syracuse after faceoff midfielder Jake Spallina (Mount Sinai), and the third overall after midfielder Jackson Greene (St. Anthony's) verballed to Harvard. McCarthy and Spallina will join fellow 91 products Cordes, '20 Crush defenseman Nick Caccamo (Harborfields), and the '22 Smash trio of attackman Joey Spallina (Mount Sinai), LSM Dylan Sageder (Mount Sinai) and attackman/midfielder Michael Leo (St. Anthony's) in Syracuse.
"It's awesome to be going there with some 91 guys," McCarthy said. "We play together all summer, fall and winter, so the chemistry that we all have together is unreal. To have another three or four years with those guys is awesome. Team 91 is one of the top programs in the entire country and being able to play here has elevated my game so much. The coaches and players have made me better and I couldn't have asked for anywhere better than 91. It's been so fun. It's definitely been a group effort to get me here, but I have to say that ('23 Bandits head coach) Joe (Spallina) has been a big part of my success."
In-House Feedback
McCarthy also had an extra ace in the hole when it came to his recruitment. He was able to lean on his older brother, '20 Orange defenseman Jack McCarthy, who went through the process before ending up at Hartford and transferring to St. John's. That feedback proved to be invaluable for the younger McCarthy.
"I was talking to him before Sept. 1 and just hearing some of the frequently asked questions that coaches ask and how to respond," McCarthy said. "It helped make for smoother conversations. He told me to be patient and take as much time as I wanted, and it definitely helped that he went through it first."
Triple Threat Midfielder
The Orange are getting a superb midfielder who affects the game offensively, defensively and in transition. He showed off his offensive chops this spring, scoring 39 goals and dishing out 28 assists for a robust 67 points. Unlike a lot of high-scoring midfielders, though, he's equally, if not more so, proficient on the defensive end. That versatility is what made him so highly coveted, and it's a major reason why he'll find a way to make an impact in the Dome.
"Tyler is one of the best two-way midfielders in the country," Joe Spallina said. "He can break down a defense both as a scorer and a feeder. He crushes it in transition and he's consistently been one of our most consistent and reliable defensive midfielders. We're incredibly excited that he found a great home at Syracuse and he's just starting to scratch the surface of his vast potential."
It's go time.