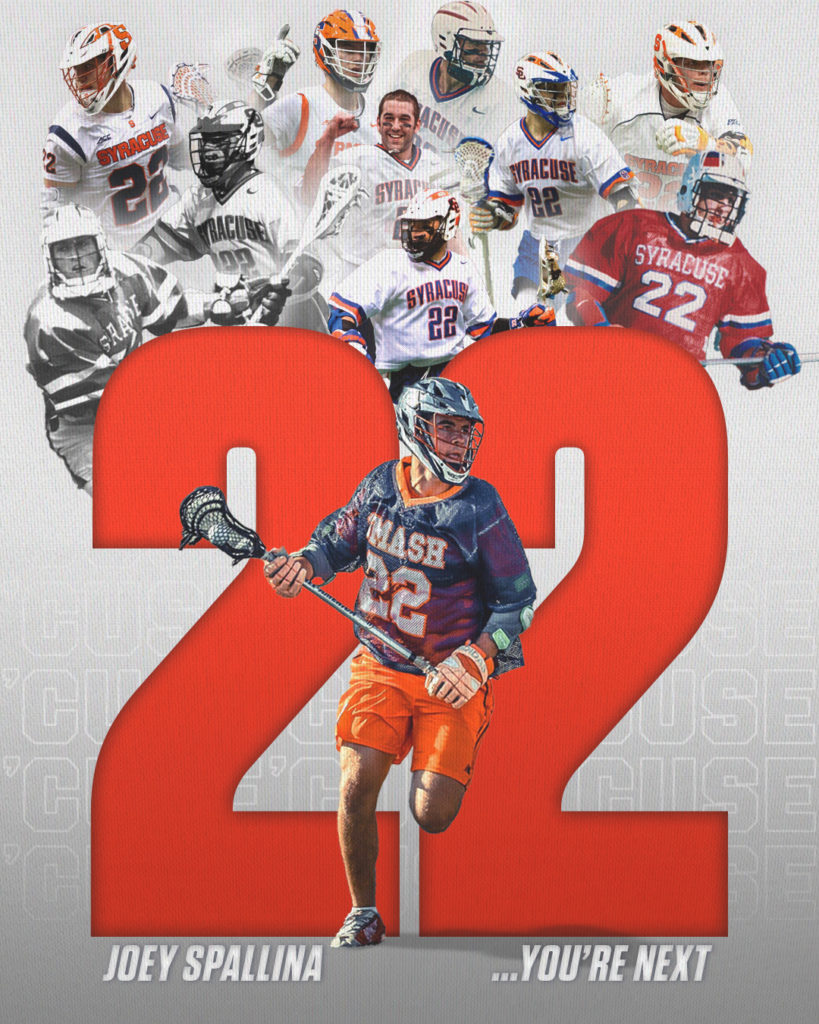 Follow Team 91 on Instagram, Twitter and Facebook.
Ever since Joey Spallina was eight years old, a Syracuse jersey with the number 22 has been a constant on his bedroom wall.
It's been a number reserved for the very best offensive players in Orange lore, one that has been passed down from one 'Cuse legend to another. Rock the double deuces for the Orange and chances are that you're one of the best players in the country.
"Growing up, some of my favorite players wore 22 at Cuse," Spallina said. "It was a dream while growing up to play for Syracuse and wear No. 22."
It's one thing to want to fulfill a lifetime dream because it's been your childhood favorite team and a whole other story to pass on the other top programs in the country when everyone comes knocking. Spallina was twice named the No. 1 player in the country in the National Lacrosse Federation rankings and Inside Lacrosse also recently bestowed the same honor on the Team 91 2022 Smash and Mount Sinai superstar attackman. He's the third straight top-ranked player in the country from Team 91 after former '20 Crush teammates in St. Anthony's and Duke duo Brennan O'Neill and ('21) Andrew McAdorey.
Things hit a fever pitch when Sept. 1 rolled around and non-service academy programs could first reach out to him. Spallina was on the phone from 9 a.m. to 9:30 p.m. two weeks ago, and since then, his recruitment went into fast forward. He visited a handful of the top schools in the nation, and while it wasn't planned to be this way for any particular season, his last visit sent him to Syracuse.
When he got in the car to go home, he knew it was where he wanted to spend his college career.
"He just had a different look in his eyes than he'd had on other visits," Spallina's father, Smash coach Joe, said. "We just looked at each other and he said, 'this is the place.'"
Next Up For Orange Greatness
Spallina didn't need any more convincing, and he opted to live his childhood dream of scoring goals and leading Syracuse back to the top of the college lacrosse world. He's the first player in Team 91 history to choose the Orange and the third Smash player to commit after Brock Behrman (Niskayuna / Notre Dame) and Dominic Senft (Chaminade / Air Force).
"The tradition was huge for me," Spallina said. "When they offered me to wear 22, it was honestly just, like, 'wow.' I love that it's a lacrosse school. (Syracuse offensive coordinator) Coach (Pat) March and I were talking, and I loved the way that he presented the offense and showed me where I could be and what I'd be doing. That really intrigued me. The way they play and the way they let their guys play is how I want to play. I'm also so excited to play for a legend like Coach (John) Desko.
It didn't hurt to have Syracuse legends making it publicly known how badly he was wanted in the Dome. One was particularly influential. Casey Powell, a player whose game Spallina has emulated, posted a photo of the two together on a field when Spallina was much younger. To say that the Smash sniper took notice would be an understatement.
"I watched a lot of Casey Powell and I feel like I play a similar style to him," Spallina said. "The way he dodges and plays, but also how he handles himself off the field. It's something that I've taken to my own game and my own life.'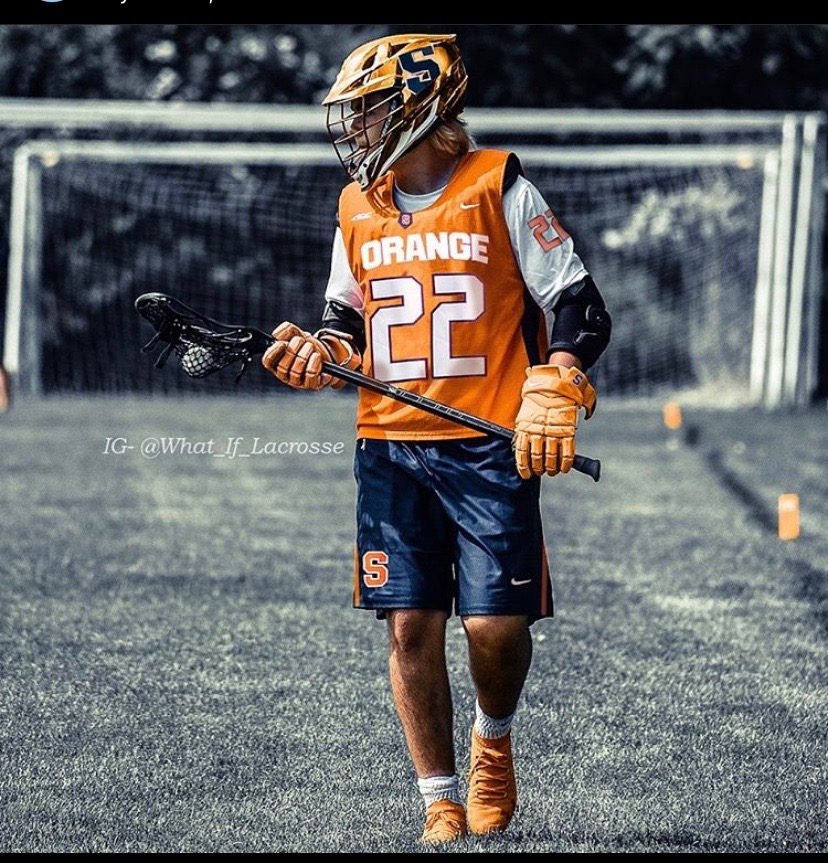 The Path to Syracuse
Spallina has, obviously, been a Team 91 lifer. His uncle, Brian, founded the club, and Joe has been coaching him every step of the way for the Crush when Joey played up two years and now with the Smash. Both teams helped shape his game, and he wouldn't be as well-rounded a player as he is without it.
"Playing for 91 helped me tremendously and it's made me more versatile," Spallina said. "Playing with Crush, I didn't handle the ball much. I could score five goals and maybe have the ball in my stick for five seconds. With Smash, I have the ball almost the entire time. It's helped my game grow and become a better and more versatile player."
One thing that's never changed is Spallina's commitment to things outside of scoring goals and setting them up. His work ethic is a constant in every game and practice, and you won't find an attackman that rides harder. He relishes causing turnovers on the ride and is genuinely thrilled for any teammate who scores a goal or makes a great play, not just him. That kind of work ethic and effort are contagious and something that people definitely pick up on.
"Joey works so hard at every aspect of his game, not just the glamorous stuff," longtime Smash coach and Hall of Fame goalie Sal LoCascio said. "He wants to be the best at everything and he's very coachable. He's so competitive and he elevates the play of those around him. He's a terrific kid on and off the field. I've always felt that Joey's in a class of his own in the 2022 class and there's no doubt in my mind that he's a program-changing recruit for Syracuse. If you're going to bet on a kid being successful in college, it's Joey because of everything that he does to make those around him better. I couldn't be more excited to see what he does for the Orange."
Spallina's coaches have also had a major impact on him. He's the first to point out everything that all of his coaches have done for him, particularly his father and LoCascio.
"My dad's been right by my side for the whole process and he's helped me make the right choice. I don't know where I'd be without him. He's helped me through everything in life and I can't thank him enough," Spallina said. "Coach Sal has helped me so much, too. He's the best."
Now, it's Spallina's time to make Syracuse the best again.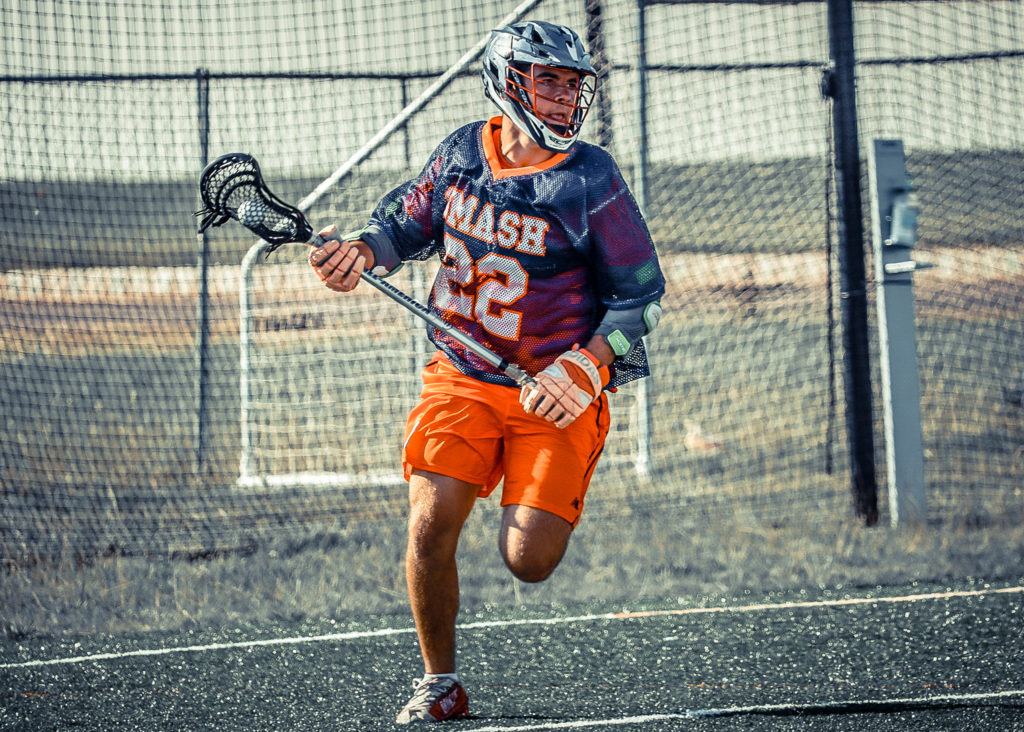 Team 91 '22 Smash Commitments
(Click here for all commitments)
Brock Behrman, attack, Niskayuna – Notre Dame (Commitment story)
Dominic Senft, defense, Chaminade – Air Force (Commitment story)
Joey Spallina, attack, Mount Sinai – Syracuse