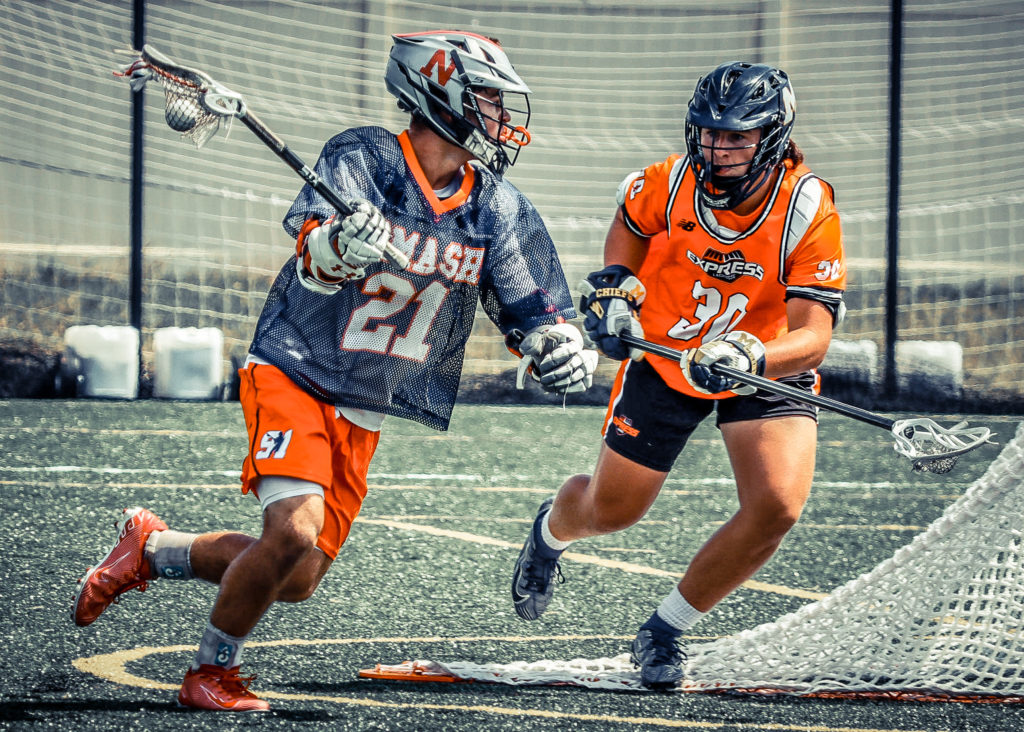 Follow Team 91 on Instagram, Twitter and Facebook.
It was only a couple of days since Division I schools could officially reach out to Brock Behrman and his fellow class of 2022 players, but it didn't take long for Behrman to make up his mind as to where he wanted to go to school. Actually, there's a case to be made that it had been decided months earlier.
The Team 91 2022 Smash and Niskayuna attackman went to a prospect day at Notre Dame last winter and came away enamored with the school. Behrman had to wait until Sept. 1 to make sure that the Irish would reciprocate his interest, but there was little doubt that he'd be in high demand after a summer that saw him stand out at a pair of major showcases and help Smash put together a dominant summer.
Notre Dame tipped its hand early on Sept. 1, and from there, it was clear that the Irish were the team to beat in Behrman's recruitment.
"(Irish assistant coach and recruiting coordinator) Coach (Ryan) Wellner sent me a text early and he knew that I was getting pounded with calls, so he sent me a text to set up a time to talk the next day," Behrman said. "After we spoke, I did some thinking with my parents and we talked Wednesday night and stopped talking at around 11:15. I went to bed, thought about it, and woke my parents up at 1 a.m. to tell them that I wanted to go to Notre Dame."
Behrman promptly became the first '22 Smash player to commit and the second Team 91 product to choose the Irish after '16 Jack Zullo (Chaminade), who has since graduated and will play his fifth year at Saint Joseph's. Behrman is the 10th Team 91 player to commit to an ACC school in the past four cycles. His huge summer helped propel him to No. 9 nationally and a five-star prospect on Inside Lacrosse's first set of '22 rankings, while his NLF ranking of No. 46 is sure to rise in the next set of rankings. He's the crown jewel of a strong Irish class that already features four players.
"Once I stepped on campus, I had this feeling, and once I left, I knew that it was where I wanted to be," Behrman said. "It's the best of both worlds. The academics came first for me and they have top-notch academics and it's the highest level of Division I lacrosse that you can play. Once I was on campus and I met the guys and the coaches, I felt like that campus and those people was where and with whom I needed to be."
Elite Emergence
A dynamic attackman with elite-level quickness, speed, change-of-direction and agility, along with a superb finishing touch around the cage, Behrman figures to make a major impact for the Irish in South Bend. He and top-ranked prospect Joey Spallina (Mount Sinai) give the Smash an unrivaled 1-2 punch at attack, and Behrman will give ACC defensemen fits for years to come.
A big part of that was Behrman's willingness and discipline to put in the hard work needed to up his game during quarantine. Rather than rest on his laurels, he hit the weight room, shot and worked on his game more than ever, sometimes two to three times per day. At the end of the summer, the play spoke for itself, and Behrman had vaulted his way into the conversation of the very best players in the country. Despite that, he still wasn't 100 percent ready for all of the interest that came his way.
"It felt surreal and I was definitely a little surprised to have all of these colleges reaching out," Behrman said. "I kind of knew it was coming, though. My coaches did a great job of warning me and knowing who was coming really helped me."
Behrman has been a constant scoring threat for Smash since joining the team in eighth grade. His father, Jeff, was previously the football offensive coordinator at Stony Brook. When he took the head job at Union, the family moved to Niskayuna, but Behrman continued to play with Smash. That helped push his game to the highest level.
"Playing with Smash really helped me keep up my game and not fall behind. It helps being able to play with top-notch guys," Behrman explained. "You get to practice with them and with Coach Joe's (Spallina) three-hour practices, it brought out the best in me."
According to Smash coach Sal LoCascio, the best of Behrman is something that Notre Dame should be extremely excited about bringing into the fold.
"Brock is a special player with outstanding athleticism, and that allows him to put himself in a position to score every time he has the ball," LoCascio said. "He has also added a ton of edginess to his game and that aggressiveness and grittiness have helped make him one of the best players in the class. Brock has worked so hard to put himself in this position, and there's no doubt in my mind that he's going to be a special player for Coach Kevin Corrigan and Notre Dame. They were smart to make him a priority and it paid off for both sides. I can't wait to see what Brock has in store in South Bend."
One sleepless night for Behrman and his parents will undoubtedly mean a lot of sleepless nights for ACC defenses.
Team 91 '22 Smash Commitments
(Click here for all commitments)
Brock Behrman, attack, Niskayuna – Notre Dame