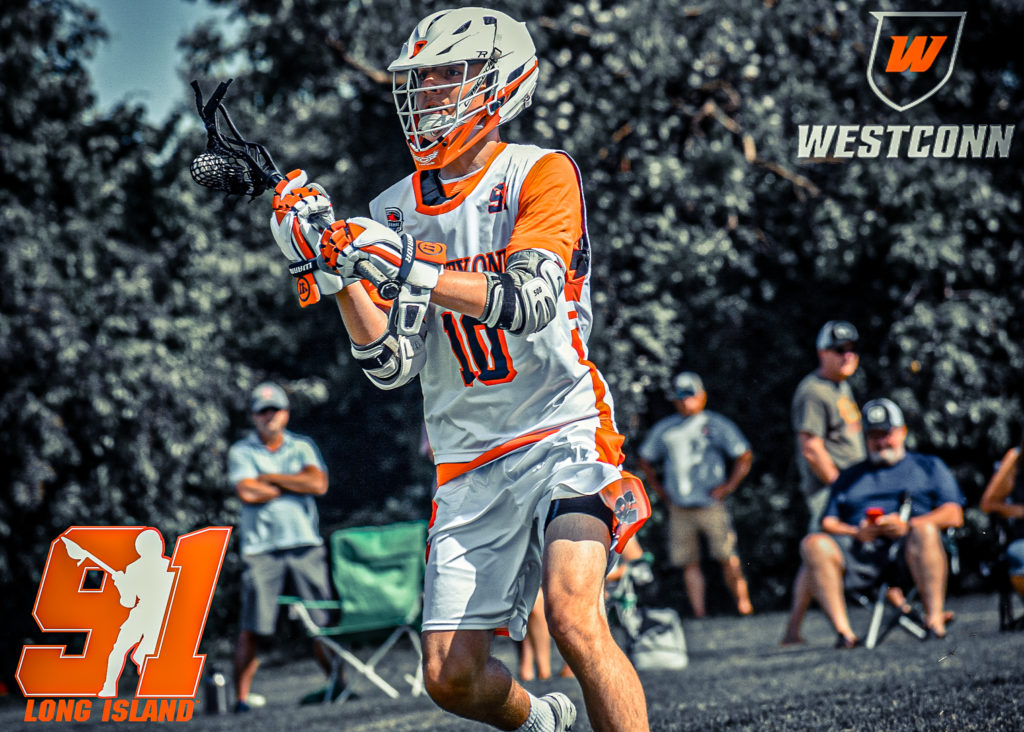 Follow Team 91 on Instagram, Twitter and Facebook.
Ryan Baudo had a built-in advantage that most players don't have when it comes to going through the recruiting process.
The Team 91 2021 Blaze midfielder by way of St. Anthony's had the opportunity to tap into his brother's knowledge and experience when it came down to looking for the perfect fit. Sean Baudo, a Team 91 2017 alumnus, chose to play Division III lacrosse at Catholic, and he emerged as one of the Cardinals' go-to players last year, pocketing 28 points in eight games before the season was cancelled due to Covid-19.
"He enjoys it a lot," the younger Baudo said. "He said that it doesn't take away from the college aspect and he felt like it was a great fit."
It helped Baudo identify that Division III was a great fit for him, especially after he remained patient and poised throughout the recruiting process. His Blaze teammates flew off the board to so many of the country's best schools, and while Baudo was thrilled for them, he knew that his time would come if he stayed the course.
"Patience is key," Baudo said. "I was in no rush to commit. It's all about what you choose you want and what you decide to do. I was happy for my teammates, but their decisions weren't going to affect my decision."
That patience finally paid off when Baudo committed to Western Connecticut, becoming the 20th Blaze player to commit and the first player to head to West Conn.
"I just felt like it was the best fit for me," Baudo explained. "I liked all of the kids and I enjoy the coach. It was in the range of where I wanted to go and I liked that it has a split campus that's a good size for me. I know a couple of kids that go there, too, and they put in a good word. It's far enough to go to college but close enough to come home on the weekends. I always felt like I was good enough to play at the collegiate level. It was just about the amount of time and work that I wanted to put into it, and it paid off."
Baudo, who intends to study either finance or cybersecurity, has been a mainstay on the Blaze, one of the country's top 2021 teams. He's been there from the start, helping the team morph from a good team to an elite one, and he's played a significant role in that.
The way Baudo describes it, being a part of such a vaunted team had a ton of perks to it.
"It's been a blast," Baudo said. "We've made a lot of memories and it's a great group of guys. Things got interesting when Brian took over as head coach. We got a lot of different guys and started practicing multiple times every week. We'd always play up a division and play in top tournaments with the best kids on Long Island and against the best kids from different states."
West Conn is getting a strong two-way midfielder who has the talent to make an impact all over the field. Most importantly, Baudo has elite intangibles, and his coach expects him to do big things at the next level.
"Ryan has been a jack-of-all-trades midfielder for the team, always doing anything asked of him and happily filling whatever role we needed him to play," Blaze coach and Team 91 founder Brian Spallina said. "He's always been an excellent short-stick defensive midfielder and a force in transition, but he's also continued to improve and add to his game, becoming more and more of a significant threat on the offensive end. More importantly, he's an outstanding person who has worked extremely hard to get to where he is. He's got the type of work ethic that rubs off on the rest of the team, and it's because of that that I believe he'll make a major impact at West Conn both on and off the field. I'm so excited to see what he does in college."
Looks like that patience paid off.