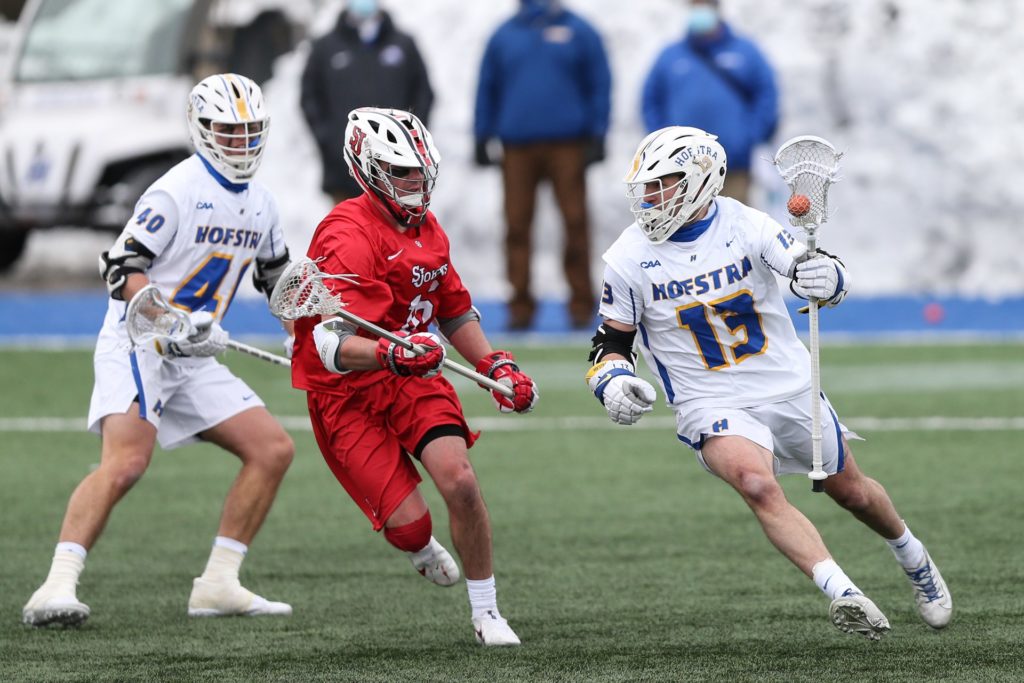 Eight goals and 11 points? In one game? Seems decent. Photo courtesy of Hofstra Athletics.
Follow Team 91 on Instagram, Twitter and Facebook.
His team wasn't quite able to come away with a win, but Ryan Tierney wasted no time in showing that he's once again one of the best attackmen in the country.
The Team 91 2016 alumnus by way of Massapequa was out of this world for Hofstra, bagging a ludicrous eight goals to go with three assists in a 19-18 overtime loss to St. John's to open the season.
The eight tallies and 11 points were tied for the second most in a game in program history, and he scored twice in the last two minutes to send the game to overtime, including his final goal of the game with 16 seconds left in regulation. '19 Orange Sam Lutfi (Massapequa) pocketed two goals and an assist and '16 Justin Lynskey (Massapequa / Holy Cross) emphatically debuted for Hofstra with two goals, two assists and two ground balls.
'16 Riley Forte (Half Hollow Hills West) ripped up the nets for a hat trick and '16 Logan Danenza (St. Anthony's / UMass) also made his Pride debut with a caused turnover and a ground ball.
'16 Tom Martello (Chaminade / Wesleyan) debuted for the Johnnies in style, dishing out the assist on the overtime game-winner to go along with a goal.
Duke 17, Mercer 8
Reigning ACC Defensive Player of the Week '19 Orange Tyler Carpenter (Salisbury, Conn.) was a man possessed once again for the Blue Devils, collecting four caused turnovers and snatching up five ground balls to lead a disruptive Duke defense in the rout of the Bears.
'19 Orange Kenny Brower (Massapequa) also had a caused turnover and a ground ball for the Blue Devils, who got a goal and an assist from '20 Crush Brennan O'Neill (St. Anthony's). '19 Orange Jake Caputo (Middle Creek, N.C.) picked up three ground balls, while '18 Extreme Jordan Ginder (Brunswick, Conn.) had a faceoff win and a ground ball in the win.
— Denver Men's Lacrosse (@DU_MLAX) February 14, 2021
Denver 15, Air Force 6
'16 Lucas Cotler (Syosset) helped the Pioneers get back on track with a goal and an assist in Denver's blowout win.
'20 Crush Chris Bardak (St. Anthony's) dislodged a pair of turnovers and grabbed two ground balls in his collegiate debut for the Falcons.
Ian Laviano scores his 100th goal as a Cavalier to tie the game at 1-1!!!

With the goal, Laviano becomes just the 18th player in UVA lacrosse history to score 100 goals.#GoHoos pic.twitter.com/4uLnn6Zcsq

— Virginia Men's Lacrosse (@UVAMensLax) February 14, 2021
Virginia 14, Army 9 
'17 Ian Laviano (Cold Spring Harbor) helped the defending national champions to another win with two goals, one assist, three caused turnovers and three ground balls. The goal was Laviano's 100th in his career, making him one of just 18 'Hoos to reach that mark.
Stony Brook 20, Sacred Heart 8 
'18 Extreme Anthony Palma (East Islip) passed his first test as a Seawolf with flying colors, tossing aside 10 shots and grabbing three ground balls to secure the win in his first college start.
Towson 8, Saint Joseph's 7
'16 Jack Zullo (Chaminade / Notre Dame) performed admirably in his first start for the Hawks, denying a dozen shots sent his way and collecting two ground balls, but the Hawks fell in overtime.
'18 Ryan Doran (Half Hollow Hills East) snapped home a goal to go with three ground balls and a caused turnover. '17 Matt Tufano (Glenn) added a ground ball for SJU.