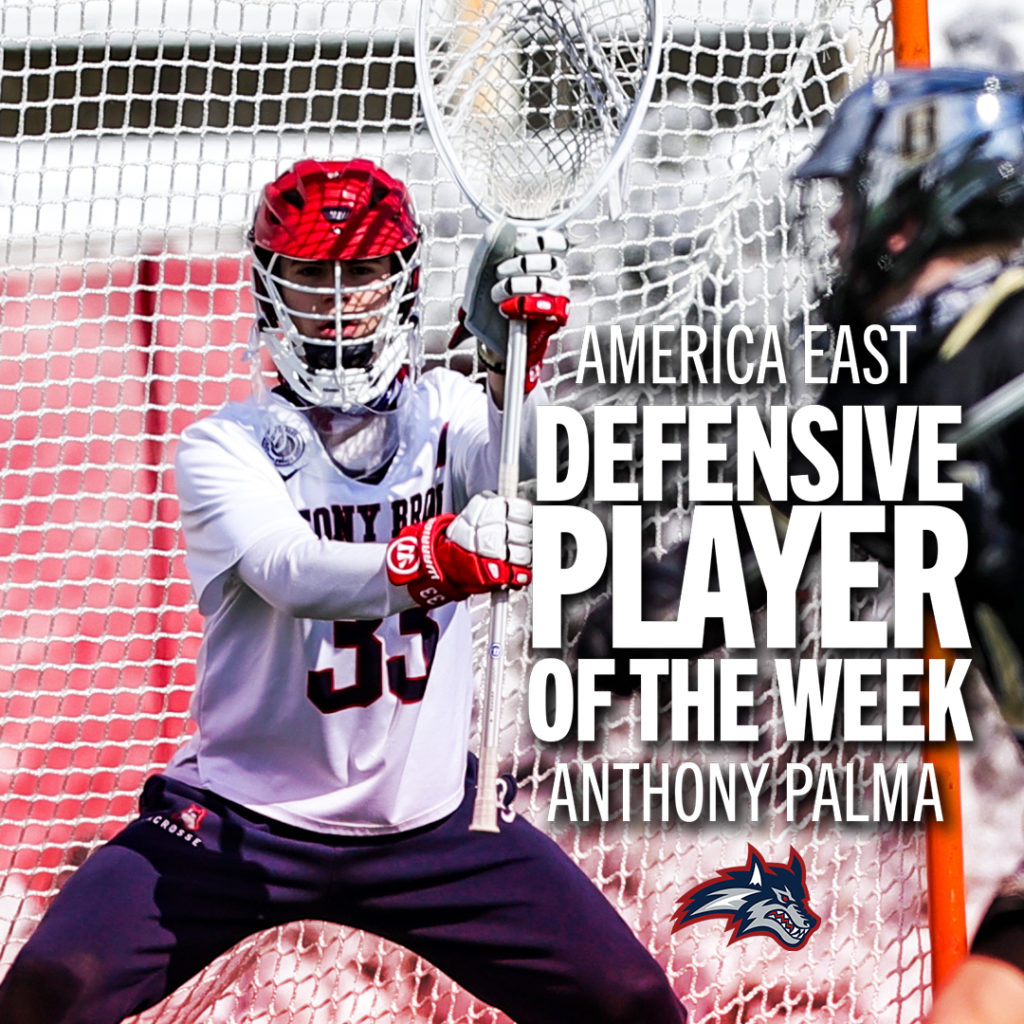 Follow Team 91 on Instagram, Twitter and Facebook.
Have a day, Palma!

16 saves and a 66.7 save percentage to help us earn the dub.#BelieveInTheSeawolves | #NCAALAX pic.twitter.com/cMyxC0mepr

— Stony Brook Men's Lacrosse (@StonyBrookMLAX) February 20, 2021
It took all of two starts for Anthony Palma to earn America East Defensive Player of the Week honors.
The Team 91 2018 Extreme and East Islip product was a brick wall in the Stony Brook cage, tossing aside a whopping 16 shots to help secure a 14-8 win over Bryant.
"Our defense knows that we know how to play the game," Palma told Newsday's Jordan Lauterbach. "…We just came out a little flat but we never lost composure. We took a time out, we knew what we were doing. We knew we were the better team"
Palma also collected two ground balls in the win.
Hofstra 13, Sacred Heart 6
Changing jerseys hasn't changed Justin Lynskey's game. The Team 91 2016 alumnus via Massapequa is still making goalies turn and rake.
The Hofstra senior and Holy Cross transfer was up to his old tricks again this weekend, burying two goals to go with two assists, three ground balls and two caused turnovers as the Pride upended Sacred Heart.
'16 Logan Danenza (St. Anthony's) helped stymie the Pioneers as the Hofstra defense yielded one second-half goal. Danenza gobbled up a ground ball for the Pride, while '16 Ryan Tierney (Massapequa) paired a goal with an assist. '16 Riley Forte (Half Hollow Hills West) sniped one goal for Hofstra, which also got a caused turnover and a ground ball from '19 Orange Sam Lutfi (Massapequa).
Duke 19, Towson 7 
'20 Crush Brennan O'Neill (St. Anthony's) pounded home four goals and grabbed a ground ball for the Blue Devils, while '19 Orange Tyler Carpenter (Salisbury, Conn.) vacuumed up five ground balls on the back end. '18 Extreme Owen Caputo (Middle Creek, N.C.) fired home a hat trick to go with an assist. '17 Cameron Mulé (Half Hollow Hills West) tossed in a pair of goals for Duke, which also got an assist from '20 Crush Aidan Danenza (St. Anthony's), two ground balls from '19 Orange Kenny Brower (Massapequa) and a ground ball and a caused turnover from '19 Orange Jake Caputo (Middle Creek, N.C.). 
 Air Force 10, Utah 9
'20 Crush Chris Bardak (St. Anthony's) made an impact all over the field once again, causing a pair of turnovers to go with a whopping eight ground balls as the Falcons nipped the Utes in overtime for their first win of the year.
Rutgers 11, Penn State 9 
'18 Extreme Ethan Rall (Islip) helped guide the Scarlet Knights to an upset of the Nittany Lions with a pair of ground balls.
'16 Mac O'Keefe (Syosset) scored once for Penn State, which also got a ground ball from '19 Orange Gerald Filardi (Half Hollow Hills West).
Georgetown 16, Villanova 1
'17 Joe LiCalzi (South Side) led a staunch defensive effort from the Hoyas, collecting two ground balls and helping to keep the Wildcats off the scoreboard for the game's last 50:51 as Georgetown rolled in its season opener.
Virginia 15, Loyola 12
'17 Ian Laviano (Cold Spring Harbor) scored once and added a ground ball in the 'Hoos' win.
Providence 16, St. John's 8
'16 Tom Martello (Chaminade) buried a goal and added a ground ball for the Johnnies.
Maryland 20, Michigan 7
'19 Orange Justin Brown (Half Hollow Hills West) made his Wolverine debut with a ground ball.