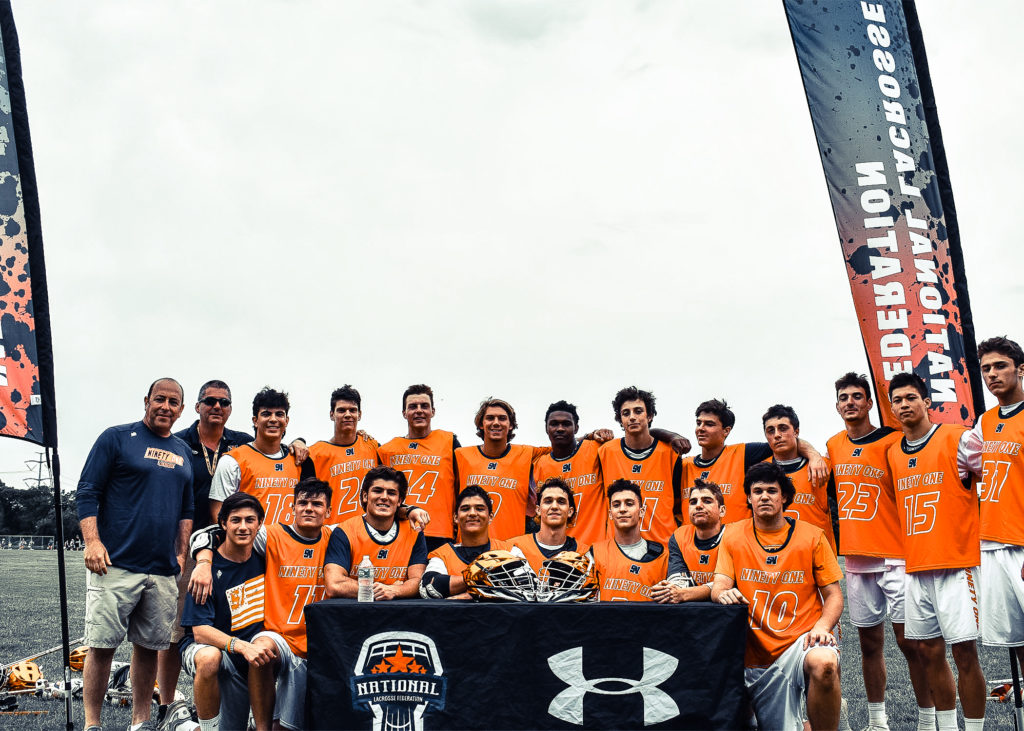 Follow Team 91 on Instagram, Twitter and Facebook.
Once again, there's a strong Team 91 influence in the Inside Lacrosse Power 100 for incoming freshman recruits.
A whopping 11 Team 91 players – the most of any club in the country – cracked the top 100 released by IL's Ty Xanders, including three five-star recruits in No. 2 Kenny Brower (Massapequa / Duke), No. 7 Jake Caputo (Middle Creek, N.C. / Duke) and No. 11 Angelo Petrakis (Massapequa / Duke). All in all, 10 of the 11 selections played for the '19 Orange team coached by Jimmy Mulé, while the '19 White team, coached by Brian O'Keefe, earned a spot on the list with the inclusion of No. 55 Jared Paquette, a Yale commit who had a dominant senior campaign at West Islip.
Greg Campisi (St. Anthony's / Harvard) slotted in at No. 30 overall, followed by No. 37 Connor Drake (Salisbury, Conn. / Duke) and No. 44 Christian Mulé (Half Hollow Hills West / Lehigh) to round out 91's presence in the top 50. Mikey Alexander, Paquette's former teammate at West Islip and current teammate at Yale, checked in at No. 52, one slot ahead of John Sidorski (East Islip / Lehigh). Justin Tiernan (Glenn/Lehigh) joins Mulé and Sidorski in Bethlehem and is ranked the No. 64 player in the country, while Frankie Ciniglio (Ward Melville / Cornell) rounds out the group at No. 74. Ciniglio likely would have finished higher if not for missing the majority of his senior campaign due to injury.
"Our 2019s were an incredible group that really maximized each other's potential," Team 91 founder Brian Spallina said. "They always tested themselves against elite competition and came out of it as the best team, top-to-bottom, in the country in that age bracket. It's no surprise to see so many of them earn spots in Inside Lacrosse's top 100, and I have no doubt that they're going to do some great things starting this year."
Team 91 Alums in the Inside Lacrosse Top 100
No. 2 Kenny Brower, defense, Massapequa / Duke
No. 7 Jake Caputo, midfield, Middle Creek (N.C.) / Duke
No. 11 Angelo Petrakis, faceoff midfield, Massapequa / Cornell
No. 30 Greg Campisi, LSM, St. Anthony's / Harvard
No. 37 Connor Drake, midfield, Salisbury (Conn.) / Duke
No. 44 Christian Mulé, attack, Half Hollow Hills West / Lehigh
No. 52 Mikey Alexander, defense, West Islip / Yale
No. 53 John Sidorski, attack, East Islip / Lehigh
No. 55 Jared Paquette, goalie, West Islip / Yale
No. 64 Justin Tiernan, attack, Glenn / Lehigh
No. 74 Frankie Ciniglio, defense, Ward Melville / Cornell