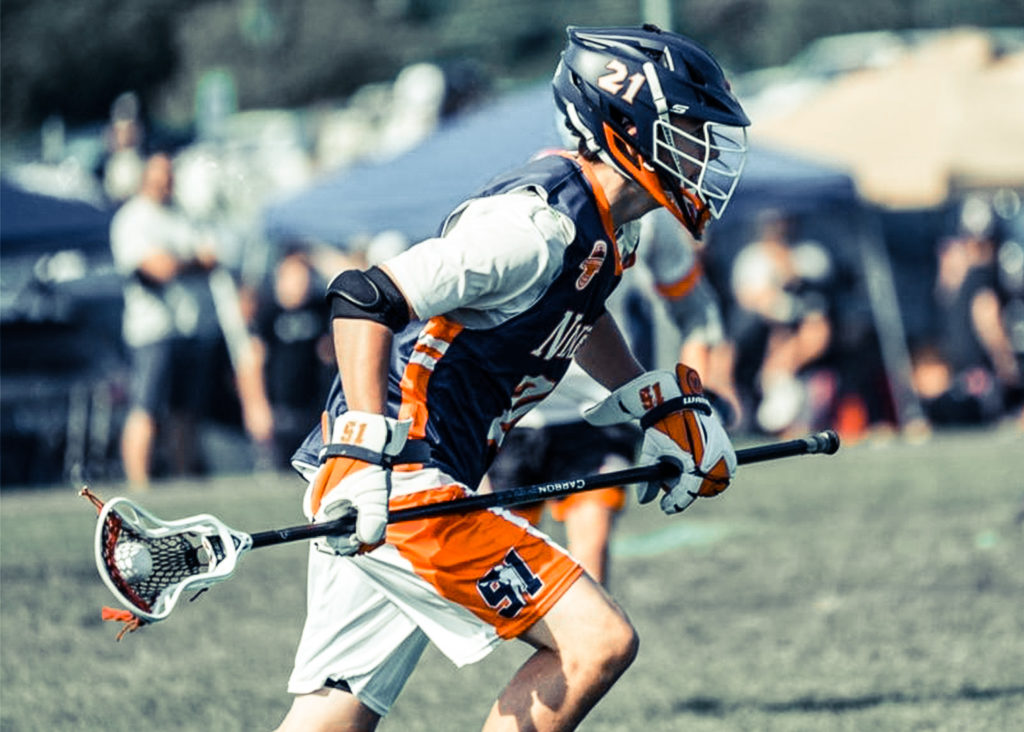 Follow Team 91 on Instagram, Twitter and Facebook.
Drew Sumner didn't necessarily know where he wanted to go to school at first, but the Team 91 2021 Ambush defenseman by way of Patchogue-Medford did have one very specific thing in mind.
"I always wanted to go south for the warm weather," Sumner said. "I'm sick of the cold. I was looking at a lot of schools in the South because playing in the cold isn't really my thing. I wanted a place south of Virginia."
With that major parameter established, Sumner got to checking out schools below the Mason-Dixon line that could also allow him to play high-level college lacrosse while also enjoying no threat of snow and playing in the warmth. He took in a handful of established programs, yet something continued to draw him back to North Greenville. The small Division II school in the heart of South Carolina emphatically checked off the warm weather box, but it also helped that NGU coach Corey Struss has helped the program make impressive strides since being named the program's first head coach five years ago.
"In talking to him, I felt like I could be more of a part of the program and maybe even have an early role on the team," Sumner said. "He's super invested in the program and I saw that they improve every year, and by the time I get there, they could be significantly better."
With all of that coming together, Sumner didn't wait much longer to opt for the Crusaders, becoming the first player in Team 91 history to choose North Greenville. He's the fifth Ambush player to commit to a school and the 19th Team 91 '21 to verbal.
"It was just the right fit for me," Sumner said. "I went down for a visit about a week before South Carolina got put on the (Covid-19) no-fly list, and I just really liked the school right when I got on campus. Downtown Greenville is awesome and the campus is gorgeous with beautiful new buildings with mountains in the background. I want to study accounting with a minor in finance, and Coach Struss mentioned that a lot of the former players are established in the finance world where I want to be, and I feel confident that I could do the same thing."
The commitment to an up-and-coming program like North Greenville is a fitting development for a player whose best lacrosse is still ahead of him. Sumner made the transition to Team 91 three years ago and, at first, wasn't seeing the field a ton as a close defenseman. He explained to Ambush coach Doug Schanars that he wanted to see the field more, and Schanars saw an opportunity for Sumner to get some LSM runs. That transition helped kick Sumner's development into high gear, and it helped him become a college prospect.
"It was rough at the beginning because it's a big adjustment, but Coach Doug was always supportive and kept putting me back out there," Sumner said. "Now, I split reps with Deven Rauss (Ward Melville) at LSM, and once I started at LSM, I improved a lot overall. I was able to keep up with smaller, quicker guys because of it, and now, I play LSM, close and man-down. Coach Doug has always been patient with me. In my first year, I was definitely one of our weaker guys, but I feel like I've established myself now. The coaches' patience and their good advice were huge for me."
For Schanars, it's exciting to see a player take to coaching so well and use it to blossom as a player, and he feels like Sumner can make an impact at North Greenville.
"You love any time that a player comes to you and ask not only how they can improve to see more playing time, but then take it to heart and put in the time to get better," Schanars said. "Drew's worked really hard to get to where he is and he's gotten better and better every year. We love his work ethic and his ability to make plays while getting up and down the field, and there's not a doubt in my mind that he'll be successful at North Greenville both on and off the field. I'm excited to see him in action as a Crusader."