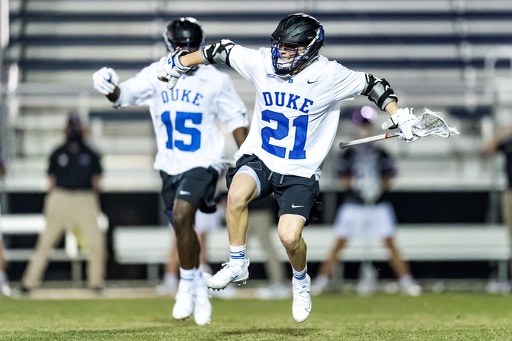 Follow Team 91 on Instagram, Twitter and Facebook.
Let the hats fly, Cameron Mulé!
The Team 91 2017 and Half Hollow Hills West spearheaded Duke's incredible 27-8 rout over High Point with his first career hat trick and then chipped in another goal as the Blue Devils hammered Jacksonville, 17-6. The senior has already established a career high in goals with markers in four of Duke's eight games.
First career 🧢 trick for 2️⃣1️⃣ @cam_mule#GoDuke pic.twitter.com/DFdDsUsJ0j

— Duke Men's Lacrosse (@DukeMLAX) March 12, 2021
'20 Crush Brennan O'Neill (St. Anthony's) paced the Blue Devils with a pair of five-goal games to spur a 44-goal week for Duke. '19 Orange Kenny Brower (Massapequa) led a defense that didn't yield double-digit goals to either opponent and snatched up three ground balls. '19 Orange Tyler Carpenter (Salisbury, Conn.) continued to wreak havoc from his LSM spot, collecting a total of nine ground balls and causing a trio of turnovers.
'18 Extreme Owen Caputo (Middle Creek, N.C.) popped a pair of goals against High Point and an assist against Jacksonville, while his brother, '19 Orange Jake Caputo, paired a goal with an assist against the Panthers. '18 Extreme Jordan Ginder (Brunswick, Conn.) was a combined 6-for-8 at the faceoff X with three ground balls and an assist. '18 Extreme Frank Marinello (Chaminade) snatched up a ground ball in the opener. '20 Crush Aidan Danenza (St. Anthony's) pieced together a one-goal, one-assist, one-ground ball day against the Dolphins after chipping in an assist against High Point.
Lehigh 18, Bucknell 6
'19 Orange John Sidorski (East Islip) paced a high-flying Mountain Hawk squad with a goal and three assists, '18 Extreme Anthony Tangredi (Chaminade) took the ball away from the Bison three times to go with two ground balls and '19 Orange Christian Mulé (Half Hollow Hills West) had a goal, an assist and two ground balls as Lehigh cruised.
'19 Orange Justin Tiernan (Glenn) netted two goals for Lehigh, while '18 Extreme Michael Gomez (Half Hollow Hills East) secured a ground ball in the win.
Q4, 13:07 | Alex Keener scores his first career goal!

SJU 12, Wagner 3 #THWND pic.twitter.com/jDsd5DfflH

— SJU Hawks Men's Lax (@SJUHawks_MLax) March 8, 2021
Saint Joseph's 17, Wagner 5
Saint Joseph's 13, Sacred Heart 9
'18 Ryan Doran (Half Hollow Hills East) erupted for a career-best five goals and six points to go with four ground balls against the Seahawks before following it up with a hat trick, a helper and three ground balls against the Pioneers. '17 Matt Tufano (Glenn) put up a career-best in assists and points with five against Wagner before firing home two goals against Sacred Heart.
'19 White defenseman Alex Keener (Bethpage) tossed in his first career goal against Wagner while also collecting a pair of ground balls. '16 Jack Zullo (Chaminade) made four saves in split duty against the Seahawks.
Better luck next time goalie. You arent stopping this from one of the best shooters in the country@jhumenslacrosse 13, @PennStateMLAX 6 pic.twitter.com/jH0ZPUzMZn

— Upstream Lacrosse (@upstreamlax) March 13, 2021
 Johns Hopkins 13, Penn State 6
'20 Crush Brett Martin (Half Hollow Hills East) picked up his first career ground ball to help the Blue Jays roll despite two goals from '16 Mac O'Keefe (Syosset) for the Nittany Lions. '19 Orange Gerald Filardi (Half Hollow Hills West) racked up a ground ball for PSU.
Syracuse 17, Stony Brook 9
Stony Brook 13, NJIT 4
'18 Extreme Anthony Palma (East Islip) tossed aside eight shots and grabbed two ground balls against the Orange and added seven more saves in the win over the Highlanders.
Fairfield 13, Lafayette 11
UMass 13, Fairfield 9
'17 Taylor Strough (Cold Spring Harbor) had a pair of two-goal games to pace the Stags while also adding a ground ball vs. UMass.
LIU 14, Hobart 12
'19 Orange Blake Behlen (Commack) dished out two helpers to go with a goal and a ground ball as the Sharks picked up their third straight win.
Maryland 19, Rutgers 12
'18 Extreme Ethan Rall (Islip) bagged a pair of ground balls for the Scarlet Knights.
Monmouth 7, Siena 6
'20 Crush Trevor Marsala (Mount Sinai) made the most of his first collegiate start, taking the ball away twice and grabbing four ground balls for the Saints.
North Carolina 16, Virginia 13
'17 Ian Laviano (Cold Spring Harbor) put up an assist, a ground ball and a caused turnover for the 'Hoos.
Robert Morris 14, Air Force 13
'20 Crush Chris Bardak (St. Anthony's) snatched up four ground balls from his LSM spot for the Falcons.
Delaware 19, Drexel 12
'19 Orange Kyle Munson (Calhoun) made a save in a relief performance for the Dragons.
Villanova 20, St. John's 8
'20 Orange Ronnie Durante (Lindenhurst) made his first collegiate save in relief for the Johnnies.
Division II

Wingate 20, Anderson 8
'19 White Marc Cottage (Smithtown West) buried his first career goal to go along with a caused turnover  in Wingate's rout.
Queens 20, Mars Hill 12
'20 Orange Colby Suglia (Mattituck) picked up a ground ball as Queens picked up its third win in the past four games.
Division III
Cabrini 14, Montclair State 6
'18 Extreme Matt Sageder (Mount Sinai) stuffed seven shots to help the Cavaliers roll.
Messiah 9, Wilkes 4
'20 Orange Matt Warns (Mattituck) scooped up four ground balls for Wilkes.