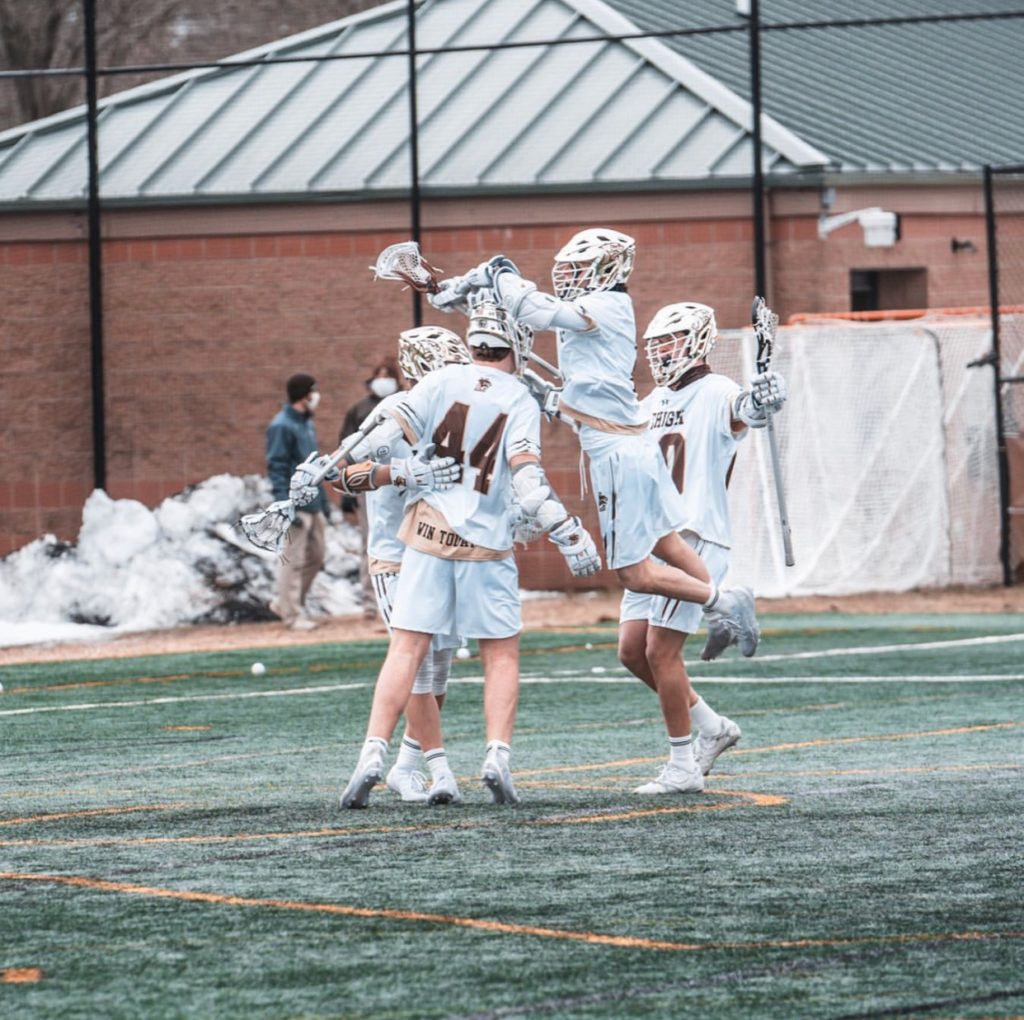 Justin Tiernan (44) and Christian Mulé (flying through the air) helped Lehigh to its first-ever win over Loyola.
Photo courtesy of Nick Ieradi.
Follow Team 91 on Instagram, Twitter and Facebook.
Lehigh made some history this weekend, and some Team 91 stalwarts were in the midst of it all.
Team 91 '19 Orange alums Christian Mulé (Half Hollow Hills West) and Justin Tiernan (Glenn) each scored a goal and '18 Extreme Anthony Tangredi (Chaminade) caused three turnovers and grabbed three ground balls as the Mountain Hawks upended Loyola, 10-6, for their first win over the Greyhounds in school history. CLICK HERE to see Mulé's goal.
'19 Orange Nick Turrini (Calhoun) snapped up two ground balls for Lehigh.
ℍ𝕚𝕤𝕥𝕠𝕣𝕪 𝕚𝕟 ℍ𝕖𝕞𝕡𝕤𝕥𝕖𝕒𝕕❗

The goal that made Ryan Tierney the all-time leader for goals at #Hofstra and points at #CAALax❗#RoarWithPride pic.twitter.com/ZgY2CsBWjs

— Hofstra Men's Lacrosse (@HofstraMLAX) March 2, 2021
Hofstra 18, Wagner 6
'16 Ryan Tierney (Massapequa) continued his relentless assault on the record books. This time, he put up six goals, which enabled him to become Hofstra's all-time goals leader and the Colonial Athletic Association's all-time points leader. The game was Tierney's third of the season with at least six goals, and he's second nationally in goals with 23 and first nationally in goals per game with a whopping 5.75.
'16 Justin Lynskey (Massapequa) paired two goals with two assists to go with four ground balls for the Pride, who won their third straight game. '16 Logan Danenza (St. Anthony's) had a ground ball to go with a caused turnover, '19 Sam Lutfi (Massapequa) and '16 Riley Forte (Half Hollow Hills West) each tacked on an assist
Virginia 12, High Point 11
Virginia 20, Air Force 4
'16 Ian Laviano (Cold Spring Harbor) scored what stood as the game-winner and collected two ground balls as the 'Hoos nipped High Point. Laviano also pocketed a goal in the win over the Falcons.
Binghamton 11, NJIT 5
'18 Extreme Max Verch (Syosset) spearheaded a stingy Bearcats defense with a great three-caused turnover, four-ground ball day, '17 Tom Galgano (Bethpage) added a pair of caused turnovers and five ground balls and '17 Kyle Tiernan (Glenn) chipped in a caused turnover and five ground balls as Binghamton clamped down on NJIT.
'18 Teddy McLoughlin (Islip) got in on the defensive fun with a three ground balls and a caused turnover. '20 Orange Trey Sofield (Long Beach) claimed his first collegiate faceoff.
8️⃣8️⃣ 🧵ing the 🪡 to @owen_caputo

💻: https://t.co/65Yz0KkNeW#GoDuke pic.twitter.com/8FLO4ng1tp

— Duke Men's Lacrosse (@DukeMLAX) March 7, 2021
Duke 13, Richmond 6
'20 Crush Aidan Danenza (St. Anthony's) led a diverse Duke offense with a goal and two helpers, while '18 Extreme Owen Caputo (Middle Creek, N.C.) and '20 Crush Brennan O'Neill (St. Anthony's) each added two goals as the Blue Devils cruised.
'19 Orange Kenny Brower (Massapequa) guided a staunch Duke defense and added a caused turnover and a ground ball. The '19 Orange trio of Connor Drake (Salisbury, Conn.), Tyler Carpenter (Salisbury, Conn.) and Jake Caputo (Middle Creek, N.C.) each added a ground ball.
Rutgers 22, Michigan 12
'19 Orange James Ringer (Bayport-Blue Point) buried his first career goal for the Scarlet Knights and '18 Extreme Ethan Rall (Islip) caused a turnover and grabbed a ground ball as Rutgers cruised.
'17 Kevin Mack (Manhasset) had a ground ball for the Wolverines.
Beauitful pass by Jack Kelly. Nice pump fake and that's another Mac O'Keefe goal!#WeAre pic.twitter.com/DArqVURYC9

— Penn State Lacrosse (@PennStateMLAX) March 6, 2021
Penn State 15, Ohio State 12
'16 Mac O'Keefe (Syosset) connected for a hat trick to spark the Nittany Lions past the Buckeyes. '19 Orange Gerald Filardi (Half Hollow Hills West) snatched up a ground ball in the win.
Denver 20, St. John's 6
'16 Lucas Cotler (Syosset) popped a pair of goals and also dislodged a pair of turnovers as the Pios rolled.
Georgetown 17, Mount St. Mary's 5
Georgetown 20, Marquette 13
'17 Joe LiCalzi (South Side) got the Hoyas going in the rout of the Mount with an assist, a caused turnover and two ground balls before taking the ball away once against Marquette.
UMBC 13, Stony Brook 12 
'17 Tommy Lingner (St. Anthony's) was brilliant in the UMBC cage, stopping 16 shots and snaring two ground balls as the Retrievers won in triple overtime. '18 Extreme Anthony Palma (East Islip) was sharp in the Seawolves' cage with 12 saves and four ground balls.
LIU 13, Sacred Heart 10
'19 Blake Behlen (Commack) buried his first Division I hat trick to go with two ground balls and a caused turnover to pace the Sharks to the win.
Providence 18, Fairfield 17
Delaware 17, Fairfield 9
'17 Taylor Strough (Cold Spring Harbor) got his season started with a pair of hat tricks. He added an assist and two ground balls against the Friars before chipping in a ground ball against the Blue Hens.
Army 13, Saint Joseph's 5
'19 White Alex Keener (Bethpage) dislodged a pair of turnovers to go with two ground balls, '16 Jack Zullo (Chaminade) made five stops and '18 Ryan Doran (Half Hollow Hills East) scored once and added a ground ball for the Hawks.
Canisius 8, Siena 7 
'20 Crush Trevor Marsala (Mount Sinai) made his collegiate debut with a ground ball for the Saints.
 Division II
Mercy 19, Dominican 6
'19 White Billy Gordon (St. Anthony's) collected a pair of ground balls and tossed out an assist for the Chargers.
Division III
Cabrini 17, Southern Virginia 15 
'18 Extreme Matt Sageder (Mount Sinai) came up with six timely saves and two ground balls to help the defending national champions fend off Southern Virginia's upset bid.