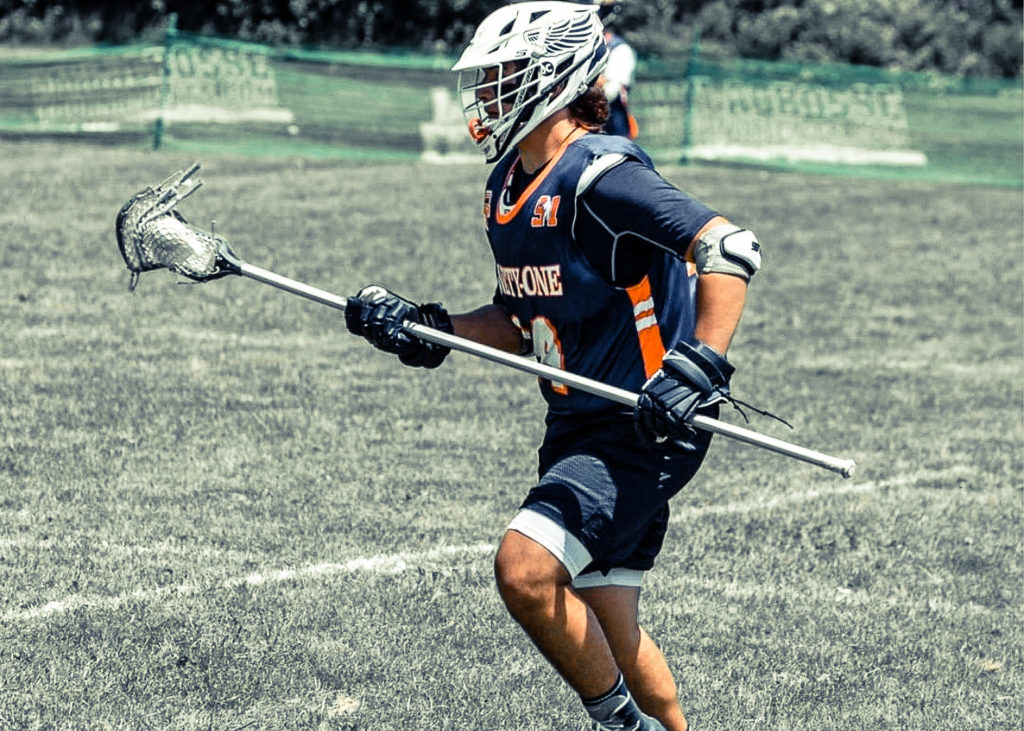 Follow Team 91 on Instagram, Twitter and Facebook.
Liam Linden had an inkling of what he wanted to study in college, but it wasn't until a job this summer that he realized that he definitely wanted to teach chidren.
Linden, a Team 91 2020 Varsity defenseman by way of St. Dominic, got a job this summer as a counselor for second graders at Maplewood camp in Montauk, and it's safe to say that Linden learned a thing or two as well.
"My dad worked there when he was in college, and he told me that it was a good job," Linden said. "I've always wanted to teach and be a lacrosse coach, but I learned a lot. It was a good opportunity to work with young kids. It was really hectic, but at the end of the summer, I knew how to deal with kids and connect with them."
It makes sense, then, that he looked for a school with a good education program, but also one that would allow him to test himself against the best teams in the country. When he got a call from upstart Division I program St. Bonaventure, Linden couldn't help but observe similarities between the school and St. Dom's.
"I was looking for small class sizes and a connection with the professors, and (Bonnies head) Coach (Randy) Mearns said that the kids have a connection with the professors like no others. It was a big reason why I chose to go to St. Bonaventure since there are only about 16 kids per class, and we all have a close relationship with our teachers."
Once he visited the school, it didn't take long for Linden to join the St. Bonaventure fold. He's the first player in Team 91 history to choose the Bonnies, who played their inaugural season in 2018. The chance to be a part of something new and to leave a sizeable impact on the program added to the school's allure.
"I wanted to be a part of something new and something up and coming, so it really drew me in," Linden said. "I wanted to be a part of the new legacy. They said, 'we're not choosing you to sit on the bench and not win. We want you to come here and compete,' which is exciting."
Linden, who also cited the school's academic support system as a major draw, made a significant impact this summer after he joined the '20 Varsity team. Oddly enough, he wouldn't have even played if it weren't for a well-timed call from eventual teammate Dylan Sohm.
"I was on my way to the gym when I got a call from Dylan, and he said, 'we need a couple of extra poles, do you want to play?' so I ran home from the gym, got my stuff and played in a tournament at Garden City," Linden said. "Without playing for 91, I wouldn't have been looked at by St. Bonaventure. Coach (Dan) Spallina was really fantastic throughout the process."
Normally a close defenseman with a penchant for flashy checks and takeaways, Linden got the chance to play a lot of LSM this summer, something that gave him a different viewpoint and also offered him the chance to add some versatility his game. He even found the time to chip in offensively, scoring more transition goals than he'd ever had in his career.
"Coach Spallina gave me the green light to get involved in transition and not be afraid to take a shot," Linden said. "I like to play a mean, aggressive style and take the ball away, but playing with 91 really helped diversify my game."
Linden's meteoric ascent over the summer didn't go unnoticed by the Bonnies, nor by anyone in the Team 91 program.
"I want to congratulate Liam on his commitment to St. Bonaventure," Dynamic Sports Management recruiting coordinator Brendan Chamberlain said. "Liam worked really hard this summer to improve his all around game and benefited from his outstanding play at NYLA Tourney and Laxfest on our Varsity team. We're excited to watch him help the Bonnies do great things."