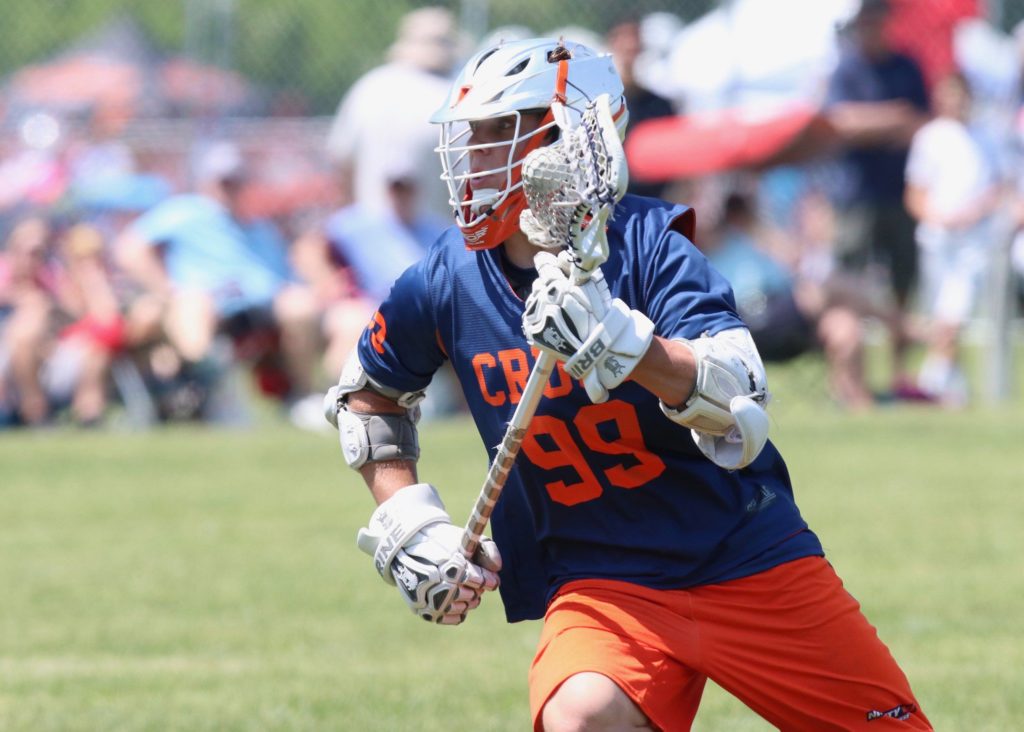 Photo courtesy of Alain Tingue
Follow Team 91 on Instagram, Twitter and Facebook. 
There was plenty of reason to expect it, but the sheer volume of it all still blew Tyler Cordes away.
Team 91 2020 Crush coach Joe Spallina knew that the Crush and Connetquot midfielder would be in high demand. Cordes had been close to committing prior to the NCAA rule changes that halted the class of 2020's recruiting until Sept. 1 of this year, and his play had only gotten better in the time in between. A versatile, Swiss Army knife-type of middie, Cordes is the type of player that every program needs to have, so it stood to reason that a plethora of schools would make him a priority.
He just didn't know how much of a priority.
"I heard from multiple schools at 12:01 on Sept. 1, which was great," Cordes said. "It was exciting, but I was also a little nervous and definitely surprised about it. It took me a full day, but I got back to every single one of them."
One school, though, stood out from the rest, and it was the same that he had envisioned committing to as a high school freshman. Cordes fell in love with the United States Naval Academy from the first time he visited as an eighth grader, and he saw himself as a Midshipman from the start. Despite that, he held off on committing, then went through the unofficial 2020 dead period. When he visited again two weeks ago – his fourth or fifth visit to the school – he knew that it was the place for him and committed to coach Rick Sowell and his staff. Cordes is the 11th Crush player to verbal and the second to choose Navy after South Side defenseman and LSM Nick LiCalzi.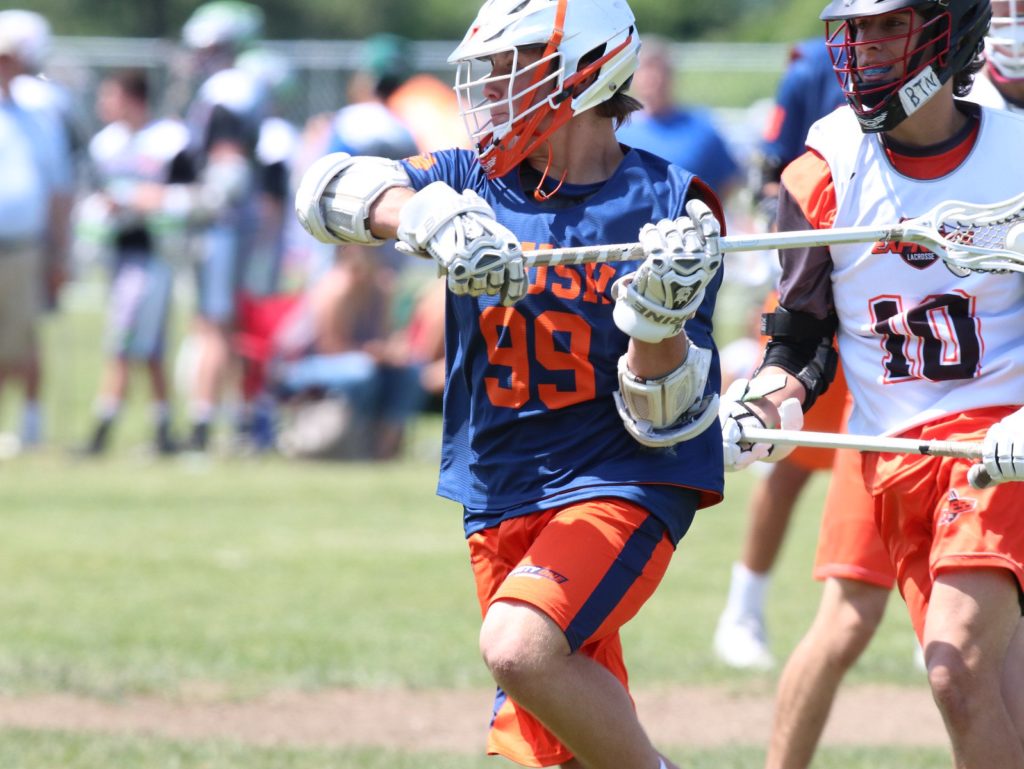 Photo courtesy of Alain Tingue
"I could have committed early, but I decided not to and take my time. I was still trying to figure out what to do when I was younger, and I'm definitely a lot more confident about the decision at this point," Cordes explained. "I visited a couple of times, and every time I went back, I loved it even more. The military aspect wasn't something that I was always about from the start, but as time went by, I realized it was something that I really have a passion for and something that I really want to do."
After Cordes decided to commit, he excitedly told his parents, which brought a sense of relief to them… because of recent purchases.
"I told him, 'you better be committed, because we just spent $200 buying Navy gear at the school store!'" Cordes' father, Jim, said with a laugh.
"I'm so happy for Tyler," Spallina said. "He is such an incredible kid and one of the hardest workers I've ever coached. He will have a great college career alongside Nick LiCalzi and I can't think of a better person to represent our country."
Cordes' calling cards as a player revolve around his leadership, unselfishness, explosiveness, high lacrosse IQ and excellent vision, which make him a perfect fit for Navy. He'll be a four-year varsity starter and will have to emerge as more of a leader this spring to offset some of Connetquot's losses, most notably Team 91 2018 Extreme standout and Maryland freshman George Wichelns. It was Wichelns and T-Birds teammate GQ Grippo, among others, who had a big role in augmenting Cordes' work ethic.
"Those guys took me under their wing and showed me everything. I can't ask for much more, and Coach (Brett) Jeffares made me work so hard and really improved my game," Cordes said. "With 91, it's just been incredible. It starts with Coach Joe. He's been like a second father to me, and he'll do anything to make sure I'm doing everything right and working hard as possible not just on the field, but to make sure that I grow up to be a good man. He's made me work harder than I ever have before, and I know how much he loves and cares for me. Coach (Andy) Martin, Coach (Mike) McAdorey and Coach (John) Arline have done so much for me, too. Coach Darrin Schirtzer is amazing at organizing and doing everything for the team. We would have never gotten out of Long Island without him.
"I'm looking forward to this last year with Crush," Cordes added. "It's really hard to explain how close of a bond we've had over the past couple years, not just with the players, but the parents and coaches, too. It's incredible how we've all come together."
Cordes has an eye on studying business at Navy, and he also spoke to Navy alums and Navy SEALs about the thought of attending the Academy. Everyone came back with rave reviews, which further cemented his decision. It'll help to have LiCalzi by his side, too.
"It's great to have LiCalzi there because we've always been close," Cordes said. "I talked to him about it and he always had a great vibe toward it, which helped a lot. I also talked to multiple people about it and they explained to me what Navy really is, and I'm ready for it. I know that I also wouldn't be here if it weren't for my mom, Christine. She's taught me so much about life and doing the right things and making the right decisions. My dad pushed me and has done so much for me. I couldn't ask for a better father, and I look up to him every day."