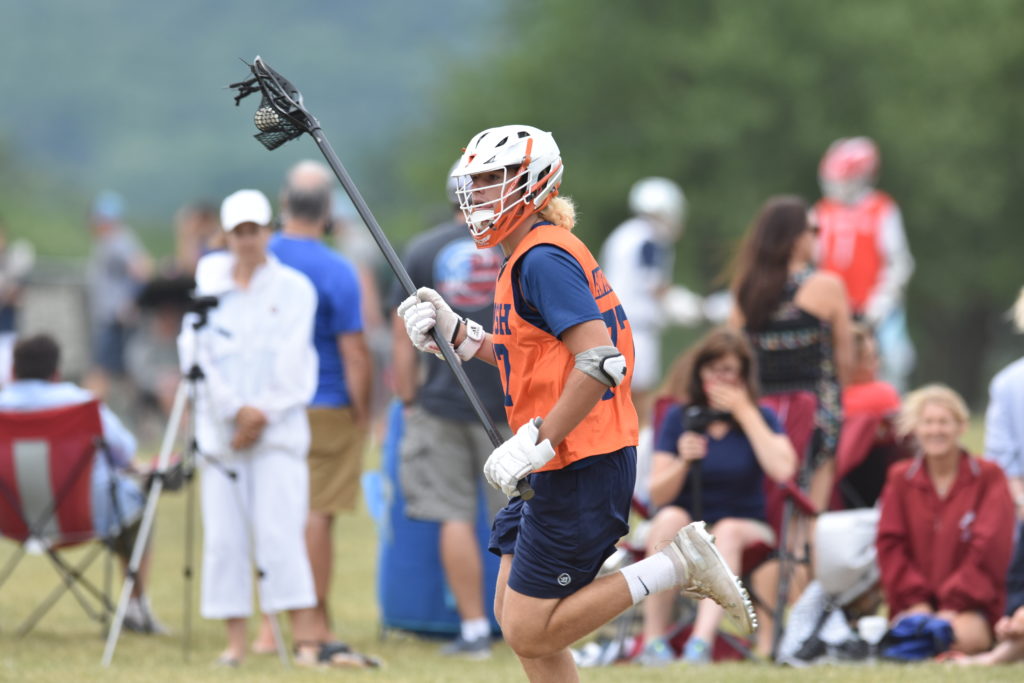 Follow Team 91 on Instagram, Twitter and Facebook. 
When the class of 2020's top players started committing at an unheard-of pace as eighth graders and high school freshmen, Caden Hawkinson wasn't one of the players that college coaches were constantly asking about.
A loaded Team 91 Crush roster drew attention everywhere it went, especially as Joe Spallina's squad had the most commits of any 2020 team in the country, but Hawkinson flew under the radar as an undersized defenseman and LSM. Then, the NCAA rule change that prevented contact with prospects until Sept. 1 of their junior came into effect, and everything changed for Hawkinson.
He grew, both physically and as a player, routinely discarding heralded scorers with relative ease. As he got taller and filled out, he found himself capable of covering just about anyone, whether it was out of the midfield, near the net or behind the cage at X. As Crush continued to prove its status as the top 2020 program in the nation, Hawkinson thrived, emerging as another lockdown option for Spallina to deploy on the back end alongside a slew of big-time recruits. He helped Crush to a title at the National Lacrosse Federation national championships this summer, a fitting way to cap off a great summer.
It didn't take long for schools to take notice, either, and Hawkinson suddenly became very in demand. When Sept. 1 rolled around, he started to get the attention he hadn't gotten before, and in the process, proved that you don't have to commit early to have a plethora of options. One, though, stood out the most after a visit about a month ago. Hawkinson took a visit to Michigan, where fellow Crushers Justin Brown (Half Hollow Hills West) and Trevor Kessel (St. Dominic's) are committed, and it didn't take long before he joined them in the committed ranks.
"They reached out to me on Sept. 1 via email, and I was on the phone with them pretty often," Hawkinson said. "When I visited, I just fell in love with it. I thought the whole environment was amazing. It's a great place and a perfect fit for me. It's an unbelievable combination of athletics and academics, and it's one of the best schools in the country."
"I think the rule change really benefited me," Hawkinson added. "I was kind of a late bloomer and I was in touch with very few coaches before the rule change. It was definitely interesting to see guys around me committing, but the rule change gave me time to develop before contacting coaches and it was beneficial for me. I was definitely a smaller guy on the field, so my lacrosse game kind of developed in that time, particularly physically."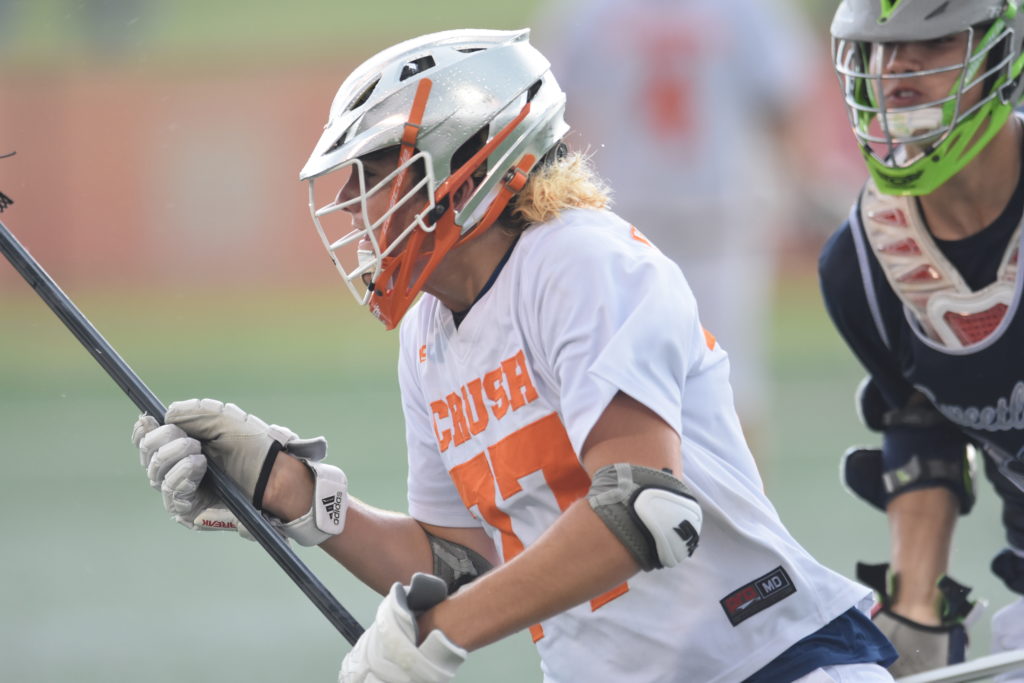 Hawkinson started his Team 91 career in fifth grade with Jim Mule's 2019 Orange team and played there until eighth grade, where he joined Spallina's Crush squad. Not many players get the opportunity to play for a pair of Major League Lacrosse coaches, but that hands-on high-level development was crucial to his progression as a player. Combine that with going against elite attackmen every day in practice, playing at the best tournaments in the country, and a strong work ethic, and it's not surprising that Hawkinson emerged into a future Wolverine.
"I have to thank both Coach Mule and Coach Spallina," Hawkinson said. "They taught me everything I know, and they're great coaches who know what they're talking about and definitely some of the smarter coaches in the game. I'm lucky to have had such great coaches, and I also have to thank my family, my 91 family and all of my 91 teammates throughout the years for helping me get to this point."
Spallina has had the opportunity to witness Hawkinson's development first-hand, and it's hard for him to contain his excitement over his defenseman's bright future. There's plenty of evidence to suggest that Hawkinson is just starting to scratch the surface of his potential, too.
"Caden is a great defensemen that is incredibly versatile, and that translates so well with all the rule changes that will make the college game so much faster," Spallina said. "On top of being such a great player, he has incredible character and work ethic, and Michigan got a gem. We're excited for him to end up as such a great school."
Caden Hawkinson, LSM/D, Cold Spring Harbor (N.Y.) / @team91lacrosse has committed to Michigan. Possesses some of the best stick skills of any pole in the 2020 class.

— Ty Xanders (@tyxanders) October 9, 2018
It takes a little more than 10 hours to get to Ann Arbor from Cold Spring Harbor, but Hawkinson was never put off by the distance. Instead, he's looking forward to the athletics and academics, and he'll head to Michigan with some friendly faces around him in Brown, Kessel and Michael Boehm, a Michigan commit from Ohio with whom Hawkinson has played box lacrosse before.
"I was looking for the best fit, whether that meant being an hour away from home or having to jump on a plane," Hawkinson said. "It's definitely cool having played with Justin on Coach Mule's team, Trevor now and Mikey in box. It'll be cool to play with them again, but it's also good for a social life off the field."
It's not a bad place to start.
TEAM 91 2020 CRUSH COMMITMENTS
Xavier Arline, attack, Shoreham-Wading River – North Carolina
Justin Brown, midfield, Half Hollow Hills West – Michigan
Aidan Danenza, midfield, St. Anthony's – Duke
Koby Ginder, faceoff midfielder, Brunswick (Conn.) – Princeton
Caden Hawkinson, D/LSM, Cold Spring Harbor – Michigan
Nick LiCalzi, D/LSM, South Side – Navy
Brett Martin, midfield, Half Hollow Hills East – Johns Hopkins
Brennan O'Neill, attack, St. Anthony's – Penn State
Jack Schirtzer, D/LSM, Shoreham-Wading River – Maryland
Jack Stewart, midfield, Huntington – Air Force