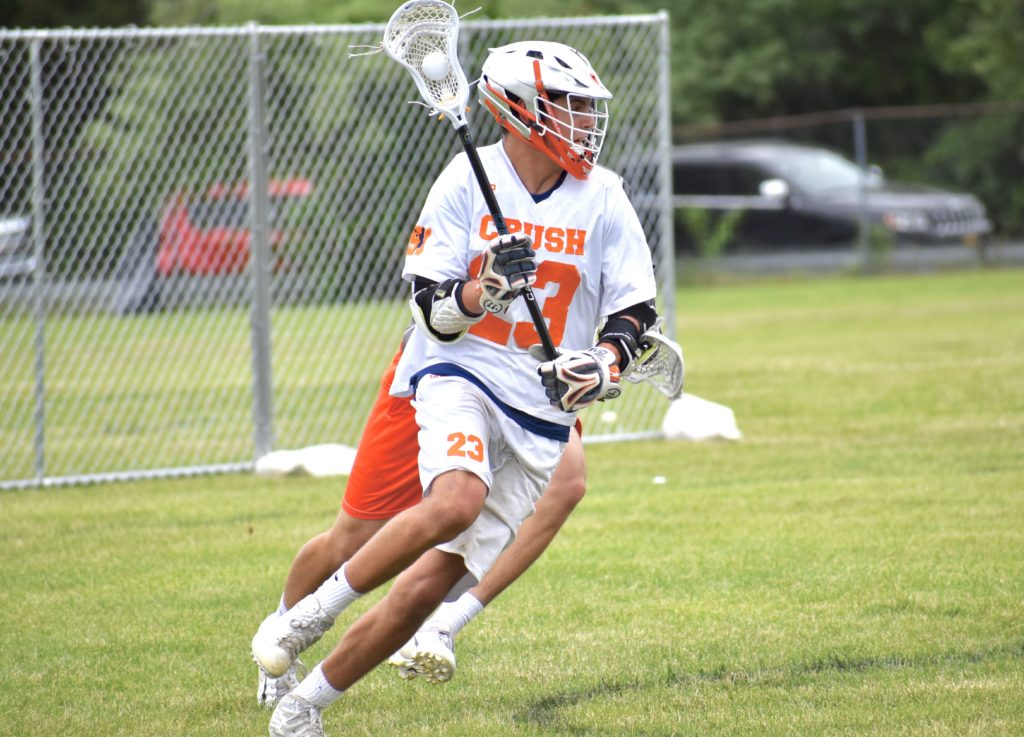 Follow Team 91 on Instagram, Twitter and Facebook. 
Ever since he can remember, Aidan Danenza can remember cheering for Duke and hoping he could go there one day.
Back when he was in second or third grade, Danenza took a liking to the Blue Devils, a feeling that intensified when he went to the school for a prospect day in eighth grade and another visit in ninth grade. That was before the NCAA changed its recruiting rules, rendering the class of 2020 unrecruitable until Sept. 1 of this year, and the Team 91 2020 Crush and St. Anthony's midfielder also knew that he'd have to look at schools in a different way as a more mature junior.
"When I was in ninth grade, I went to a basketball game at Duke and thought it was the coolest thing ever. It was my favorite team growing up and everything I had was about Duke, and I was basically going off of stuff like that," Danenza said. "Now, I had to put things more into perspective and look at things differently."
As it turns out, though, Duke still had plenty of appeal to Danenza, even as he visited a handful of other top-notch institutions. On the field, the Blue Devils' performance over the past decade or so has been rivaled by few, if any. Off the field, the school offers one of the best degrees in the country, with a unique campus that usually gets great weather. When it came down to it, there was no reason for him to pass up his childhood favorite, so Danenza committed to the Blue Devils. He's the ninth Crush player to commit, and he'll join Team 91 alums Cam and Christian Mule (Half Hollow Hills West), Frank Marinello (Chaminade), Jordan Ginder (Brunswick, Conn.), Owen and Jake Caputo (Middle Creek, N.C.), Kenny Brower (Massapequa) and Connor Drake (Salisbury, Conn.) in Durham.
"It's a dream come true," Danenza said. "Once I got the opportunity, I didn't see anything that could go wrong with it. When I went to Duke, I got the feeling that I was around a team that knew what it was like to win. They've been winning a lot for the past 10 years, and I really liked that part. I was also talking to my dad (Wayne) about it, and he said that a degree from Duke is on another level from a lot of other places. There are a lot of other great schools, but people look at a degree from Duke differently."
Danenza established himself as one of the top midfielders in the 2020 class early on, and there's little doubt that he has the potential to emerge as a tremendous do-it-all middie at the next level. A growth spurt both helped and hindered him, though. He's shot up to a strapping 6-3, 180 pounds and has grown four inches in the past year, but that also came with some growing pains. As a freshman, he excelled on St. Anthony's JV team before starting this spring as a sophomore along with fellow Crush players Brennan O'Neill (Penn State) and Andrew McAdorey, an impressive feat considering that the Friars are a nationally-ranked team that plays a rigorous schedule. Assorted injuries slowed him down at times, but he's fully healthy and ready to play this fall. Once he hits the field…
"He's going to be a big-time Division I player. I don't think any midfielder checks as many boxes he does and I haven't seen another player from his class to be the quarterback as a midfielder," Crush head coach Joe Spallinasaid earlier this fall. "Aidan is so versatile and he's a threat all over the field. He's got a great work ethic and he was patient with the recruiting process, and we're so pumped up for him to end up at Duke. He's an awesome kid and I have no doubt that he's going to make their coaching staff very happy. He's such a high-character person and he's going to be a future captain."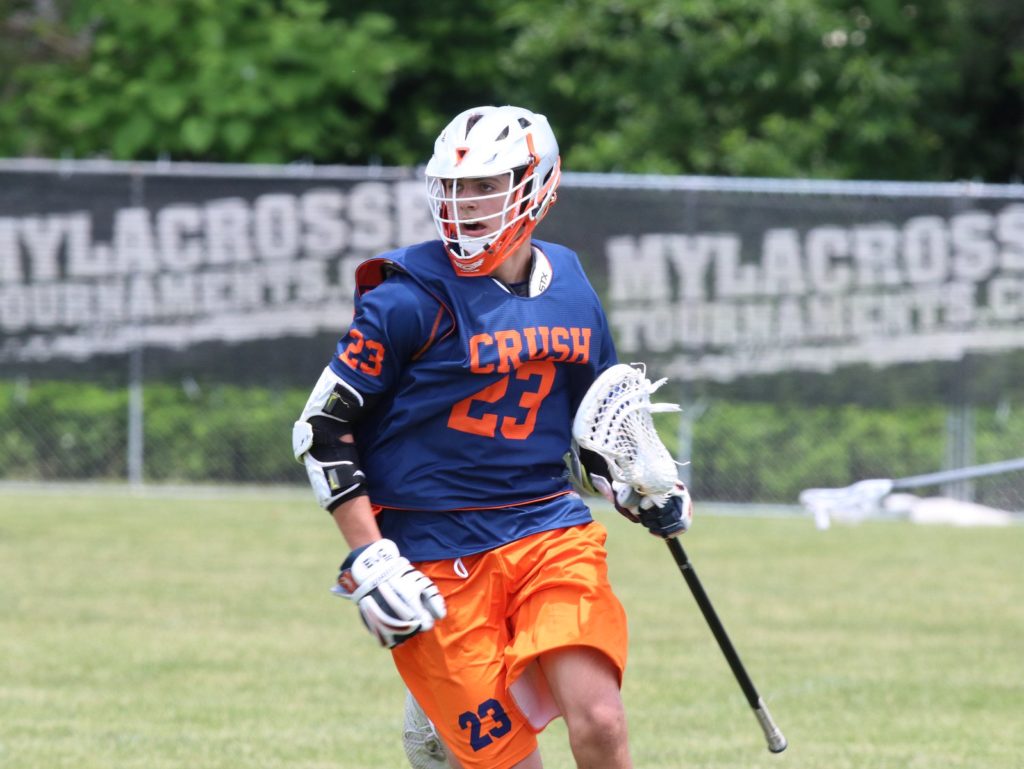 Photo courtesy of Alain Tingue
That work ethic is how Danenza escalated into one of the country's premier prospects. He's been a mainstay at every clinic, practice and tournament that he could get to, and that helped him develop into the player he is. There's a special bond on the Crush team, too, as they've worked to prove that they're the best 2020 team in the nation. It's been a core group of players that has risen through the ranks together, occasionally bringing in a newcomer or two with open arms, and it won't be surprising to see them thrive in college.
"I've been going to everything – clinics, Dynamic Lacrosse Training, tryouts – ever since I got on the team," Danenza said. "91 literally taught me everything, especially Coach Joe. Everything is pretty much because of him, and I can't thank him enough for that. My dad and my mom (Shelly) have been so great, too, and I'm so thankful for them. They've been pushing me ever since I can remember and they've always made me to the right thing, which has been huge for me. I love Crush and it's been a lot of fun. We hang out together all summer and throughout the school year at each other's houses. It's been a great group."
It's just getting started.