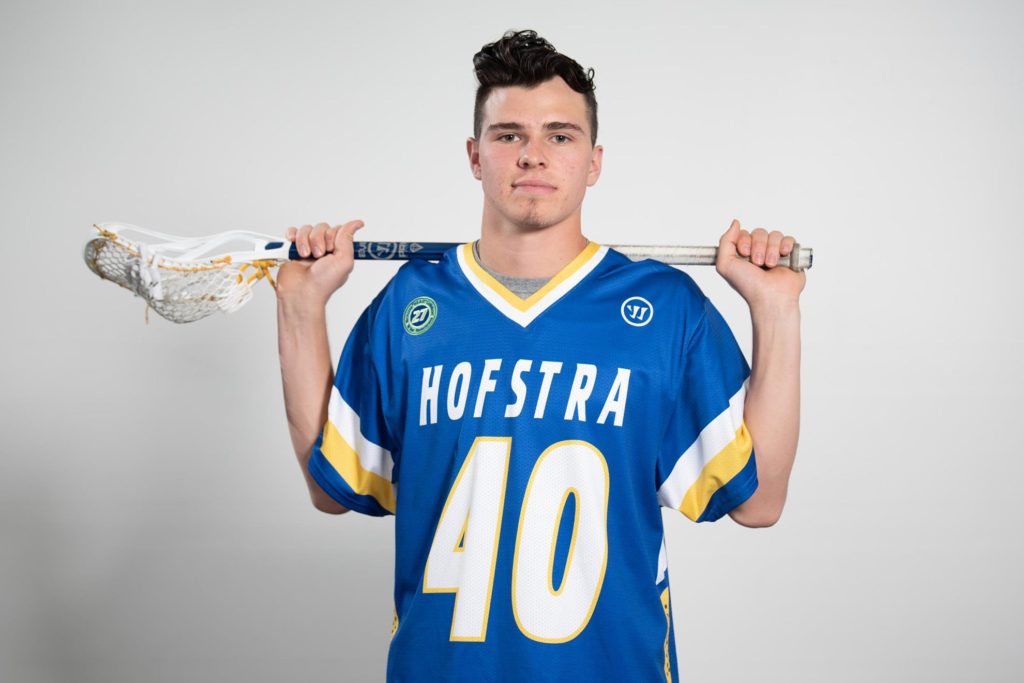 After sitting out two years due to injury, Team 91 alum Riley Forte bagged his first career goal for Hofstra this weekend. Photo courtesy of Hofstra Athletics. 
This is a weekly recap of how Team 91 alums are faring in the collegiate ranks. Did we miss someone? Click here to send updates to make sure you get featured. 
It hasn't been the easiest start to Riley Forte's Hofstra career.
The Team 91 2016 alum missed both of his first two collegiate seasons due to injury, and that might have been the end of many players' careers.
Forte, though, was rewarded for his persistence on Saturday. The redshirt sophomore scored his first collegiate goal and added two assists as Hofstra downed Utah, 14-10.
Fellow 91 '16 alum Ryan Tierney continued his strong play by reaching the 100-point plateau for his career with four goals, three ground balls, two caused turnovers and an assist, and Bobby Casey stopped 11 shots and picked up a rare goalie assist and a ground ball.
Elsewhere from Team 91 alums:
Penn State 17, Stony Brook 4: The offensive fireworks from the Nittany Lions continued against the Seawolves, and Mac O'Keefe was a huge reason why. O'Keefe sniped a ridiculous seven goals, including his 100th career marker, to go with an assist and a ground ball as PSU rolled.
Saint Joseph's 21, Fairfield 10: Ryan Doran buried his first collegiate goal, then added four more for good measure as the Hawks cruised. Doran also chipped in an assist and got four ground balls.
Virginia 11, Lehigh 8: Ian Laviano stuck a pair of goals, picked up three ground balls and notched an assist as the Cavaliers got their first win of the year. Mike Monitto had five ground balls for the Mountain Hawks.
Duke 10, Denver 9: Jordan Ginder gave the Blue Devils a huge lift off the bench with his eight faceoff wins and five ground balls as Duke stunned the Pioneers with eight seconds to go.
Sacred Heart 18, Furman 11: Joe Cipoletti was a force on the back end for the Pioneers, causing three turnovers and scooping up four ground balls as Sacred Heart recorded its first win of the year.
Georgetown 14, Robert Morris 11: Joe LiCalzi snared a ground ball as the Hoyas picked up their second win to start the campaign.
Air Force 12, Marist 6: Vin Lombardi guided a stingy Eagles defensive unit that held Marist to one first-half goal and two in the first three quarters. Jake Weinman had a hand in two of those goals, though, scoring one and setting up another.
Notre Dame 19, Detroit Mercy 6: Jack Zullo made a save in backup duty for the Irish.
Villanova 11, Yale 10: Lucas Cotler picked up an assist for the Bulldogs.
Maryland 13, Penn 12: Sean Lulley scored once and set up another as the Quakers nearly pulled off the upset of the No. 3 Terps.
Vermont 9, Holy Cross 7: Justin Lynskey found the back of the net once for the Crusaders.
Boston University 15, Dartmouth 8: Jack Richardson got his hands on three ground balls and poked away a turnover for the Big Green.
Colgate 16, Binghamton 10: Kyle Tiernan collected a pair of ground balls for the Bearcats.
Syracuse 13, Albany 5: Steven Ramirez had a ground ball for the Danes.
Princeton 23, Monmouth 7: Casey Kimmel dished out a helper for the Hawks.