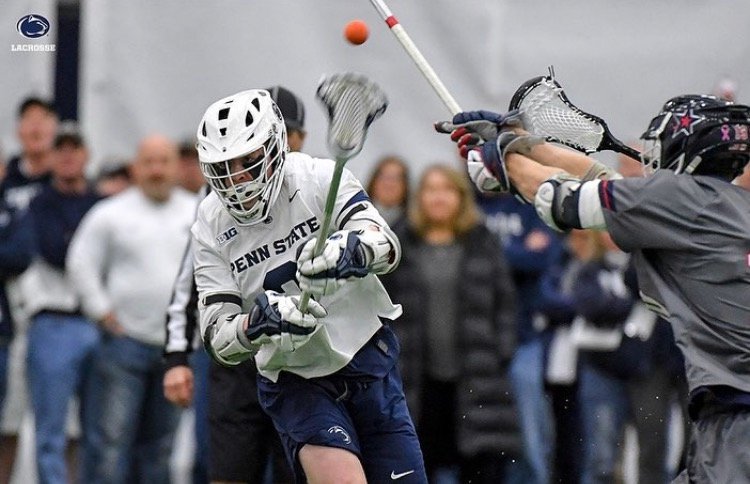 Mac O'Keefe had five goals and an assist in Penn State's 27-10 win over Robert Morris. Photo courtesy of Penn State Athletics. 
This is a weekly recap of how Team 91 alums are faring in the collegiate ranks. Did we miss someone? Click here to send updates to make sure you get featured. 
Penn State's retooled offense needed all of two games to set a school record.
Backed by a ridiculous five-goal, one-assist day from Mac O'Keefe, the Nittany Lions blasted in-state foe Robert Morris, 27-10, to move to 2-0 on the young season.
The 27 goals were a school record for most tallies in a single game for PSU, and the big performance gave O'Keefe, who also had a ground ball, a whopping seven goals and three assists in the first two games.
Elsewhere from Team 91 alums:
Michigan 10, Cleveland State 8: Kevin Mack scored twice, added an assist and snared a ground ball as the Wolverines fended off the Vikings in their season opener. Connor Cronin won eight faceoffs and scooped up a ground ball for UM.
Hofstra 4, Lehigh 3: Down 3-1 in the fourth quarter, the Pride mounted a furious comeback, one that included Ryan Tierney's game-tying goal with 11:43 to play. The preseason All-CAA pick also picked up a pair of ground balls, while Riley Forte chipped in a four-ground ball performance. Bobby Casey stuffed 14 shots to secure the win.
Georgetown 13, Sacred Heart 10: Joe LiCalzi was a force for the Hoyas' defense, corralling three ground balls and causing a turnover as Georgetown edged the Pioneers.
Loyola 17, Virginia 9: The Greyhounds rolled in the battle of preseason top teams, but the Cavaliers did get a goal, two ground balls and a caused turnover from Ian Laviano.
Duke 15, Jacksonville 8: Jordan Ginder secured the first of what will surely be many collegiate faceoff wins, securing a ground ball in the process, as the Blue Devils rolled.
Providence 12, Holy Cross 5: Justin Lynskey collected a ground ball for the Crusaders.