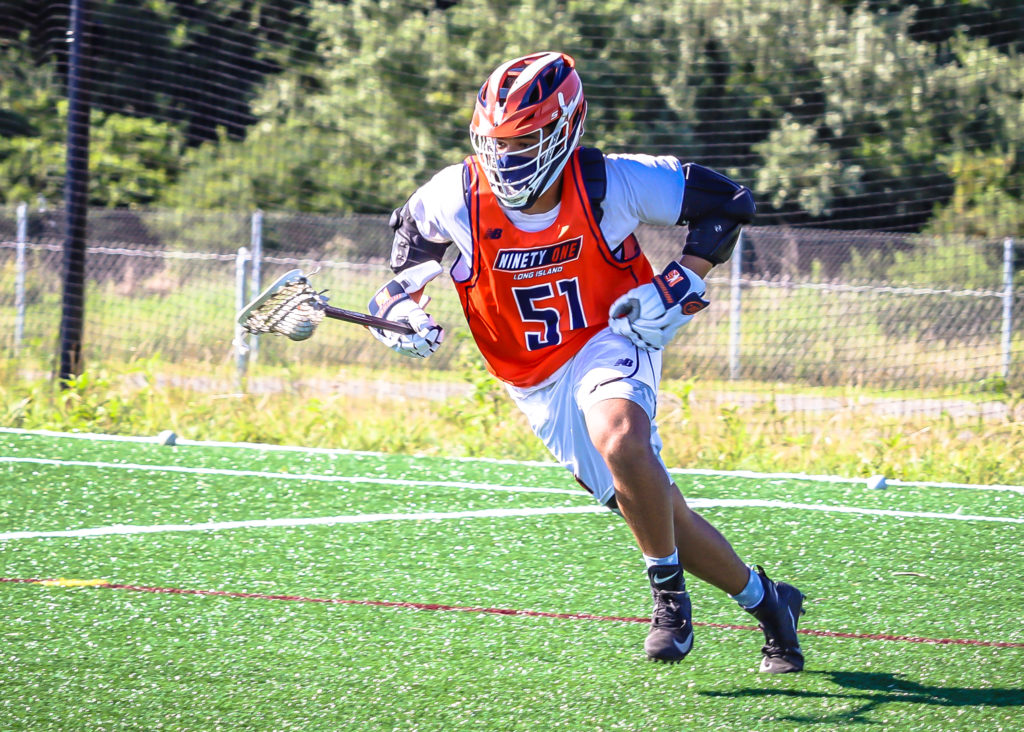 Follow Team 91 on Instagram, Twitter and Facebook. 
Darien Fray has always prided himself on being something of a role model to those around him.
The Team 91 Varsity 2022 attackman and midfielder wants those who look up to him to be able to use him as motivation. He freely admits that lacrosse isn't as popular at Uniondale as it is in most parts of Long Island, but he never let that deter him from chasing his dream of playing in college.
It's been a long, winding road for Fray, but it's one that recently paid off in spades when he committed to Bridgeport. It's a new program that starts next season in Division II, and it's the perfect landing spot for Fray.
"It's a new program, which means a new start and a clean slate for everyone," Fray said. "It allows me to get a fair shot as a starter in my first year. The fact that it's close to home was also big for me."
Fray didn't start his travel career until later than most, and it was mostly by chance. His younger brother, Daniel, was in second grade at Smith Street Elementary, where his teacher was none other than Team 91 founder Brian Spallina. Spallina had also taught the older Fray a couple of years earlier, and when he heard that Darien played lacrosse, invited him to join the Varsity team. It was there that he got to play for John Savage, who's also the head coach at JUCO powerhouse Nassau, and Doug Schanars.
Elevating His Game
The increased training opportunities helped elevate Fray's game to another level. Fray seized the chance to get better, and it became readily apparent that he was ready to play at the next level.
"Having the coaching staff critique me on my flaws during winter training really improved my game," Fray said. "Coach Schanars really pushed me to achieve greater success. There'd be days after practice where he'd stay and work with me to improve my shot and my dodging. In between games, he'd give me advice and tips on what to do for the next game. I really appreciate what all of the coaches have done to help me."
"Darien has taken full advantage of all things 91," Spallina said. "He really loves it and he's put in so much work."
It's not a surprise to Schanars to see Fray's success, either.
"Darien is always ready to work. He takes feedback very well, and he prides himself on his work ethic. It's helped him set himself apart from others, and we're thrilled to see him end up at a great school like Bridgeport," Schanars said. "He's going to a perfect addition to a new program. I'm excited to see what he does there."
It's a rarity to see a college lacrosse commitment at Uniondale, so Fray knows that he's setting himself apart with that. He's also planning on studying pre-med to become a physician's assistant. He continues to try to make himself someone that others can emulate both on and off the field.
"I've had people look up to me, and some aspiring athletes envy the fact that I'm coming from a town that doesn't have a prolific program and I'm able to play for a Division II program," Fray said. "I try to be a leader for my team and a role model for my school district, and a lot of people come to me for help. Wanting to be a PA is a way to help other people, too."
Building the Future
Fray doesn't stop there with his ability to help others. He and his father, Donovan, recently started the youth PAL program in Uniondale. It's already up to 30 or so players, an impressive amount in such a short time period. Together, they plan on continuing to grow the program, and it's clear that both are very passionate about it.
"My brother was playing for the PAL program a town over, and he didn't like that," Fray said. "He loves playing for Uniondale. My dad wanted that for the town where he was born and raised. He wanted to give back to the community, and his passion for lacrosse grew as mine did. Other places have success because they start playing so young, and our town doesn't really do that. By starting to play young and coaching them so early, we can help build a passion for lacrosse that can benefit the town a lot."
Spoken like a true leader.