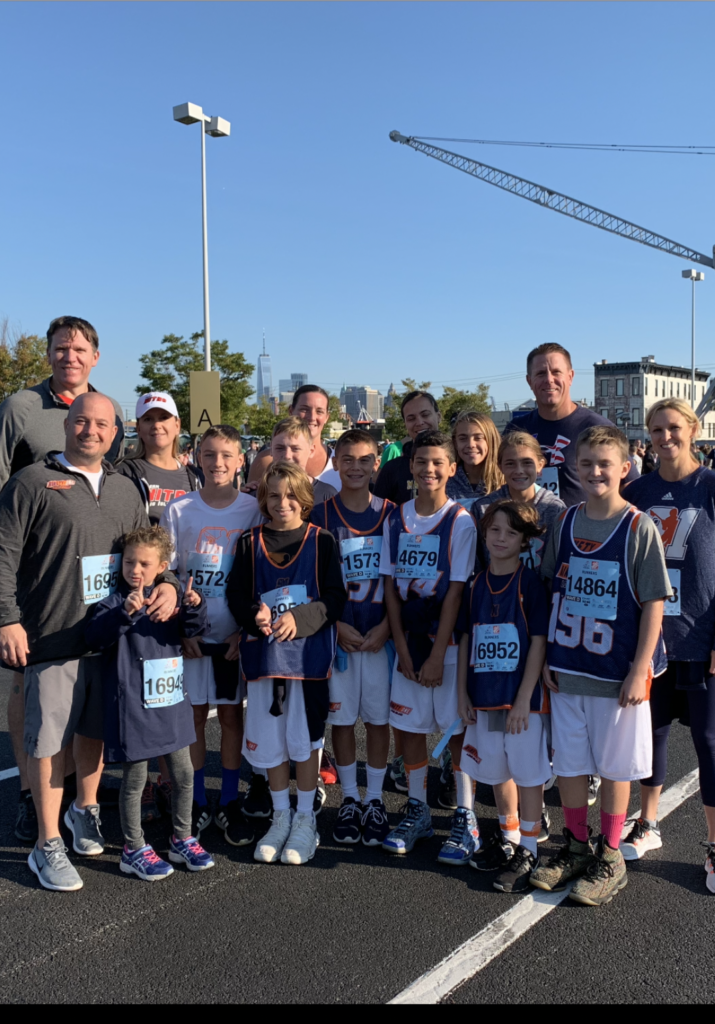 Follow Team 91 on Instagram, Twitter and Facebook. 
It's been 17 years since one of the darkest days in United States history, but Michael O'Connell never has to look far to find the memory of that day.
O'Connell could never forget everything that he remembers from the harrowing date of Sept. 11, 2001, not even if he desperately wanted to. There's the overall devastation that everyone has seen or read about, and there's an indelible personal impression that will never fade away. At the time, O'Connell was a fresh-faced 25-year-old new to the Fire Department of New York after becoming a police officer at the tender age of 22.
Nothing was ever the same after that day.
"I'm out sick because of 9/11," O'Connell said. "I had to leave the job early in 2010 because of a disease I got as a result of 9/11. It gets a little easier to deal with when you see all of your brothers that you fought fires with promoted, or they retire or move on, but the beginning (of retirement) was absolute torture. Now, I do a lot of 9/11 advocacy and I'm kind of always a part of it."
Part of that advocacy is helping to make life easier for so many of the people who were brutally affected by the aftereffects of that awful day. O'Connell is constantly pressing on as he aims to improve the quality of life for those people, and part of that is raising awareness to the long-term effects that 9/11 had.
"It's still a major problem," O'Connell said. "People realize how many people we lost that day, but we've almost lost more people since 9/11 because of the health effects and things like cancer that are linked back to 9/11. I'm in Washington, D.C. pretty often for 9/11 acts, and I try to do everything I can to fight for those guys. It really gives me a purpose."
This year, O'Connell decided that his three children – Aidan, Colton and Alexandra – were ready to be a part of the Tunnel to Towers 5K Run and Walk in the city. The event honors Stephen Siller, an off-duty firefighter who bravely came in on that fateful day, grabbed his gear and ran through the Brooklyn Battery Tunnel and into the Twin Towers. Siller never made it out, and the Stephen Siller Tunnel to Towers Foundation honors 9/11 by helping the nation's first responders, service members and heroes. All three of O'Connell's kids play for Team 91, so he also had the idea to invite the entire 2025 team to come be a part of the day, too.
"After I retired, I fortunately found 91, and it gave me a purpose of doing stuff with kids," O'Connell said. "I've been wanting my kids to do this run, and I finally thought that this year was a good time for it. The run is the exact route that Stephen took, so you go through the tunnel and up toward where the towers were. There's also a ton of military personnel with flags, and once you come through the tunnel, you come across 343 firemen. That's the amount of firemen that we lost that day, and they're holding posters of the guys we lost. I just thought that for the team, at this age, it could be a great experience."
It was, and it gave kids who weren't alive at the time an up-close-and-personal look at everything that happened on that day and the days, months and years that followed. Something that they'd normally only read about in a history book or watch in a video suddenly had a different look, and that left a major impression.
"Michael had an awesome idea to do this and I think the kids got so much out of it," Team 91 founder Brian Spallina said. "It's obviously a surreal experience for them, and it really makes them understand everything that happened that day and puts it into perspective for them. It was an unbelievable experience, one that everyone should go through, and I'm proud that our Team 91 boys were able to be a part of it."
O'Connell rattles off facts and stats about 9/11 like few others can, and it's clear that his personal connection to it drives him on a daily basis. Six of the 96 people that he graduated the academy with perished that day, and the sad statistical likelihood is that there's no telling how many more people developed long-term health problems the way he did as a result of it. Regardless of that, he's happy to be alive today with three kids and a wife, and he'll never stop advocating for those affected by 9/11.
He wouldn't have it any other way.