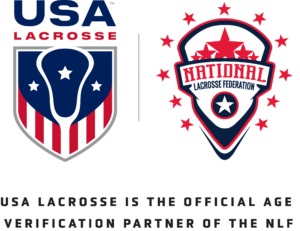 Follow the NLF on Instagram, Twitter, YouTube and Facebook. 
SPARKS, Md. — The National Lacrosse Federation (NLF) and USA Lacrosse have entered into a transformational partnership that will bring age verification to the boys' club lacrosse landscape.
Beginning with the 2023-24 club season, the NLF will require all players aged 14 and younger on its member clubs, and participants in tournaments run by its member clubs, to go through an age verification process with USA Lacrosse. USA Lacrosse membership will provide the pathway for participation in these events with age verification included in the membership product at no additional charge.
The aim of the partnership is to improve the integrity of competition, the quality of experience for all participants and player safety.
USA Lacrosse has a proven age verification system in place since 2017 used for other organizations. As a U.S. Olympic & Paralympic Committee Recognized Sports Organization, USA Lacrosse brings credibility and neutrality to the process. The NLF's leadership in endorsing and implementing age verification for its events will drive even greater adoption of player segmentation by age throughout all levels of youth lacrosse.
"What the age verification process needed was two leaders to get together to head up this initiative," said George Breres of Team 91, one of the NLF's founding members. "It seems like it's the right time to have leaders from the club side — the National Lacrosse Federation, its founding members, affiliates, event operators — to get together with a trusted brand that also has the technology to implement this. The time is now."
"The ability to sit down and discuss common opportunities for the good of our sport is so profound," said USA Lacrosse CEO Marc Riccio. "This is just the beginning of our ability to work with groups to bring the lacrosse community together to enact positive change."
For the 2023-2024 club year, in graduation years 2029 and younger, the NLF has chosen to implement a 15-month timeframe (June 1 birthdate through August 31 of the following year) for its age groupings. The NLF clubs are expected to continue using graduation years as the team names, but all players will fit within the 15-month groupings. This will help help minimize team roster disruptions and to incentivize classmates playing together.