Follow Team 91 on Instagram, Twitter and Facebook.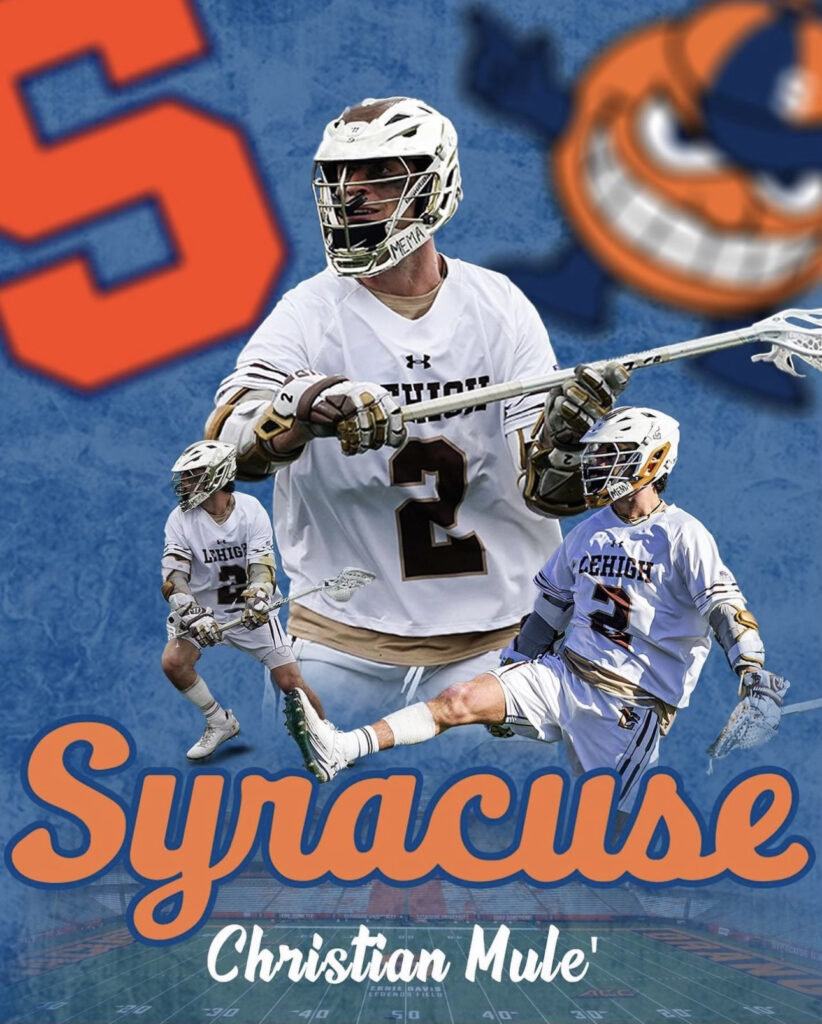 At some point – and likely very early – during the 2024 season, Christian Mulé will have an odd sight in front of him.
For the first time in his college career, the Team 91 2019 Orange standout will see a short-stick defensive midfielder assigned to cover him. Not by a switch or a busted defensive assignment. But that'll be a part of his role for Syracuse on the occasions that Mulé runs out of the box.
"He's going to get a shortie for the first time in his career when he comes out of the box," '22 Smash and 'Cuse All-American attackman Joey Spallina said with a laugh. "Other times, we're going to be at attack together."
Orange Again
For the past four seasons, Mulé was tasked with running the offensive show at Lehigh. Boy, did he ever run it. He racked up 109 goals and 74 assists for 183 points in 48 games, including a 29-44-73 stat line as a senior en route to earning second-team All-Patriot League honors.
After four terrific seasons as a Mountain Hawk, Mulé opted to enter the transfer portal and use his COVID year elsewhere. Many of the country's top schools reached out to the talented lefty from Half Hollow Hills West, but he knew right away that Syracuse was a place where he could make a significant impact next year.
"I entered the portal a week after the season and then went on a senior week and had graduation. I got a ton of calls, but I put it on pause for a bit to enjoy some time," Mulé said. "I went out to visit 'Cuse last week and knew it was the place for me. I didn't even visit anywhere else. What sets 'Cuse apart is how the talks went with Coach (Gary) Gait, Coach Petro (Dave Pietramala) and Coach (Pat) March."
"I love the style of play and how the offense works," Mulé added. "Getting the opportunity to play with Joey is super important. It's definitely going to be cool. An opportunity to play for Syracuse is special. The tradition is there, and I just want to play on Championship Weekend."
Team 91 Party Upstate
Mulé joins a growing Team 91 contingent in Syracuse. There's Spallina, of course, and his twin brothers, incoming freshmen and '23 Bandits Jake and Brett from Mount Sinai. '20 Crush Tyler Cordes (Connetquot), '22 Smash Michael Leo (St. Anthony's), '20 Crush Nick Caccamo (Harborfields), '22 Smash Dylan Sageder (Mount Sinai) and '23 Bandits Tyler McCarthy (Connetquot) will also be there. That definitely played a role in Mulé's decision, too.
"Just having that 91 background and being trained by the same people is cool. We've all been brought up as competitors and we want to win," Mulé said. "Putting us all together is something that's really exciting. My role could be a lot different than what I did at Lehigh. This offense is very free-flowing and allows you to play to your strengths. Any role that I can do, I'm willing to do it. It's my last year and I just want to win."
Mulé fits in well as an elder statesman on an otherwise very young Syracuse offense. Spallina was the quarterback of the offense as a freshman, with Leo making a splash out of the midfield. There are a lot of underclassmen around them, which means that a veteran infusion should go a long way as the Orange try to ascend to the ACC's throne.
"I think that he's definitely played a lot more games than everyone else, so he brings some big-game knowledge. He can teach us some stuff and help us learn as an offense," Spallina said. "He's a very smart player with a great IQ and that helps us a lot. To be able to add a guy like that is definitely big for us."
Credit to Lehigh
There's a lot of excitement Upstate next year, especially now with adding Mulé. He knows that he wouldn't have been in such a special position without a great group at Lehigh, and that experience is something that he relishes.
"I had a great experience at Lehigh and I wouldn't change a thing from these past four years," Mulé said. "Coach (Kevin) Cassese is an unbelievable coach who trusted me from day 1 and I can't thank him enough. The entire staff was instrumental in my development and I'll forever be grateful for my time at Lehigh."