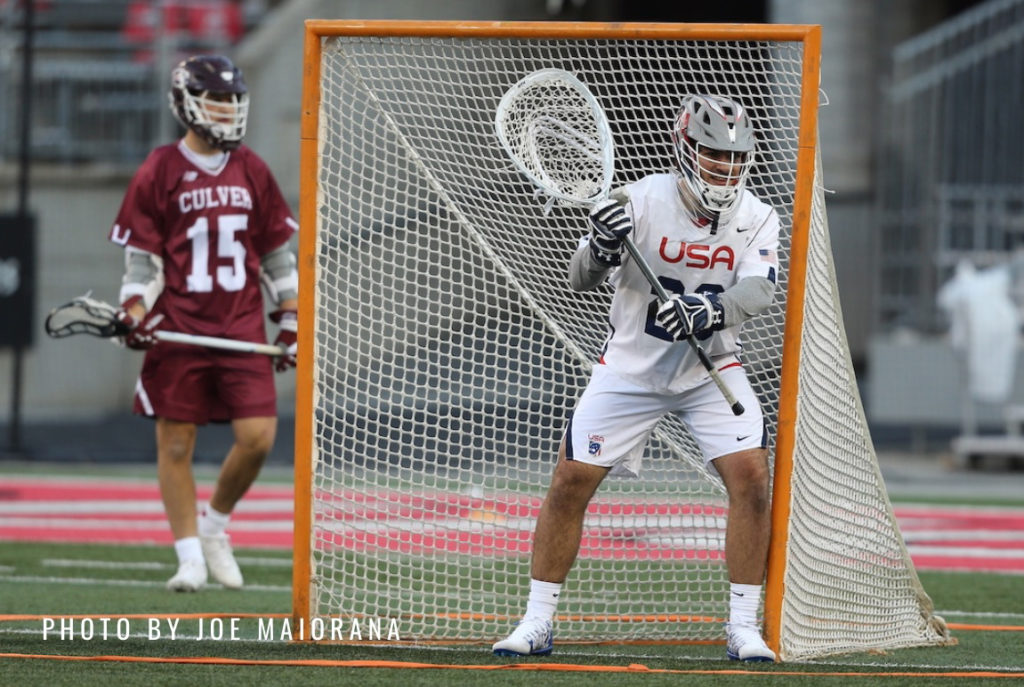 Follow Team 91 on Instagram, Twitter and Facebook. Photo courtesy of Joe Maiorana/US Lacrosse Magazine. 
Jared Paquette knew that he was already a part of something special, but it didn't fully sink in for the Team 91 '19 White product and Yale freshman goalie until last week.
Paquette, a West Islip alum, had already made it to the 50-man training roster for the United States U19 team that had been pared down from the original 104 players, but this was for the chance to be on the list whittled down to 26 players. It also gave him a once-in-a-lifetime opportunity, one that he won't soon forget.
"It was kind of crazy going to Ohio State and wearing the jersey, seeing the American flag and hearing the national anthem playing," Paquette said. "It was a crazy experience."
It only gets crazier from here, as Paquette is one of four Team 91 alums to make the 26-man roster, tied for the most of any club across the country. He's joined by West Islip and Yale teammate Mikey Alexander, a defenseman from the '19 Orange team, as well as '19 Orange midfielder and Duke freshman Jake Caputo (Middle Creek, N.C.) and '20 Crush and St. Anthony's senior attackman Brennan O'Neill, also a Duke commit.
The roster will be trimmed to its final 23 players in January in San Antonio, Texas. The team will compete in the 2020 World Lacrosse Men's U19 World Championship in Limerick, Ireland.
"You're kind of on edge the entire time, but at the end of the top 50 game, I knew I had a good chance of making it the whole way," Alexander said. "I thought I competed with everyone, and when you're playing, you don't really think about the cuts that much. You're just trying to go as hard as you can. It's definitely a big deal, though. If you make it to Ireland, you're representing the entire younger population of lacrosse and you're competing against the best guys in the world."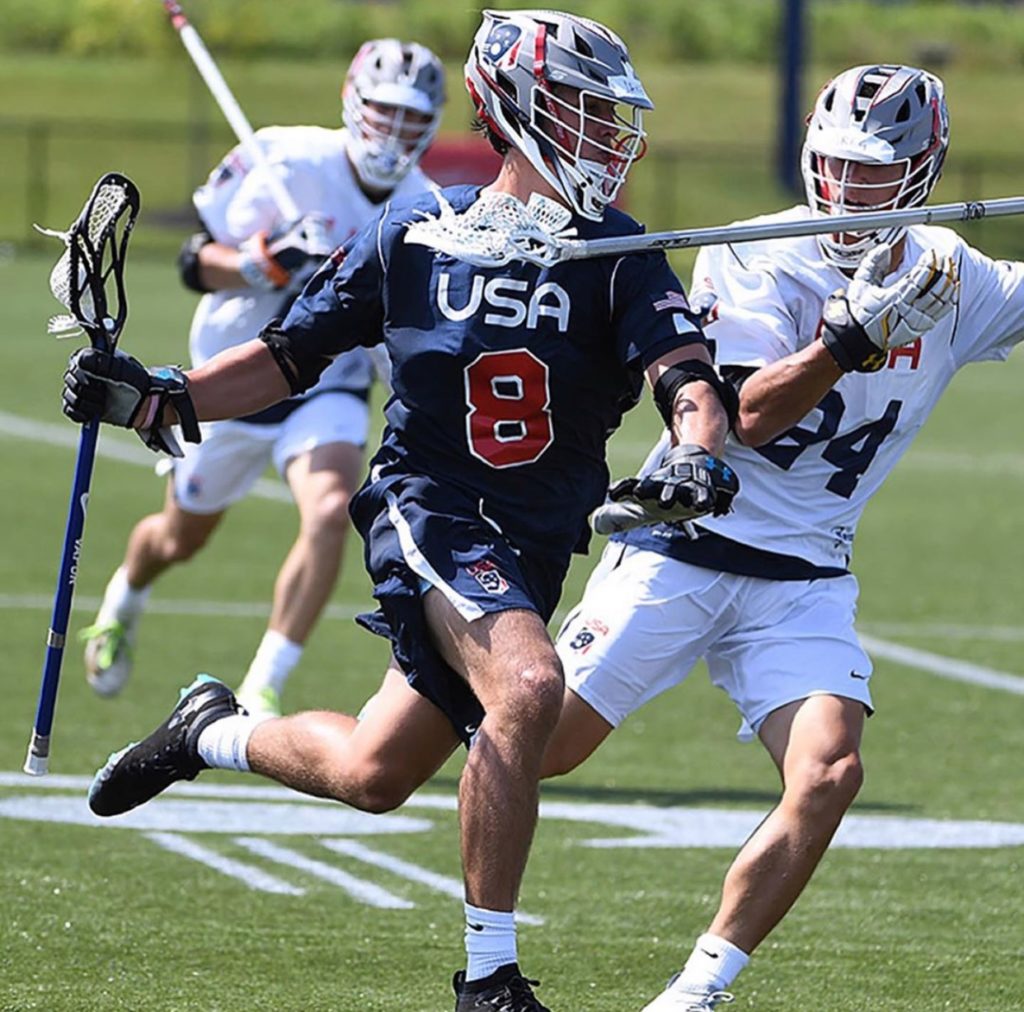 Photo courtesy of Steve Hockstein/US Lacrosse
Even though the 91 products played against the best competition in the country on the club circuit, the U19 tryouts brought the one percent of the one percent, and even standouts like Caputo realized that it meant a noticeable jump in play. The North Carolina product didn't participate in the last tryout due to an ankle injury, but he's expected to be back to compete in January for the final tryout.
"It hit me right away in the first few drills as to how skilled and athletic everyone is," Caputo said. "On the first day, my hands were a little shaky and I wasn't sure of myself at first, but I got my first shot in the first minute of the game and I stung it in the corner and I started playing loose. I just went to the last tryout to support, even though I couldn't play. You just have to do a lot of everything at that level. They're looking at me as a two-way middie, so being an all-around player and hustle plays are important."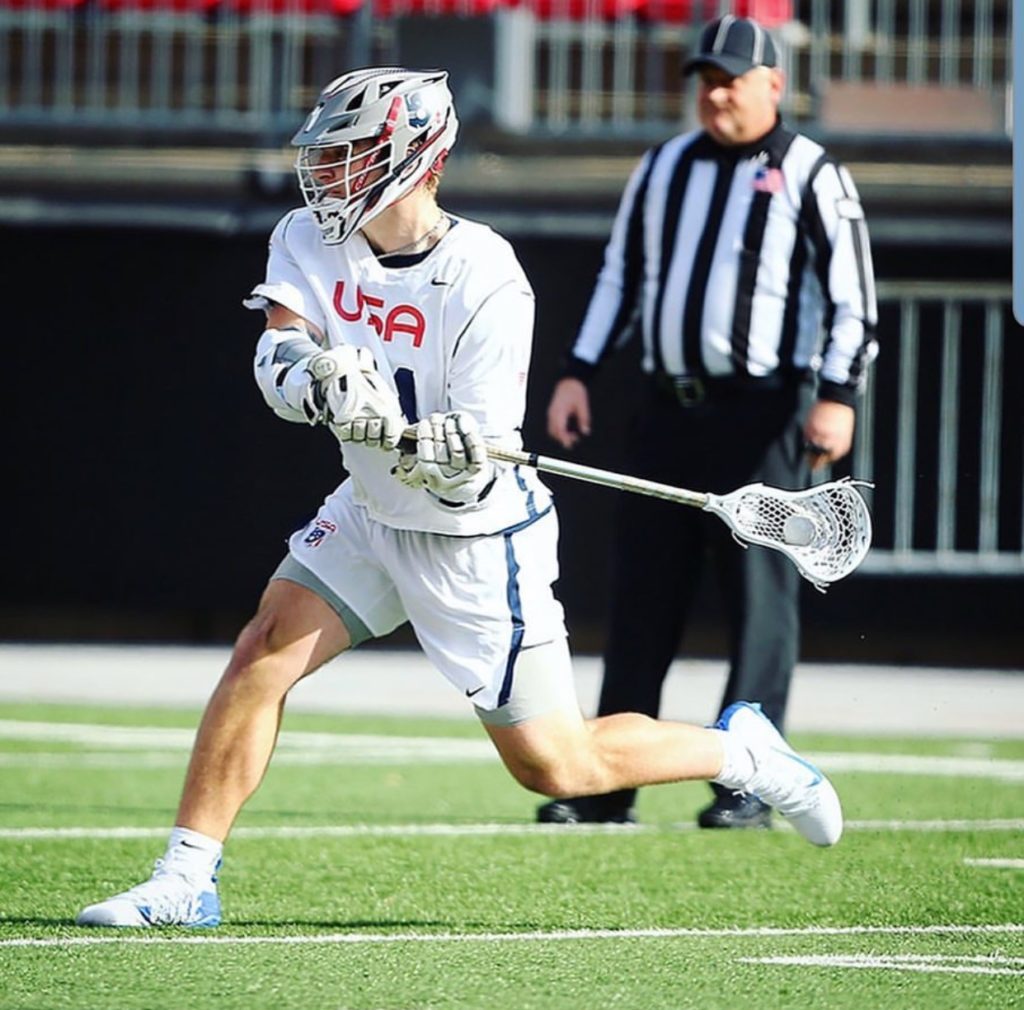 Photo courtesy of Steve Hockstein/US Lacrosse
O'Neill is one of only seven 2020s to make it through, so it's a unique position to be in for the star lefty attackman. He's as touted a recruit as the sport has ever seen, but that doesn't mean that the experience has been easy for him.
"It's been an amazing time and it's one of the best lacrosse events that I've ever been a part of," O'Neill said. "A big part of the game is taking advice from different people. If you put everyone's insights and experiences together, you can learn a lot. The toughest part has been learning how to play under a different style and playing within the system. You don't have to be 'the guy' as much. Everyone's good and you don't have to do everything. You can trust the guy next to you."
Chances are the guy next to you played for Team 91, too.