Follow Team 91 on Instagram, Twitter and Facebook.
Summer lacrosse is making its highly-anticipated arrival, and there isn't a team that's going to have more sought-after talent on Sept. 1 than Team 91 '22 Smash.
This is as good a team as there is in the country, and it will be put to the test against the best competition in the nation when its schedule ramps up. Six of its players cracked the NLF's top 60 for the '22 class, including No. 1 overall prospect Joey Spallina (Mount Sinai), the third straight No. 1 prospect in the country from Team 91 after '20 Brennan O'Neill (St. Anthony's / Duke) and '21 Andrew McAdorey (St. Anthony's / Duke).
"I'm incredibly excited to see what the Smash boys have in store this summer," Hall of Fame goalie and Smash coach Sal LoCascio said. "This is a team that has been together for a while and there's a ton of talent across the board. We're going to be looking to play a traditional Team 91 schedule, which means going against the best teams that the country has to offer, and I think that they're going to have a ton of success. You're going to be hearing about these guys for a while."
With that in mind, here's a player-by-player breakdown of what every Smash player brings to the table.
Team 91 Smash Preview
0 – Gavin Takacs, midfield, Mount Sinai 
A prototypical two-way midfielder with great size and athleticism, Takacs has continually improved over the past year and figures to blend right in to the next level with his ability to make plays all over the field.
1 – Austin Oppenheim, faceoff midfield, Mount Sinai (Highlights)
Oppenheim has exceptional hand speed, which allows him to thrive on clamps, but at 6-1, 170 pounds, he also has the size to muscle guys off for ground balls at the X. All of that, plus his tremendous athleticism, should make him a great fit for the new standing neutral grip faceoff rules at the collegiate level.
"We go as Opp goes," Smash coach Joe Spallina said. "When he's winning faceoffs, we're really tough to beat."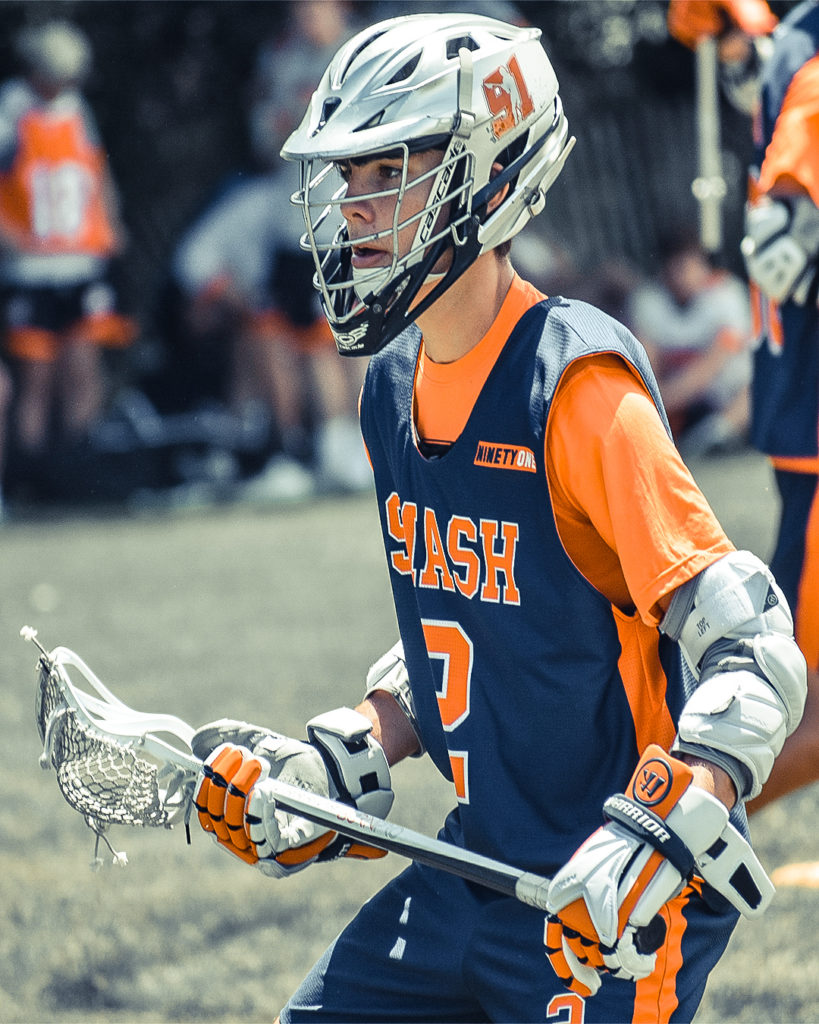 2 – Gavin LoCascio, midfield, Bayport-Blue Point 
Pass out of this matchup. LoCascio is a lockdown defensive midfielder with the ability to clamp down the best midfielders around. He takes faceoff wings, picks up tough ground balls and does a good job off the ball, too. Offensively, he's very smart with his off-ball cuts and makes defenses pay if they let him roam free.
3 – J.T. Arena, midfield, St. Anthony's
Arena comes into the summer in the best shape of his life, and the results have been there in preseason practices. He's dramatically improved his athleticism and still has a rocket of a shot, plus good dodging ability, and he's in line for a breakout summer.
4 – Jack Flaherty, midfield, Chaminade
Flaherty's trajectory has been steadily rising in the past year or so, and it's not hard to see why. A 6-3 midfielder coming off an outstanding fall and can sling it either lefty or righty, Flaherty has the ability to consistently create his own shot and he can also play off ball.
5 – Marcus Wertheim, midfield, Smithtown East 
Wertheim missed some time last summer with an injury, but now that he's good to go, he's got the potential to be a gamebreaker for Smash. A good dodger who can shoot it with either hand, Wertheim also has terrific athleticism and can be a force all over the field.
6- Max Hawkinson, faceoff midfield, Cold Spring Harbor (Highlights)
Hawkinson is another faceoff midfielder that stands to benefit from the SNG change. His wrestling background lends itself well to the faceoff X, where he scraps and outworks a ton of opponents, and when he's on his feet, he has excellent athleticism to chase ground balls.
7 – Sean Carlo, midfield, Wantagh 
A big, athletic midfielder starting to come into his own, Carlo has shown the ability to make plays all over the field, and when he's on, he's a difference maker.
8 – James Carretta, midfield, Mount Sinai (Highlights)
Carretta is similar in a lot of ways to Gavin LoCascio, and he's another one that loves playing defense as a short-stick defensive midfielder. He does very well off the ground and loves to scrap and get in the mix defensively, but he also cuts well off ball and can hit a stepdown in space.
"He's the type of guy that your team has to have to be successful," Spallina said.
10 – Jack Sandrib, defense/LSM, Northport
Size, versatility and athleticism. If that sounds like a prototypical No. 1 defenseman, then Sandrib might be your guy. He's 6-3, but has the footwork to match up with smaller, quicker opponents, and he thrives on contact and loves to dish out some big hits.
14 – Michael Katz, attack, Comsewogue (Highlights)
Shooter! Katz thrives as a lefty finisher who can find corners with relative ease. He's a terrific athlete who really thrives with time and space, and he's also got the potential and versatility to be an offensive midfielder who can exploit a matchup. 

18 – Kevin Barrett, goalie, St. Anthony's (Highlights)
A consistent stopper who's been lights-out in preseason practices, Barrett finds a way to make tough saves and does a very nice job in the clearing game.
"You never need to worry about Kevin. He's so consistent and never misses a practice," Spallina said. "He's got great Division I ability, especially the way he's looked so far."
19 – Alex Pfeiffer, midfield, Sachem North
Pfeiffer put forth a strong effort at the NLF at IMG event in January, and that helped kickstart his confidence. A two-way guy who can make an impact at both ends of the field and has high-end offensive ability, there's plenty to suggest that Pfeiffer hasn't come close to reaching his full potential yet.
20 – Dan Eagers, defense, Northport
"If a guy's coming across the middle, he's not shy about saying hello," Spallina said.
Eagers is an extremely physical, nasty, hard-checking defenseman, but he can also match up well with speedy attackmen, and he's got the ability to get the ball off the carpet with ease.
21 – Brock Behrman, attack, Niskayuna (Highlights) – NLF No. 46 '22
Behrman can make you miss in a phone booth (younger readers can Google what that is). He's got the shiftiness, agility and speed to make any defenseman reach for air, but despite not being the biggest attackman around, he can absolutely unload some bombs when he gets his hands free. If he switches on to a short stick, let's just change the score, just roll the ball back to the middle and have the next faceoff.
22 – Joey Spallina, attack, Mount Sinai (Highlights) – NLF No. 1 '22
The top prospect in the '22 class by a significant margin, Spallina is a No. 1 attackman and then some. Despite the coronavirus wiping out his sophomore campaign, he still has a good chance to break the state's all-time points record. He's the type of attackman that can burn you for a goal and six assists, then turn around and put up five and two, or anything in between. He uses his strength and ridiculous stickwork to get to his spot to score, but he's also an excellent passer, especially when he sees the double team coming. Hope that he has an off-day when you go up against him.
24 – Dominic Senft, defense, Chaminade (Highlights)
A quiet lefty who does an excellent job of using his IQ to diagnose plays, Senft has shown tremendous improvement over the past year. That high IQ and ability to scoop up ground balls with ease make him one to watch.
33 – Troy Donaghy, midfield, Wantagh
A tough, scrappy defensive midfielder who is one of the team's hardest workers, Donaghy loves to mix it up and he's athletic enough to run by guys in transition to get the ball down the field.
36 – Mikey Trepeta, defense, Mount Sinai (Highlights) NLF No. 18 '22
A superb cover man with excellent footwork, Trepeta is the type of defenseman who quietly takes his man out of the game by holding him off the stat sheet. He does a great job of playing under control and has a great stick to be able to come away with ground balls.
42- Matthew Sparhuber, LSM, Comsewogue
Sparhuber definitely plays with a chip on his shoulder, and the lefty loves to throw hard checks that leave a mark. An elite athlete who doubles as an all-state soccer player, Sparhuber's got the ability to motor up and down the field.
44 – Jameson Smith, midfield, Bayport-Blue Point (Highlights) NLF No. 54 '22
"There isn't a whole lot that Jameson can't do," Spallina said. "He's your prototypical shot clock middie and a jack of all trades."
Indeed. Smith has the ability to factor in anywhere on the field. He pocketed 31 goals and 46 points as a freshman attackman for BBP. He can play man up or man down, take faceoff wings and be just as adept defensively as he is offensively.
49 – Brady West, midfield, South Side (Highlights)
West has great size at 6-2, 200 pounds, and he adapts well to any situation. He can play good defense, lead the charge in transition or take on midfielders and roll by them on offense. He has good vision from up top and is a problem for defenses down the alley.
55 – Dylan Sageder, LSM, Mount Sinai (Highlights) NLF No. 44 '22
"He's a Joel White clone," Spallina said. "Dylan's great off the ground and he's probably our best takeaway guy, too."
The 6-foot, 170-pounder is very good off the ground, is fluid in 1v1 coverage and does a nice job of covering lanes, too.
56 – Anthony Mollica, attack, Massapequa
A lefty finisher with very soft hands, Mollica uses his big frame and craftiness to get open inside. He understands his role and doesn't try to do too much, and if he's given a decent pass, it'll end up in the back of the net.
88 – Bryce Pang, goalie, Deerfield (Mass.) NLF No. 27 '22
Pang has established a reputation for himself as an elite big-game goalie, and that's a heck of a line to lead off the résumé.
"I'm really excited about where he's headed," Spallina added. "He finds a way to make big saves and he's even keeled, so nothing really gets to him."
Pang is a righty who moves his body well to make saves, and he also throws good outlets.