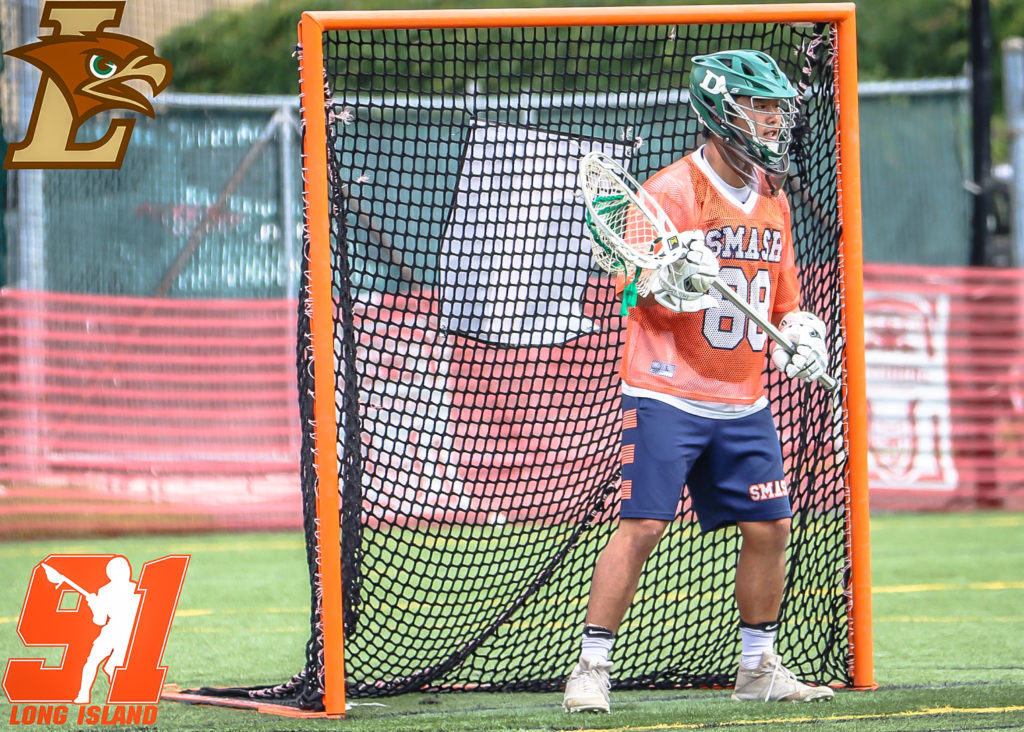 Follow Team 91 on Instagram, Twitter and Facebook.
Bryce Pang admitted that he felt the nerves kicking in when he went into his rising senior summer as one of two uncommitted players on the Team 91 2022 Smash team, especially as a goalie, at which schools usually limit to one per class.
"I was pretty nervous, and it was tough to see all of these other goalies commit while I was hearing nothing from schools," Pang said. "(Smash coaches) Coach Sal (Locascio) and Coach Joe (Spallina), as well as my Deerfield coaches, just told me to keep working. They believed in me and they believed that I'd get the job done and find a good spot."
Of course, it always helps when you play for Team 91, particularly with the schedule that the Smash played year-in and year-out. The looks are always going to be there. It's just a question of finding the right fit.
"The competition helped me a lot because we're every other team's Super Bowl," Pang said. "Everyone always wants to score on Smash and beat Smash, so I know I'll get everyone's best. It pushed me a lot to stay on my A game. If I took a play off, someone could score on us."
Finally, things worked out for Pang as he compiled another strong summer in the Smash cage. He helped the team win the prestigious Crabfeast tournament and guided them to the championship game at the NLF Summer Championships, and in that time, his recruitment took form.
He was on Lehigh's radar early, but when the Mountain Hawks took another goalie early last fall, communication between the two parties stopped. When that goalie switched his commitment to another school, Pang and Lehigh got back into communication. Recently, things picked up, and that long-awaited commitment finally came through as Pang verballed to the Mountain Hawks. He joins an extensive Team 91 coalition in Bethlehem, and he's the 21st Smash player to commit, all to Division I schools.
"It took a while, and I'm happy that I'm finally committed," Pang said. "It's always been a dream of mine to play Division I lacrosse, and it's especially exciting with how successful Lehigh was this year. (Mountain Hawks assistant) Coach (John) Crawley was always very engaging with me and always seemed super excited to talk to me. Lehigh has great academics, a great lacrosse team, and it's a good-sized school where I can meet a lot of new people. I loved how the campus was on a mountain and the scenery is awesome."
Perfect Fit
Currently ranked No. 58 in the NLF Rankings, Pang is an exceptional late addition to a Lehigh team that won the Patriot League, earned a spot in the NCAA tournament and was in the top-10 nationally for the bulk of the season. A Division I commitment has been something he'd been looking for since he joined Smash in the summer going into eighth grade, and his game has come a long way since then. It's helped to have some of the game's best coaches working with him and pushing him to be elite.
"I can relate to Coach Sal because he's a goalie (one of the best of all-time) and he's always been someone I can look up to and trust," Pang said. "Coach Joe always coaches me really hard to make sure I'm on my A game, and they've both helped me so much."
Welcome Home
Locascio has watched Pang emerge as one of the top goalies in the nation in their time working together. It's therefore no surprise to the Hall of Famer that he'll get to watch his pupil play at the next level, and to hear him say it, coach Kevin Cassese and his staff should be incredibly excited with their latest pickup.
"Bryce is an incredibly athletic goalie and he's always found a way to play his best in the biggest games," Locascio said. "He's worked incredibly hard to get to this point and he stayed patient and dialed in throughout the process. Off the field, he's an outstanding student, and his excellent grades helped him get here, too. We couldn't be more excited to see him become a Mountain Hawk and I think he's going to have a major impact for Lehigh."
Ultimately, it doesn't matter how long it took to get there. Bryce Pang is home.