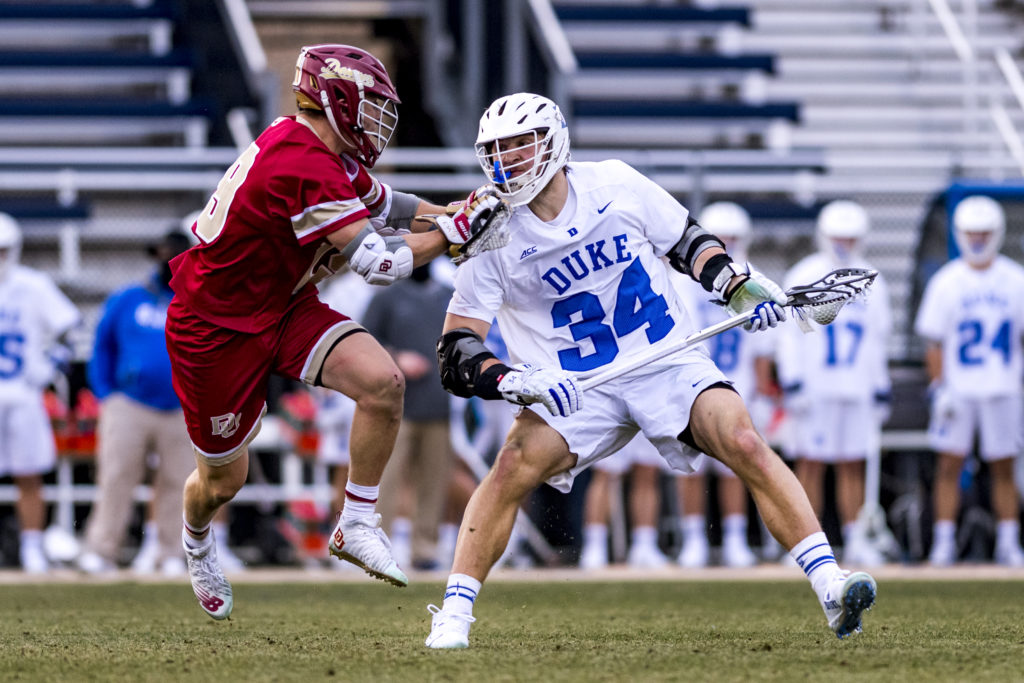 Photo courtesy of Duke Athletics.
Follow Team 91 on Instagram, Twitter and Facebook.
It took Brennan O'Neill all of one college game to show why he was the unanimous choice as the Class of 2020's top recruit.
The Team 91 2o20 Crush standout by way of St. Anthony's lit it up for Duke in his college debut, torching Denver for three goals and an assist en route to a 12-10 come-from-behind Blue Devils win in a battle of top 5 teams.
O'Neill caused a turnover against the Pioneers and also tacked on a pair of assists in Duke's 16-12 win over Robert Morris two days later. '19 Orange Tyler Carpenter (Salisbury, Conn.) racked up five caused turnovers, including a four-CT day against the Colonials, en route to earning ACC Defensive Player of the Week honors. Carpenter also snared a total of eight ground balls and scored once against RMU.
'18 Extreme Owen Caputo (Middle Creek, N.C.) picked up where he left off last year with two goals against Denver and a pair of helpers in the win over the Colonials, while his brother, '19 Orange Jake Caputo, buried a goal against RMU. '19 Orange Kenny Brower (Massapequa) knocked loose a pair of turnovers in the second game. '18 Extreme Jordan Ginder (Brunswick, Conn.) collected four faceoff wins and three ground balls against the Pios and '20 Crush Aidan Danenza (St. Anthony's) grabbed one ground ball in each game.
'16 Lucas Cotler (Syosset / Yale) made his Denver debut in style, twice finding the back of the net to go with an assist. He also tallied once in the Pios' 24-13 loss to North Carolina.