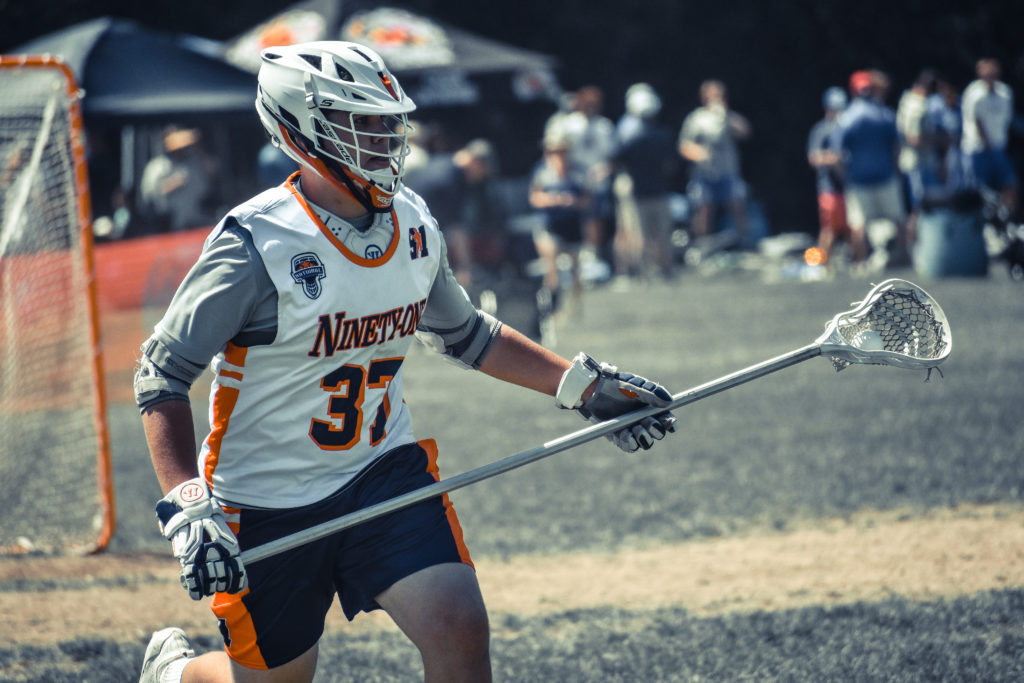 Follow Team 91 on Instagram, Twitter and Facebook. For more information on the Team 91 Blaze players, email Brian Spallina. 
It's finally here.
The Class of 2021 is officially on the clock at midnight on Sept. 1, with all non-service academy Division I schools now eligible to contact 2021s.
As usual, Team 91 players are going to be in very high demand from the best schools in the country. The Blaze put together a strong summer, winning the NLF Opening Weekend and making the playoffs at the Big 4 Summer Champions League, Naptown Challenge and NLF National Championships. 
It's a team loaded to the gills with skill at every position group, including some of the very best players in the nation. Coached by Brian Spallina, Major League Lacrosse's all-time leader in championships, the Blaze is a tough, hard-nosed team with the skill to succeed at the high school and collegiate levels. Many of the players have already been starters at the varsity level – some for up to three years – and there's no doubt that there will plenty of interest in the Blaze boys.
With that in mind, here's a breakdown of what every Blaze player brings to the table.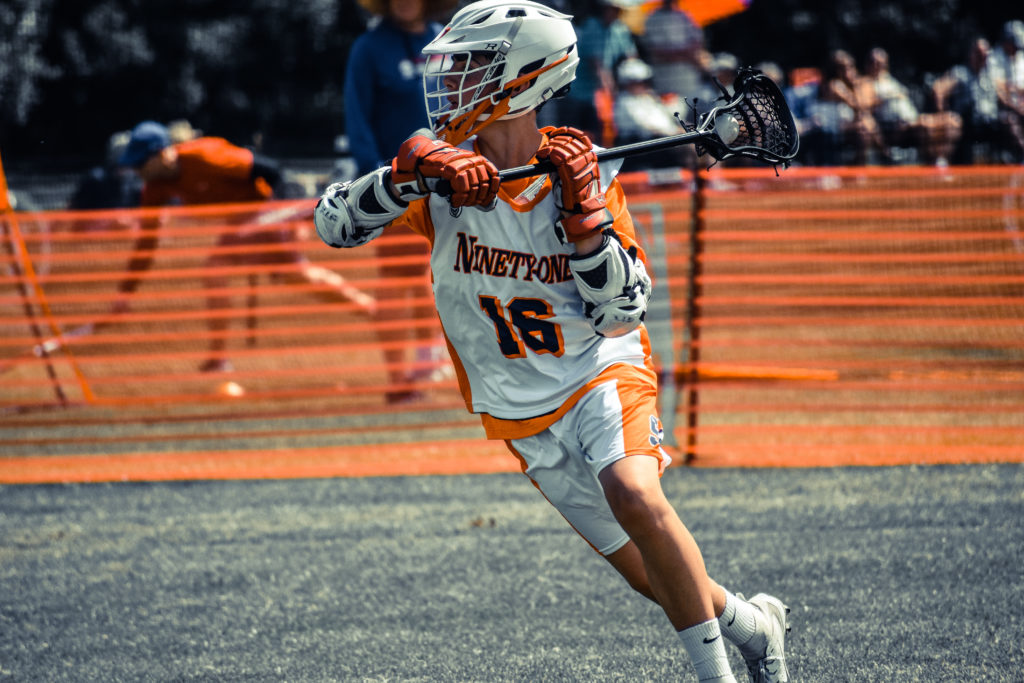 Attack
No. 16 Matthew Keegan, Sachem North
Keegan pieced together a nice spring for Sachem North, pocketing 25 goals, and the smooth, crafty lefty paired it with a quality summer for the Blaze. He has a tremendous handle, can find the open man with regularity and isn't afraid to get dirty to create a scoring opportunity.
No. 21 Danny Caddigan, Smithtown West
Caddigan had 75 goals for Smithtown West.
As a sophomore.
Seventy. Five.
So, yeah, he doesn't need a GPS to find the net, and he's a tremendous shooter who can overpower goalies with his pinpoint shooting. He's also a monster on the ride, never allowing opponents an easy clear.
No. 22 Trey Sacus, Delbarton (N.J.) – Highlights
A scrapper who won't shy away from going away to high-contact areas, Sacus is an excellent finisher in transition who can be dogged on the ride. He's on the shorter side, but he's not small, using his stocky build to embrace physicality to get to the rack.
No. 31 Chris Simonton, Ward Melville – Highlights
Simonton is a tough customer who doesn't back down from anyone. He's particularly good at making plays inside with his smooth handle, and he has an advanced understanding of how to find openings in the defense. Expect him to break out for the Patriots next spring.
Midfield
No. 2 Andrew McAdorey, St. Anthony's
The No. 1 recruit in the country for his age according to the NLF and Inside Lacrosse, McAdorey boasts elite athleticism to go along with the ability to be a major factor anywhere on the field. He's outstanding defensively, using his quick feet and core strength to steer opponents away, and he's an absolute blur in transition and one of the top midfield scoring threats in the country.
No. 3 Chris Barry, East Meadow
Barry does his best work for the Blaze as a defensive midfield who does extremely well on the clear, and his 48 points this spring showed that he can also be a major offensive contributor. Barry is also a football running back who should get plenty of carries this fall.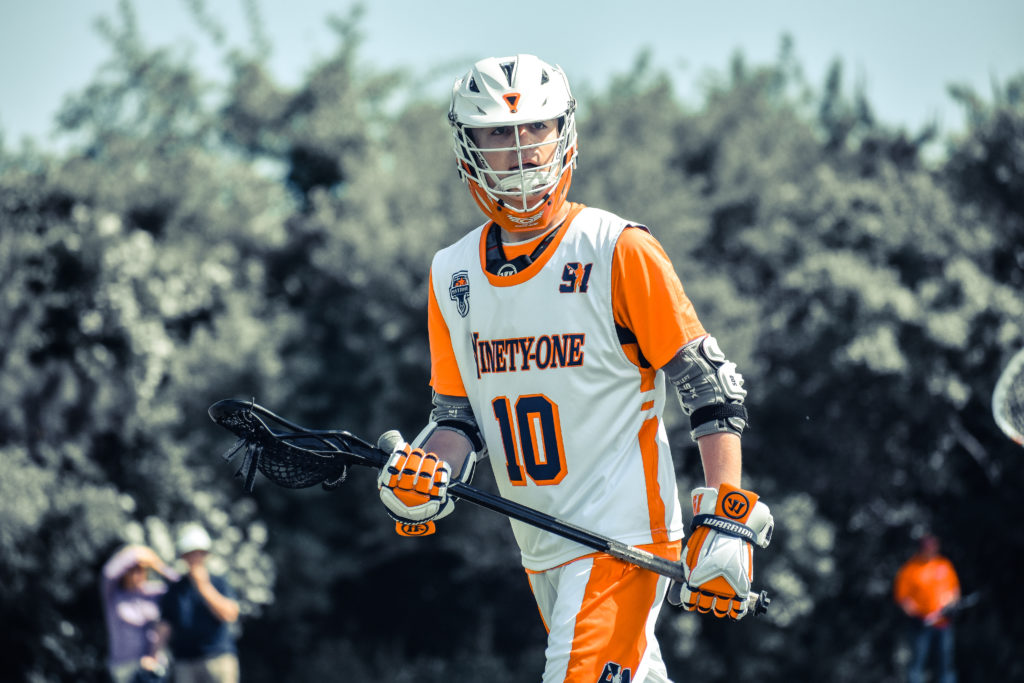 No. 10 Ryan Baudo, St. Anthony's – Highlights
Baudo also does his best work between the lines, using his frame and athleticism to make plays in the open field. He can be tasked with erasing a midfielder on the defensive end, and he can take advantage of matchups on the offensive side of things.
No. 15 Kyle O'Donoghue, St. John The Baptist – Highlights
O'Donoghue enjoyed an outstanding summer for the Blaze, making his mark at every event as a do-it-all midfielder who can clamp down a top midfielder and burn the ride in the open field. He worked hard at improving his offensive game and is a legitimate threat to score, particularly with his top-notch speed and athleticism.
No. 20 Brandon Ventarola, Mount Sinai – Highlights
A midfielder coming off of a great sophomore campaign for the Mustangs, Ventarola showed that he can score either lefty or righty, and he's got excellent vision to find open teammates. A true midfielder who won't sell you short on the defensive end, he oozes toughness and the grit that you want to see.
No. 36 Johnny Schwarz, Shoreham-Wading River – Highlights
Build your ideal middie in a lab and you might see something like Schwarz as the finished product. He has excellent size at 6-2, 180 pounds, plenty of toughness – also a standout football player – and when he's on, there isn't a midfielder like him in the country. Schwarz combines excellent shooting range, good defense and great transition work, and he's coming off of a 66-point season for the state champion Wildcats.
No. 42 Tyler Gatz, Mount Sinai – Highlights
Gatz has the ability to change the scoreboard in the blink of an eye because of his ability to get down the alley and score in a multitude of ways. He has a terrific handle and the confidence to try just about anything, and he put together some major performances at the NLF Opening Weekend, which the Blaze won.
Faceoff
No. 18 Chris Cappelmann, St. Anthony's – Highlights
Cappelmann is a tall, athletic faceoff man who's a threat to score every time that the ball is in his stick. So much so, actually, that he will also run at lefty attack at times he's not facing off, and he's been known to toast a defender or two. He won 70 percent as St. Anthony's backup faceoff man this spring.
No. 33 Mac Rodriguez, Chaminade
A utility midfielder who also happens to be excellent at facing off, Rodriguez enjoyed as good a summer as anyone on the team, thanks in large part to his ability to contribute all over the place. He has a relentless work ethic, lightning-quick hands and he can play defensive midfield and be a scoring threat. Rodriguez will often take a wing when Cappelmann faces off, and he never backs down from anyone.
LSM/Defense
No. 4 Chris Zara, St. Anthony's – Highlights
Zara makes covering attackmen look effortless with his ability to keep his body between the man and the net, but he can also make you look foolish if you leave your stick hanging near him. Zara comes in for a ton of praise for his leadership and communication skills on the back end, and he's the guy who's making sure that everyone's in the right place.
No. 27 Aiden McCaffrey, Comsewogue
The lefty had a tremendous summer for the Blaze, routinely shutting down top offensive options and rendering them an afterthought in the stat columns. McCaffrey started as a sophomore for Comsewogue, and while he'll occasionally take the ball away, he's at his best as a cover guy.
No. 35 Tyler Schwarz, Shoreham-Wading River – Highlights
Much like his twin brother, Johnny, Schwarz checks off every physical box and he'll be one of the most sought-after recruits in the country. The lefty pole corrals everything on the ground, gets out in transition and is a huge scoring threat, and oh, he'll also wipe out your best scoring midfielder.
No. 37 Liam McCormick, Chaminade
McCormick is a big, physical defenseman who's at his best when he can out-leverage attackmen, particularly at X. He does a nice job of getting under his man and pushing him around, and he can wreak havoc with his stick, too.
No. 44 Jake Wilson, Shoreham-Wading River – Highlights
One of the top defensemen in the country, Wilson is the total package on the back end, combining great size with an angry, mean disposition and an excellent stick. There might not be a defenseman in the class that throws harder checks, and Wilson has plenty of upside, too. He started for the Wildcats' state-title winning team this spring.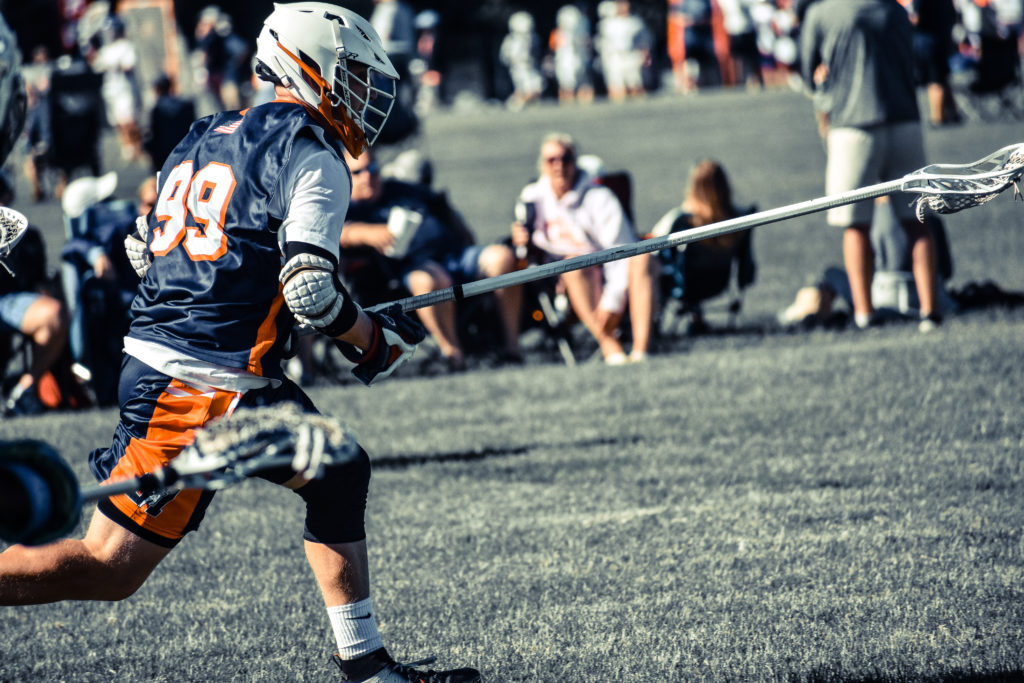 No. 99 AJ Volkmann, Mount Sinai
A big defenseman who can go toe-to-toe physically with any attackman, Volkmann has a tremendous stick and does a great job in transition as both a defenseman and an LSM. When the ball's in his stick, he can make really good decisions, and he throws good checks.
Goalie
No. 0 Daniel LePino, St. Anthony's
LePino had a strong summer with the 2020 Crush team, he's got a knack for coming up with impressive stops and he's made significant progress in his communication skills. He uses his athleticism to make saves that other goalies can't, and he's got plenty of big-game experience.
No. 00 Mason Oak, Comsewogue
Oak has shown the capability to make some highlight-reel saves fairly regularly. He's not the biggest goalie, but he tracks shots well and uses quick hands to gobble them up and get the ball up and out in a hurry.
No. 96 Robbie Troyano, Shoreham-Wading River – Highlights
Troyano is a very vocal leader who brings intensity and fire to the cage. Like Oak, he sees the ball well and has the ability to get the ball up and out quickly in transition.