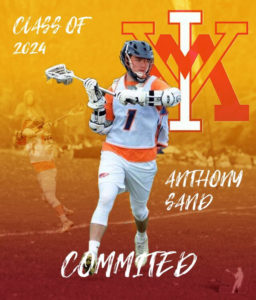 Follow Team 91 on Instagram, Twitter and Facebook. 
Anthony Sand's past has shaped who he is today, and the way he grew up played a significant role in molding him.
Sand wakes up at 5 every morning to run, and you can find him hitting the gym and playing lacrosse every day, as well as keeping a clean diet. The discipline that he lives by was instilled to him by his grandfather, with whom Sand has lived with for most of his life. It's no surprise, then, that that kind of background would give him an inclination to serve in the military.
"I wanted to use my parents' background as motivation to make sure that I have the best future," Sand said. "I've always wanted to serve and to become a pilot, especially with a military aspect to it. The military aspect has so many benefits to it, from getting a job and a place to live to teaching you discipline. I've matured a lot quicker than a lot of kids my age, and I think I'll transition really well."
Sand cemented that military future, as well as one in Division I lacrosse, by recently committing to Virginia Military Institute. After putting together a breakout fall for Team 91 Orange, the St. Dominic's attackman visited the Lexington-based campus and came away knowing that it was likely the place for him. While it took him a little bit longer to officially commit to the Keydets, Sand had no reservations about it, and he's excited to get his career going.
"It was a beautiful campus with fantastic academics and a very supportive staff," Sand said. "(VMI head coach Jon Birsner) texted me on Sept. 1 and he'd call me the next day. We set up a visit, and I just fell in love with the school and the coaches when I visited in November. I talked a lot with my family and friends, and I had to decide if it was what I really wanted to do. My family made it clear that I could make an impact at VMI, and that the coaches really believe in me, so I went with it."
True to form, Sand battled back through adversity after a summer club campaign where he didn't record a goal for the 91 Orange team. He still made an impact in other ways, but naturally, it's not easy for an attackman to not convert on a single scoring opportunity. Sand admitted that his inability to find the back of the net weighed on him, but it also played a huge role in getting him to work even harder for the fall campaign.
"There's definitely a lot of pressure when you're not scoring, and I didn't play to the fullest of my ability last summer. I had a lot of errors and things to work on, like my footwork, speed, shot and lacrosse IQ," Sand said. "I was lifting and running every day after that, and working on my footwork. I started working a lot harder than the kids around me, and the first time I had the ball this fall, I had an assist. The next play, I got an assist, and I scored right after that. My stick skills got a lot better and my confidence was definitely up.
The end result was a brand-new Sand, a revitalized scoring threat on the attack line who kept goalies busy all fall. The impact of Sand's work ethic wasn't lost on his coach, Jeff Capri, who was thrilled to see Sand blossom.
"Seeing Anthony this fall was like seeing a whole new person," Capri said. "He totally transformed himself and was so much more confident, and it showed in his play. There were times where he was completely unstoppable, and ultimately, that got him on a lot of schools' radars. We're so excited that he's able to land at a school like VMI where he'll not only be able to play, but pursue his passion of being able to serve. It was important for him to have a military aspect in his life, so it's the perfect combination for him, and we'll definitely be rooting for the Keydets."