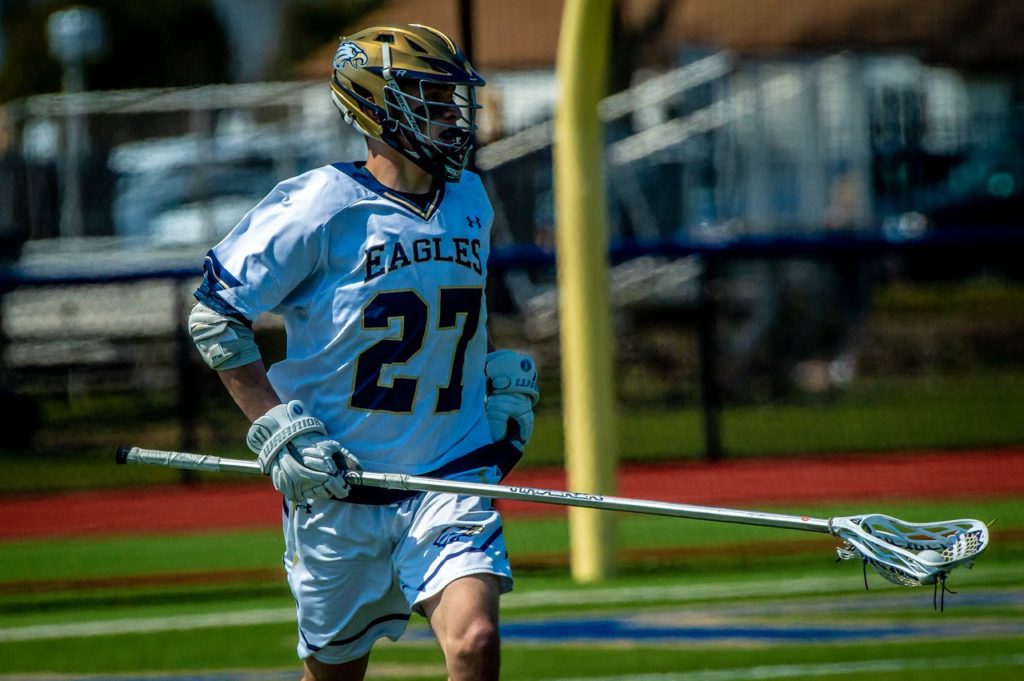 Alex Keener's first visit to Saint Joseph's went a long way in showing him what he needed to do to become a Division I player.
Then playing for another club, the Team 91 '19 White and Bethpage defenseman made his first trek to Philly last fall for SJU's prospect day on Hawk Hill, and it was there that the coaching staff laid out what they wanted to see him work on.
"They told me that I needed to work on a few things, like my footwork and how I tended to stand up a little when defending around the net, and how I threw my checks," Keener said. "They liked my athleticism and speed, but they also wanted me to work on scooping up ground balls and getting it down the field."
His second visit to Saint Joseph's proved how far he had come, and a few days later, he committed to the Hawks.
"It started with the coaching staff," Keener said. "Coach (Taylor) Wray is well-known, and if he wasn't, he wouldn't be the coach for Team Canada. I knew they would make me a better player, and the school is also one of the top schools in the country academically. There are benefits to coming out with a good degree, and while I'm undecided about what to study, I'm keeping my options open and I'm looking for something that's going to fit my personality."
Keener joined Team 91 this past summer, and he'll help to strengthen the '19 White-to-Saint Joseph's pipeline. He'll join 91 teammates Sal Pascarella (Half Hollow Hills East defenseman), Michael Carere (Connetquot faceoff midfielder) and Shawn Wolf (Bellport midfielder/attackman) in Philly, and he also knows another Long Island commit for the Hawks in Smithtown East's James Peters. While there weren't any package deals in their recruitment, Keener admitted that it'll be cool to head off to school with a sense of familiarity around him.
"At one of the early games this summer, Coach Wray started asking about me while watching one of our games, and the other guys were saying that he was looking at me," Keener said. "They started talking up about why they committed and their thought process, and they had my back. They didn't push me there, but they had my back and wanted me to go there. It meant a lot to me that they took me in like one of their own after just one summer."
Going into his final summer of club lacrosse, Keener wanted to make a move to give himself a final shot at getting recruited. It's why he made the jump to Team 91, and the move paid immediate dividends. He played against some of the best talent in the country, which helped elevate his stock.
"It was a better opportunity to be recruited, and you know that when you're with 91, the best of the best are going to be there," Keener said. "It's top of the line and you're going to get plenty of exposure, especially with the talent on the team. I had to be a little bit selfish because I wanted to get exposure, and playing with great players helps. When you get a good reputation, coaches learn to trust the program and trust the process."
That last part will endear him to those around him on the Main Line, as will his playing style. A lefty defenseman who's also a six-year varsity golfer and who will play football this fall, Keener brings a physical, pesky brand of lacrosse to the Hawks.
"I think that I'm annoying to go up against, and I love that," Keener said. "I don't throw a lot of big checks, but I try to get my pokes on the bottom hand and cause bad passes and make kids uncomfortable. I also knock down a lot of passes and can get ground balls. As I started to play more, I realized that I had the ability to play D-I when a few college coaches and some of my coaches told me that I had the ability to do it. When you hear that, I can't see why you wouldn't want to do that, and my whole goal was not to turn that down."
"Alex joined our team this summer and immediately left a major impression on us," '19 White coach Brian O'Keefe said. "He put in the time to get better and was very coachable along the way. We're excited to have him join the '19 White to SJU group and think that he's going to do great things in Philly."
Being a golfer was actually a perfect thing for Keener, both as a defenseman and throughout the recruiting process. There's not a ton of physical carryover from the links to the field, but golf's mental aspect was a huge help.
"In golf, it's you vs. the golf course, and you always have to forget everything that happened in the past. You have to look past it and get to the next shot, so in lacrosse, if you make a defensive mistake, you have to keep your composure and look to the next play," said Keener, who's a 1-handicap. "During the middle stretch of the recruiting process when everyone else was committing and I wasn't talking to anyone, I started thinking, 'when's this going to happen for me?' Toward the end, everything came together when I solidified who I was talking to."
Trust The Process, indeed.