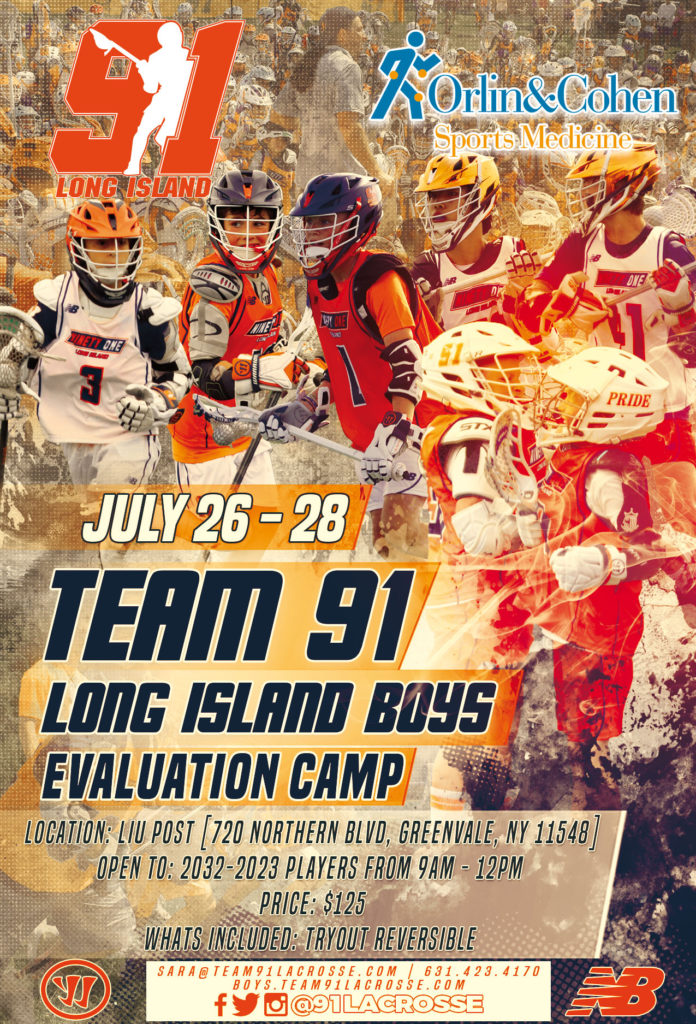 Follow Team 91 on Instagram, Twitter and Facebook.
Comsewogue is officially on a roll.
The Warriors, who cracked this week's NLFRankings.com national top 25 at No. 23, have been tough to stop lately. Wednesday, Wogue got five saves from Team 91 2021 Blaze goalie Mason Oak to upend Sayville, 13-6.
The win marked the Warriors' sixth straight victory. '23 Warriors Ronan Fitzpatrick shouldered much of the scoring load for Sayville, tallying four times.
'22 Smash Jameson Smith (Johns Hopkins) paired a hat trick with three helpers, '22 Smash Gavin Locascio (UMass) added a goal and two assists and '23 Warriors PJ Shanahan set up a goal to lead the Phantoms.
'23 Bandits Eric Grahn stopped five shots in split duty.
'24 Wolfpack Lucas LaForge went off for the first seven-goal game of his young career, '22 Smash Joey Spallina (Syracuse) handed out five assists to go with two goals and '23 Warriors Cole Marsala scored once and set up two more goals as the Mustangs rolled.
'22 Smash Gavin Takacs (Stony Brook) and '22 Smash James Carretta (Georgetown) each scored once, while '23 Bandits Jake Spallina had an assist. '23 Warriors Brayden Wilcken picked up the win with a trio of saves.
'23 Warriors LSM Will Levonick tossed in a goal to help Rocky Point roll.
'21 Ambush Wes Ralph stopped four shots in split duty to guide the Cyclones.
'21 Blaze Chris Barry (Hofstra) buried a pair of goals and set up another for the Jets, who also got an assist from '21 Ambush Joe Giambald (Nassau). 
'25 Shock Anthony Raio led Hills West with two goals and an assist and '21 Ambush Danny Zabbia (Pace) twice found the back of the net.
'22 Smash Anthony Mollica (Hofstra) scored once for the Chiefs.
'23 Warriors Jack Mayerhofer tallied once for the Cyclones.