Follow Team 91 on Instagram, Twitter, YouTube and Facebook. Did we miss a Team 91 player? Let us know. CLICK HERE to register for the Team 91 2023-24 Evaluation Camp in July.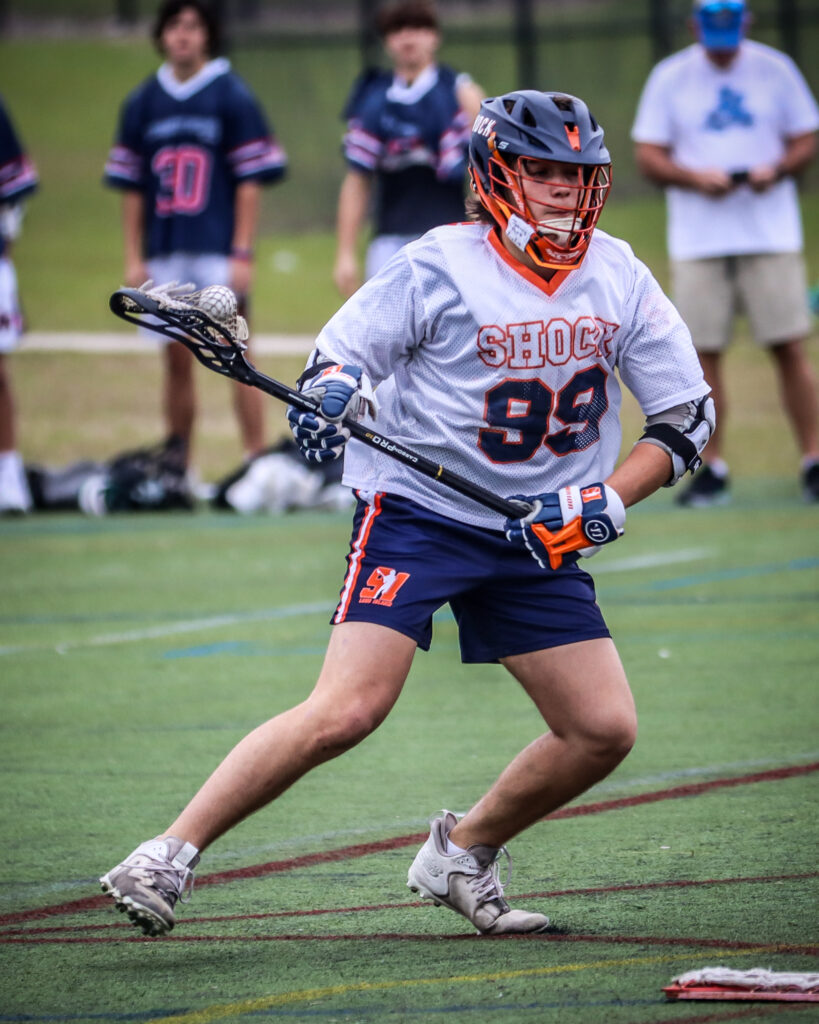 It doesn't get much better than the performance that James Pagano put up for Commack on Tuesday.
The Team 91 2025 Shock attackman canned five goals, highlighted by firing home the overtime winner as the Cougars topped Floyd, 9-8.
It was Pagano's fifth hat trick of the year as part of a 27-goal campaign. The sophomore also doled out a trio of assists to factor in on eight of the nine Commack goals.
'23 Bandits JJ Aiello (Navy) was a force for the Phantoms, pairing four goals with two assists to give BBP a win in a battle between two of Suffolk's best C teams.
'24 Wolfpack Ben Morris (Johns Hopkins) set up three goals and tallied twice, while '24 Wolfpack Maclin Keyser (St. John's) netted a pair of goals for the Phantoms. '24 Wolfpack Danny Aiello (Navy) had an assist. '23 Bandits Eric Grahn (Siena / three saves) and '24 Wolfpack Brady Smith (Albany / one save) split goaltending duties in the win.
'24 Wolfpack Liam Gregorek (Navy) led the Wildcats with two goals.
'23 Bandits Owen Duffy (North Carolina) continued his absurd senior season with four goals and three assists as the Friars rolled past the defending Connecticut state champions.
'23 Bandits Jack Speidell (Harvard) had two goals and two assists for St. Anthony's, which also got two goals from '24 Wolfpack Luke Breslin (Lehigh). '23 Bandits Jackson Greene (Harvard) chipped in a goal and an assist. '24 Wolfpack Michael Moon (Brown) owned the faceoff stripe, claiming 19 of 24 draws.
'25 Shock Gary Merrill netted a goal and '23 Bandits Jack Ponzio (Navy) doled out an assist. '23 Bandits Joey Rice (Stony Brook) stopped seven shots in the cage.
'23 Warriors Cole Marsala (Quinnipiac) was the Mustangs' ring leader with three goals and two assists. '24 Wolfpack Lucas LaForge (Michigan) was right behind him with two goals and two helpers. '23 Bandits Jake Spallina (Syracuse) connected for a hat trick, while '23 Warriors Brayden Wilcken (LIU) stuffed eight of the 11 shots on target. '23 Bandits LSM Brett Spallina (Syracuse) ripped away five takeaways to lead the defense.
'23 Warriors Patrick Murphy (Army) put on a show for ESM, winning 14 of 21 faceoffs, collecting eight ground balls and going off for three goals and an assist.
'25 Shock Matt Triolo buried a hat trick, his eighth of the season, to go with an assist to pace Glenn.
'23 Warriors Joey Forchelli (Providence) led the MacArthur onslaught with four goals and an assist. '23 Warriors defenseman Michael Cassano (Marist) tossed in a pair of goals in the win.
'24 Wolfpack Mikey Mondiello snapped home a pair of goals to fuel the Indians' blowout win. '24 Wolfpack Jared Beschel (Holy Cross) scored once, while '24 Menace Liam Healy stopped two shots in split duty.
'25 Hornets Alessandro Walaitis put up a monster six-goal, two-assist day in Mepham's win.
'26 Tyler Byrnes set up a goal in the Chiefs' rout.
'23 Bandits Patrick Cece (Merrimack) won a faceoff for the Crusaders.